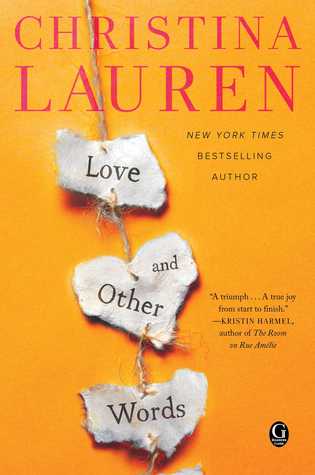 Love and Other Words
by
Christina Lauren
Published by
Gallery Books
on April 10, 2018
Genres:
Women's Fiction
,
Chick Lit
Pages:
432
Format:
eBook
Source:
Purchased
Amazon Kindle
|
Audible
|
Barnes & Noble
|
Kobo
Goodreads

Love, loss, friendship, and the betrayals of the past all collide in this first fiction novel from New York Times and #1 international bestselling author Christina Lauren (Autoboyography, Dating You / Hating You).
The story of the heart can never be unwritten.
Macy Sorensen is settling into an ambitious if emotionally tepid routine: work hard as a new pediatrics resident, plan her wedding to an older, financially secure man, keep her head down and heart tucked away.
But when she runs into Elliot Petropoulos—the first and only love of her life—the careful bubble she's constructed begins to dissolve. Once upon a time, Elliot was Macy's entire world—growing from her gangly bookish friend into the man who coaxed her heart open again after the loss of her mother...only to break it on the very night he declared his love for her.
Told in alternating timelines between Then and Now, teenage Elliot and Macy grow from friends to much more—spending weekends and lazy summers together in a house outside of San Francisco devouring books, sharing favorite words, and talking through their growing pains and triumphs. As adults, they have become strangers to one another until their chance reunion. Although their memories are obscured by the agony of what happened that night so many years ago, Elliot will come to understand the truth behind Macy's decade-long silence, and will have to overcome the past and himself to revive her faith in the possibility of an all-consuming love.

Continue reading →
I received a complimentary copy of the book from the publisher in exchange for an honest review. This does not affect my opinion of the book or the content of my review.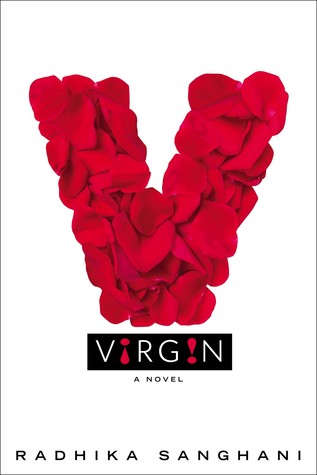 Virgin
by
Radhika Sanghani
Series:
Virgin #1
Published by
Berkley
on August 5, 2014
Genres:
Chick Lit
,
New Adult
Pages:
304
Format:
ARC
Source:
publisher
Amazon Kindle
|
Amazon Paperback
|
Audible
Goodreads

Okay, I admit it…I didn't do it.
Yet.
This is normal, right? I mean, just because everyone I know has talked like they've already done it doesn't mean that they're telling the truth…right?
It's not like I'm asking for that much. I don't need the perfect guy. I don't need candlelight or roses. Honestly, I don't even need a real bed.
The guys I know complain that girls are always looking for Mr. Right—do I have to wear a sign that says I'm only looking for Mr. Right Now?
Sooooo…anyone out there want sex? Anyone? Hello? Just for fun?
I am not going to die a virgin. One way or another I am going to make this happen.
Hey, what have I got to lose? Besides the obvious.

Continue reading →
I received a complimentary copy of the book from the publisher in exchange for an honest review. This does not affect my opinion of the book or the content of my review.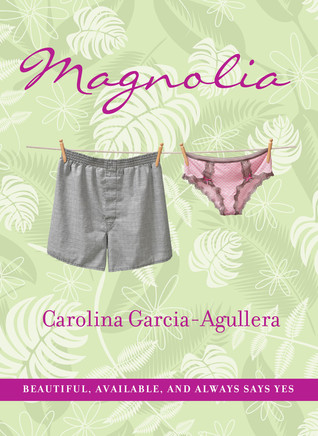 Magnolia
by
Carolina Garcia-Aguilera
Published by
Smashwords Edition
on September 3, 2013
Genres:
Chick Lit
Format:
ARC
Amazon Kindle
Goodreads

On a hot, sultry August afternoon, twenty-two-year-old Magnolia Larson finds herself sitting on a barstool at the Miami Sports Bar having to decide whether to remain in Miami or return home to Minneapolis.Suddenly, a very attractive, beautifully dressed woman sits down and identifies herself as a sports agent. Almost out of money and with no prospects of making any, Magnolia is intrigued by the sports agent's proposal to train as a "sports geisha," a high-priced hooker for elite athletes. If she accepts Magnolia would acquire skills that will serve her well throughout her life--learning languages, studying the pressures elite athletes are under with a sports psychologist, and getting into top-notch physical shape. The offer allows Magnolia to remain in Miami while enjoying a huge payday. But can a conservative Catholic girl from the Midwest transform herself into a courtesan? And if she does, at what personal cost?