I received a complimentary copy of the book from the publisher in exchange for an honest review. This does not affect my opinion of the book or the content of my review.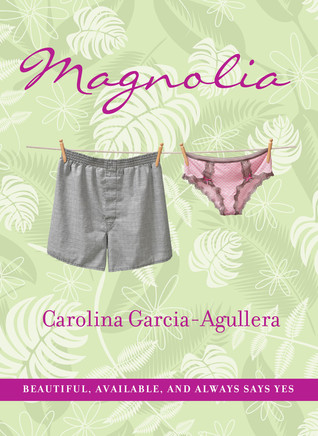 Magnolia
by
Carolina Garcia-Aguilera
Published by
Smashwords Edition
on September 3, 2013
Genres:
Chick Lit
Format:
ARC
Source:
the publisher
Goodreads
Purchase at
Amazon

On a hot, sultry August afternoon, twenty-two-year-old Magnolia Larson finds herself sitting on a barstool at the Miami Sports Bar having to decide whether to remain in Miami or return home to Minneapolis.Suddenly, a very attractive, beautifully dressed woman sits down and identifies herself as a sports agent. Almost out of money and with no prospects of making any, Magnolia is intrigued by the sports agent's proposal to train as a "sports geisha," a high-priced hooker for elite athletes. If she accepts Magnolia would acquire skills that will serve her well throughout her life--learning languages, studying the pressures elite athletes are under with a sports psychologist, and getting into top-notch physical shape. The offer allows Magnolia to remain in Miami while enjoying a huge payday. But can a conservative Catholic girl from the Midwest transform herself into a courtesan? And if she does, at what personal cost?