Review: 'The Wild Princess' by Mary Hart Perry
I received a complimentary copy of the book from the in exchange for an honest review. This does not affect my opinion of the book or the content of my review.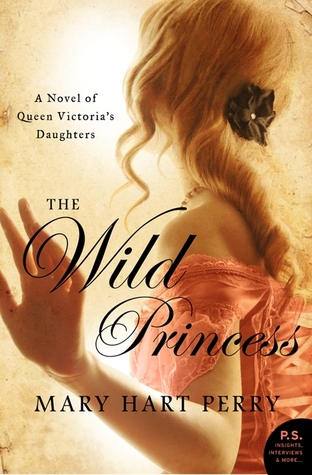 The Wild Princess: A Novel of Queen Victoria's Defiant Daughter
by
Mary Hart Perry
Series:
Queen Victoria's Daughters #1
Published by
William Morrow Paperbacks
on July 31st 2012
Genres:
Historical Fiction
Pages:
414
Format:
ARC
Amazon Kindle
|
Amazon Paperback
Goodreads

The Wild Princess transports us back to Victorian England and plunges us into the intrigues of the royal court, where the impetuous Louise brazenly followed no one's rules but her own—even marrying a commoner, which no one of royal blood had done in the previous three centuries.
My Review

I received a copy of "The Wild Princess" from the publisher for the blog tour of the book on Innovative Online Book Tours for my honest review.
I've always been a fan of the Victorian Era and of course historical fiction. Let me say the minute I finished reading "The Wild Princess," I was upset to find out that Stephen Byrne who I will explain about a little later in my review…was, not real…but was the imagination of the author. =( *sigh* You'll understand why I'm upset…once I read my review.
Princess Louise has been deemed the "The Wild One" of Queen Victoria's children. She's forced to marry a man, she doesn't love, and on their wedding night she finds out even something scandalous about her husband. She has to promise to keep it hidden, and she believes her mother the Queen did the arrange marriage on purpose. Princess Louise just wanted to become an artist and help women out. Unfortunately, her mother had other plans for her.
The Queen is getting threats, and it's becoming dangerous even for her family and friends to be in the palace. In comes Stephen Bryne who is the Queen's elite Secret Service. He came from America to get away from what was going on there and also get over what happened to the last person he was to protect. He's been blaming himself for what happened so he wants to redeem himself some way — his job to keep the royal family safe from the Irish radicals who want to kidnap them or even kill them. He knows the Irish radicals have something serious planned and he thinks someone in the palace is keeping them informed on what is going on with the royal family. He must protect the Queen and her children…but in the meantime, he has become head over heels for Princess Louise who he can never be with since she's a married woman.
Unfortunately, though he can't avoid her because he has to protect her also and Princess Louise asked for Stephen Byrne's help on a matter that happened back when she was attending art school. Stephen finds out some things on the Princess, and he's starting to see why Queen Victoria and Princess Louise are always butting heads. He's also beginning to realize there's another side to Louise..aside, he can't help, but adore.
My thoughts on "The Wild Princess" are that I had a hard time putting down this book once it started picking up in the middle. I had a hard time getting interested in the beginning at first, except for the one part what Louise found out something about her husband. I felt terrible for her. The whole time I read the book, I was mad at Queen Victoria and what she did to Princess Louise. I got even madder when I found out something else about Louise. I just wanted to go into the book and scream at Queen Victoria for her. How dare she? (but I remembered…its just a fictional book…or parts of it are anyway). Princess Louise went through so much, and that one element in the story had me in tears because I felt terrible for what she had to do.
I love how Mary Hart Perry created a happy story for Princess Louise and…well… I fell in love with Stephen when he was introduced of course. His manners and just his style captured my heart how he didn't judge the Princess. Instead, he helped her get over her demons and come to closure. He was such a fantastic character in the book, and when I found out, he was just fictional…I got upset. I believe the Princess should have had a happy life in real life. She deserved it for what the Queen put her through in the story. I'm glad I was not born a Princess…because I probably would've been just like Princess Louise…"The Wild Princess" who just wanted some freedom away from the walls of the palace and of course apart from her mother so she could enjoy her youth.
I'm so happy though that Mary made it where the Princess in the story got some happily ever after. =)
If you're a fan of historical fiction, you will enjoy this book.
I will be picking up the second novel of Queen Victoria's daughter's whenever it is published, and I also plan on reading many more books from Mary Hart Perry. =)


I guess I should type a bio here. I'm FranJessca or Fran for short. I'm the owner of Book Lovin' Mamas and main Reviewer. I've been reviewing books since I got out of the Navy in 2011. Now 8 years later, I'm still reviewing, but this time with my youngest sidekick.
When I'm not reading and reviewing, you can find me at my day job during the week and on the weekend taking care of our little farm.

Latest posts by FranJessca (see all)