Review: 'Untouchable' by Kresley Cole
December 22, 2021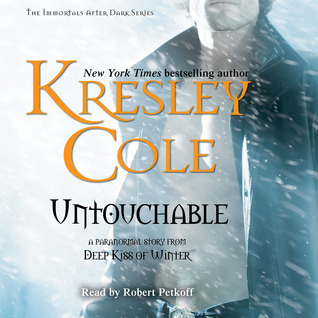 Untouchable
by
Kresley Cole
Series:
Immortals After Dark #7
Published by
Pocket Books
,
Simon Schuster Audio
on September 3, 2013
Genres:
Paranormal Romance
Format:
AudioBook
,
Hardcover
Source:
Purchased
Goodreads
Purchase at
Amazon

In this paranormal story from the

Deep Kiss of Winter

anthology, #1 New York Times best-selling author Kresley Cole delivers a breathtaking tale about a brutal vampire soldier who experiences love for the first time...and a Valkyrie aching to be touched.
Murdoch Wroth will stop at nothing to claim Daniela the Ice Maiden -- the delicate Valkyrie who makes his heart beat for the first time in three hundred years. Yet the exquisite Danii is part ice fey, and her freezing skin can't be touched by anyone but her own kind without inflicting pain beyond measure. Soon desperate for closeness, in an agony of frustration, Murdoch and Danii will do anything to have each other. Together, can they find the key that will finally allow them to slake the overwhelming desire burning between them?
---
I own Untouchable via Audible and in the Hardcover of Deep Kiss of Winter. I've read and listened to this book. This time around, I decided to reread it. It was only 256 pages long. I could've listened to the story and got through it faster, but I'm reading some of the books instead of listening to them this time around. (Right now, I'm having issues with my hearing, so I'm trying not to use headphones too much, as my ENT doctor suggested.)
Storyline/My Thoughts: The minute I started diving back into Dani's and Murdoch's book, I found Dani's character more likable than Murdoch's. I've always liked her character because she doesn't put up with anyone's nonsense, especially Murdoch.
Murdoch is a vampire that was changed back in the day, so he is one of the forebearer vampires who doesn't drink blood from others. He is not looking for his fated mate, but he comes across her when she's in danger from her own kind (ice-fae.)
Dani is half-valkyrie and half-ice fae. She's known about Murdoch since she's older than him. She's not looking for her destined mate, either, but ends up meeting him when he helps her after she is shot with arrows with poison.
The Ice Fae King has been searching for Dani and wants her dead. This is the same King who killed her Mother. Murdoch is there to help her when the Ice Fae are there to kill her. He ends up finding out; eventually, he cannot touch her. No one can touch her; otherwise, they will burn her skin, which will be painful to her. The minute Murdoch realizes Dani is his fated mate, and he will do anything to be able to touch her. They both are in love with each other, but Dani realizes that she will never have a physical relationship with Murdoch. She tries to get help from Nix, but Nix is being her usually mysterious self Nix and is only speaking non-sense, which is why I love Nix in this series. She is the ever knowing. She has her own agenda in every book, and she can't blurt it out. She needs the fated mates to figure it out independently; otherwise, it will be less fun.
Both Murdoch and Dani's relationship is not an easy one. It takes Murdoch and Dani being separated from each other, so they can handle their own situations to come to terms with each other being fated mates. Dani will not make it easy for Murdoch because she knows how he was before becoming a vampire, and she does not allow him to play her. This is one of many reasons why I loved her character. She knew how to handle him.
If you read the first novella in the series, you'll realize this one is longer. This book was about love, betrayal, and courage for both Murdoch and Daniela. I recommend reading this book, but if you haven't read the previous books in the series, you will need to read those first; otherwise, you won't get the gist of what's going on. You can read the novellas back to back or read the books in order. Kresley is a fantastic writer. This book is the last Wroth brother's book, so that you will get a little bit of Nikolai's, Sebastian's, and Conrad's stories are woven into this storyline, so be prepared to get some repeated storylines but from a different point of view (Murdoch's POV). I love how Kresley does her stories, which is why I love her series and storytelling.
I give this book four stars and look forward to diving into the next book that I need to reread in the series.
Standalone or Part of a Series: It's part of the Immortals After Dark series.
Steaminess: ⭐️ ⭐️ ⭐️ 💫
Trope: Fated Mates.
Would I recommend this book? Yes, definitely. I will always recommend this series to Paranormal Romance readers.

This post contains affiliate links you can use to purchase the book. If you buy the book using that link, I will receive a small commission from the sale. It will help sponsor future giveaways but costs you nothing extra. You can read the full disclosure underneath the Privacy Policy.
---
---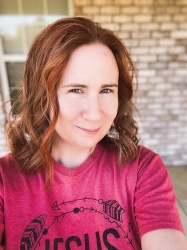 Latest posts by FranJessca
(see all)