Review: 'Kiss of a Demon King' by Kresley Cole
March 11, 2019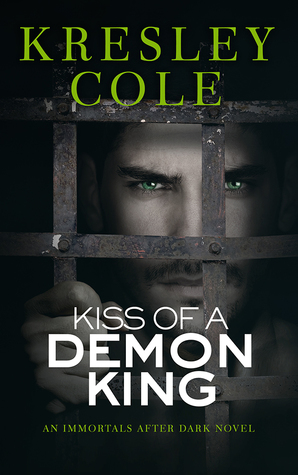 Kiss of a Demon King
by
Kresley Cole
Series:
Immortals After Dark #7
Published by
Pocket Books
on January 20, 2009
Genres:
Paranormal Romance
Format:
AudioBook
,
Paperback
Source:
Purchased
Goodreads
Purchase at
Amazon
|
Apple
|
Google Play
|
Kobo

From New York Times bestselling author Kresley Cole comes this spellbinding story of a demon king trapped by an enchantress for her wanton purposes -- and the scorching aftermath that follows when he turns the tables and claims her as his captive.
HIS OBSESSION...Sabine, Sorceress of Illusions: the evil beauty who surrenders her body, but not her heart.
HER DOWNFALL...Rydstrom Woede: the ruthless warrior who vows to keep her at all costs.
THEY WERE NEVER SUPPOSED TO WANT EACH OTHER THIS MUCH...With each smoldering encounter, their shared hunger only increases. If they can defeat the sinister enemy that stands between them, will Sabine make the ultimate sacrifice for her demon? Or will the proud king lay down his crown and arms to save his sorceress?
First Read: May 2010
Second Read (Listened): March 6-8th, 2019
Back in 2014, I started to re-read the Immortal After Dark series and then stopped because that is when I started back working again and I never picked up where I left off. Now in 2019, I decided to re-read again from the beginning. Now I'm at the 7th book, and it's like I'm reading Kiss of a Demon King for the first time since it's been 9 years since I read this book.
First I realize this book is a lot of readers favorites, but unfortunately, this has to be one of my least favorites. It's not just because of the female character Sabine, but also because of Rydstrom too. There's also the issue of Omort the Deathless in this book. There are villains you hate, but there are villains that are sick and twisted, and this one was sick and twisted. I felt ill the whole time with him in the story.
Here's the gist of the story without giving too much away. If you read Cadeon's story previous of this book, you would've found out that Rydstrom was captured by a so-called damsel in distress who was the Sorceress of Illusions Sabine (She's the half-sister of Omort the Deathless. Omort is the one that stole the crown from Rydstrom.) Sabine now has Rdystrom in his dungeon of his castle in his kingdom. She's on a mission to get pregnant by Rydstrom by his baby and also be the Queen of his kingdom. There's also something else in the story that needs to happen that Omort needs for her to do. Omort though is not liking the fact that his half-sister has to sleep with the Demon King. This is when the readers find out that Omort has feelings for Sabine. There's also something that Omort does to Sabine and her sister that is unforgivable, and I find it very disturbing. I hated this part of the book. This was at least one thing I aligned with Sabine in the story and wanting revenge against Omort. I could not stomach Omort and found him disturbing. He is the worst villain so far in the series (at least so far).
Here's the thing that bothered me about this book though. Rydstrom changes when he becomes captured due to how Sabine tortures him. (Cadeon and Rydstrom changed personalities and you can tell within this book.) There's also the issue that he knows she's his fated mate. He's fallen for her, but Sabine doesn't want to fall in love. I can understand though because Kresley does go into detail some of Sabine's past and why she is the way she is, and there is her sister who she loves dearly. I couldn't connect with Sabine though. I couldn't connect with Rydstrom though too, especially towards the end of the book, when Sabine was trying to get back to her sister. There is sexual assault in this book from both characters in different ways, and I sometimes thought they shouldn't be fated mates. Although, in the end, I could understand why they were fated mates after everything happened. I'm glad though that Sabine and Melanthe have a strong relationship as sisters and you get that in this book.
I will say this that Cadeon and Holly make an appearance in this book and let's say readers will find out more about Holly's pregnancy. I was excited to hear about them.
Will Rydstrom get his crown back in this book? You'll have to read the book to find out.
Oh, if you are a fan of Gena Showalter's Lord of the Underworld series, you'll hear Nix mention that she has to go to Budapest to meet the Lord of the Underworld guys. I love that series and will be re-reading that series next because I've missed that series too and have a couple of books to catch up in that series. I love the fact that Nix played a role in that series. 😉
---
Story Rating: 3.5 stars
Steaminess Rating: 3.5 stars
Standalone or part of series: Part of the Immortals After Dark series and I highly recommend reading in order.
Do I recommend this book? Yes.
Will I read other books from the author? Yes. She's one of my auto-buy favorite authors.
Tropes/Elements: Fated Mates; Enemies to Lovers
Hero: Demon King; Alpha
Heroine: Sorceress of Illusions

This post contains affiliate links you can use to purchase the book. If you buy the book using that link, I will receive a small commission from the sale. It will help sponsor future giveaways but costs you nothing extra. You can read the full disclosure underneath the Privacy Policy.
---
---

Latest posts by FranJessca
(see all)