Review: 'Memory in Death' by J.D. Robb
December 14, 2021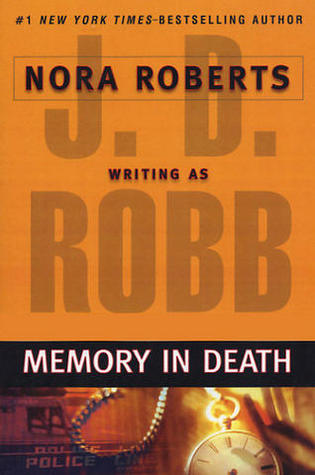 Memory in Death
by
J.D. Robb
Series:
In Death #22
Published by
Berkley Books
on July 1, 2006
Genres:
Romantic Suspense
Format:
Paperback
Source:
Purchased
Goodreads
Purchase at
Amazon
|
Barnes & Noble
|
Kobo

The #1 "New York Times"-bestselling author of "Survivor in Death" has Lieutenant Eve Dallas walking a tightrope between her professional duties and her private demons. Eve Dallas is one tough cop. She's got no problem dealing with a holiday reveler in a red suit who plunges thirty-seven stories and gives new meaning to the term "sidewalk Santa." But when she gets back to the station and Trudy Lombard shows up, it's all Eve can do to hold it together. Instantly, she's thrown back into the past, to the days when she was a vulnerable, traumatized girl-trapped in foster care with the twisted woman who now sits in front of her, smiling. Trudy claims she just wanted to see how Eve was doing. But Eve's husband, Roarke, suspects otherwise-and his suspicions prove correct when Trudy arrives at his office, demanding money in exchange for keeping the ugly details of his wife's childhood a secret. Barely restraining himself, Roarke shows her the door-and makes it clear that she'd be wise to get out of New York and never bother him or his wife again. But just a few days later, Trudy's found on the floor of her hotel room, a mess of bruises and blood. A cop to the core, Eve is determined to solve the case, if only for the sake of Trudy's bereaved son. Unfortunately, Eve is not the only one to have suffered at this woman's hands, and she and Roarke will follow a circuitous, dangerous path to find out who turned this victimizer into a victim.
---
Memory in Death is the twenty-second book in J.D. Robb's In Death series. I'm slowly getting through this series. I have some catching up on the #InDeathReadALong Challenge on reading one book a month, but I'm getting there. I have 2.5 books to be caught up again finally. I was so glad to be back in Eve and Roarke's world because, in this book, they were celebrating Christmas, which I happened to read this book in December 2021. (I include this with reading a Christmas/Holiday book.) 
Storyline/My Thoughts: Memory in Death starts with a person dressed up as Santa falling thirty-seven stories onto a sidewalk. After dealing with the crime scene of the Santa, she heads to the station. Eve is about to have her past end up meeting up with her. Eve never expects to see Trudy Lombard in her office at the station. For a while, Trudy was Eve's foster mother, and the time Eve spent with her was not great. Eve is taken back to those days when Trudy treated her horribly and Eve ends up leaving the station unexpectedly. Peabody calls Roarke to let him know that Eve is not acting herself. When Roarke discovers who Trudy is, he will do anything to let this woman know she's not welcome here. Trudy claims she's only there to see how Eve is doing, but she has something more up her sleeve, and Roarke will handle her. Unfortunately, a few days later, Eve and Roarke want to confront Trudy together at the hotel she's at but find her dead on the scene. Now, it's up to Eve and her team to find out what happened to Trudy.
Trudy was in New York with her son and his wife, and Eve remembers Trudy's son, who helped her when she was staying with Trudy. The minute Eve and her team start looking into the case, they realize that Trudy may have enemies due to what she did when she fostered children. Eve will find out she wasn't the only one traumatized by Trudy when she was under Trudy's care, and it's up to Eve to find out the truth.
This storyline was interesting because it briefly took us back into Eve's past and what she dealt with in foster care. Eve didn't have one of those caring families taking care of her, and I felt for her. Poor Eve had a horrible childhood with her father and her foster mother. I'm so glad that Eve finally has a happy life with her husband, Roarke. Roarke wins me over in this book with how he handled Trudy and finding out what happened to Eve. I love his character and can't get enough of him.
Eve is lucky to have Roarke, and she's also fortunate to have Peabody, Feeney, and Mira in her life. She has so many people that will have her back when she needs it. She's not used to it, but she's starting to get used to it.
I did figure out who was behind what happened to Trudy. It was given away somewhat when Eve started investigating other foster children under Trudy's care. I felt for a specific person in this book at the end because they had no clue about everything and were being used the whole time. It was crazy!
J.D. Robb doesn't give Eve and her team easy cases, but that's what makes each book so addicting to read because you go along for the ride to solve each case with the team. I feel like the characters are family now.
I give this book four stars and can't wait for the next installment in the series. J.D. Robb has a fan for life when it comes to this series. I wish book series were already a tv series. It would be something I would definitely watch, and I hardly watch television due to so many books that I have to read.
Standalone or Part of Series: It's part of the In Death series, and I would recommend reading in order.
Would I recommend this book? Yes. I recommend this to Romantic Suspense/Thriller readers. This has become one of my favorite Romantic Suspense series, and I can't brag about it enough to other readers.

This post contains affiliate links you can use to purchase the book. If you buy the book using that link, I will receive a small commission from the sale. It will help sponsor future giveaways but costs you nothing extra. You can read the full disclosure underneath the Privacy Policy.
---
---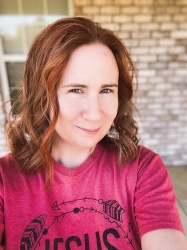 Latest posts by FranJessca
(see all)