Review: 'Lothaire' by Kresley Cole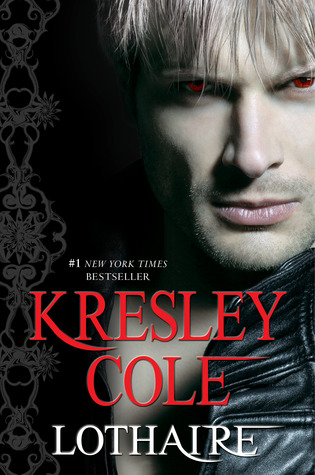 Lothaire
by Kresley Cole
Series: Immortals After Dark #12
Published by Gallery Books on January 10th 2012
Genres: Paranormal Romance
Pages: 468
Format: Hardcover
Source: Purchased
Amazon Kindle | Amazon Paperback
Goodreads


Number-one New York Times best-selling author Kresley Cole continues her electrifying Immortals After Dark series with this thrilling tale, revealing secrets of the Lore, fierce realm of the immortals....
All fear the enemy of old.
Driven by his insatiable need for revenge, Lothaire, the Lore's most ruthless vampire, plots to seize the Horde's crown. But bloodlust and torture have left him on the brink of madness—until he finds Elizabeth Peirce, the key to his victory. He captures the unique young mortal, intending to offer up her very soul in exchange for power, yet Elizabeth soothes his tormented mind and awakens within him emotions Lothaire believed he could no longer experience.
A deadly force dwells within her.
Growing up in desperate poverty, Ellie Peirce yearned for a better life, never imagining she'd be convicted of murder—or that an evil immortal would abduct her from death row. But Lothaire is no savior, as he himself plans to sacrifice Ellie in one month's time. And yet the vampire seems to ache for her touch, showering her with wealth and sexual pleasure. In a bid to save her soul, Ellie surrenders her body to the wicked vampire, while vowing to protect her heart.
Centuries of cold indifference shattered.
Elizabeth tempts Lothaire beyond reason, as only his fated mate could. As the month draws to a close, he must choose between a millennia-old blood vendetta and his irresistible prisoner. Will Lothaire succumb to the miseries of his past—or risk everything for a future with her?
My Review:
I seriously thought that Kresley Cole couldn't pull off the "Lothaire" book.  I thought she was going to make Lothaire a pansy…or change his personality….but I was wrong.  She not only kept Lothaire, his evil self…but she brought us into his world and what made him tick.  I'm so glad she didn't change him.  I would've been so upset with her.  This book makes me LOVE Kresley even more as a writer.  She never disappoints.  She is one writer out there, that will make you wanting more.  She also makes you think you actually in the book.  I don't know how many times, I found myself dreaming about "Lothaire."  I don't know what it is about a Male who is such an ASS-hole and so evil…that makes him so attractive to me.
The female character, Elizabeth, didn't disappoint either.  She was Lothaire's complete opposite, and it worked out perfectly.  She's a down to earth country girl who wants her life normal again.  Instead, she has an evil sorceress in her.  I don't know how many times poor Elizabeth had to deal with Lothaire and his mean ways…but she knew how to piss him off too.
I loved the story to Lothaire and finding out what made him the way he is and also getting a sneak peek into Kresley Cole's new Series coming this Summer.
One of my favorite quotes to the book is actually from Crazy-Nix (if you don't know who Nix is you need to read this series she's one character that Kresley needs to write a book for).
 
This book has become one of my favorites, and I look forward to the new Series coming out.  I also look forward to the next book in the IAD Series.
Recommend to this book to anyone who has read the series before and to anyone who loves an EVIL Vampire who you will love to hate.


I guess I should type a bio here. I'm FranJessca or Fran for short. I'm the owner of Book Lovin' Mamas and main Reviewer. I've been reviewing books since I got out of the Navy in 2011. Now 8 years later, I'm still reviewing, but this time with my youngest sidekick.
When I'm not reading and reviewing, you can find me at my day job during the week and on the weekend taking care of our little farm.

Latest posts by FranJessca (see all)