Review: 'Lothaire' by Kresley Cole
January 13, 2022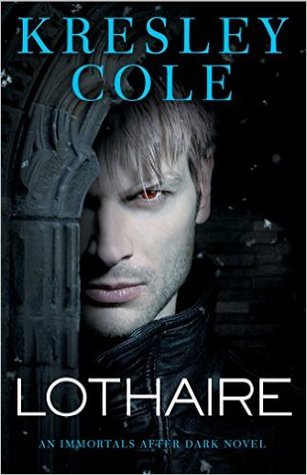 Lothaire
by
Kresley Cole
Series:
Immortals After Dark #11
Published by
Gallery Books
on January 10th 2012
Genres:
Paranormal Romance
Format:
Hardcover
Source:
Purchased
Goodreads
Purchase at
Amazon
|
Barnes & Noble

Number-one New York Times best-selling author Kresley Cole continues her electrifying Immortals After Dark series with this thrilling tale, revealing secrets of the Lore, fierce realm of the immortals....
All fear the enemy of old.
Driven by his insatiable need for revenge, Lothaire, the Lore's most ruthless vampire, plots to seize the Horde's crown. But bloodlust and torture have left him on the brink of madness—until he finds Elizabeth Peirce, the key to his victory. He captures the unique young mortal, intending to offer up her very soul in exchange for power, yet Elizabeth soothes his tormented mind and awakens within him emotions Lothaire believed he could no longer experience.
A deadly force dwells within her.
Growing up in desperate poverty, Ellie Peirce yearned for a better life, never imagining she'd be convicted of murder—or that an evil immortal would abduct her from death row. But Lothaire is no savior, as he himself plans to sacrifice Ellie in one month's time. And yet the vampire seems to ache for her touch, showering her with wealth and sexual pleasure. In a bid to save her soul, Ellie surrenders her body to the wicked vampire, while vowing to protect her heart.
Centuries of cold indifference shattered.
Elizabeth tempts Lothaire beyond reason, as only his fated mate could. As the month draws to a close, he must choose between a millennia-old blood vendetta and his irresistible prisoner. Will Lothaire succumb to the miseries of his past—or risk everything for a future with her?
---
I seriously thought that Kresley Cole couldn't pull off Lothaire's book at first when I read this book the first time back in 2012. After reading it a second time in 2019 and a third time in 2022, I knew she definitely wouldn't change Lothaire. She not only kept Lothaire, his evil self, but she brought us into his world and what made him tick. He's one of my favorite morally-grey characters that I love to hate, and I'm so glad she didn't change the Enemy of Old when he met his fated mate.
Storyline/My Thoughts: This book makes me LOVE Kresley even more as a writer. She never disappoints. She is one writer out there that will make you want more. She also makes you think you are actually in the book. I don't know how I found myself dreaming about Lothaire many times. I don't know what it is about a male who is such an A-hole and so evil that makes him so attractive in books. Let me say that this does not justify how he treated Ellie in the story and if you think I enjoy men like that in real life; I do not. I like them in fictional worlds, but not in real life. My husband is an alpha protective/possessive at times, but also a sweet, caring, and loving husband.
Kresley knows how to write those characters that you love to hate, and believe me, Lothaire has a different side once he realizes who indeed is his fated/blooded mate is finally. It was about time. I wanted to knock some sense into Lothaire.
The female character, Elizabeth, didn't disappoint either. She was Lothaire's complete opposite, and it worked out perfectly. She's a down-to-earth country girl who wants her life normal again. Instead, she has an evil sorceress in her. Who I couldn't friggin' stand. I felt for Ellie in the book, but she knew how to handle Sayoya throughout the book. She even was willing to get herself killed several times to rid herself of the sorceress and Lothaire. I don't know how many times poor Elizabeth had to deal with Lothaire and his mean ways, but she knew how to piss him off too.
I loved the backstory of Lothaire and how Kresley gave everything about him in the beginning and how he ended up the way he is, and what he was up to with now. This vampire seriously has issues against humans, but he has a reason to be against mortals. Readers will also find out that he wants two crowns: one of them is the Dacians crown, which you'll learn a bit from this book. You'll even get introduced to them.
Some of my favorite scenes were with Dorado (if you read the previous two books that dealt with the ring that Lothaire stole, then you know who I'm talking about) and how she handled a particular character. I also loved the scenes at the end of the book, how Lothaire and Ellie managed their relationship, and how Nix knew how to find Lothaire to deliver a particular package to him. Gotta love Nix!
One of my favorite quotes in the book is from Crazy-Nix (if you don't know who Nix is, you need to read this series; she's one character that Kresley needs to write a book for). "You gave her your heart, and she gave you the bird." Nïx sighed. "Songs will be written about this." 
This book has become one of my favorites of the series, which is why it's getting five stars. I highly recommend this book to anyone who has read the series before and to anyone who loves an EVIL Vampire who you will love to hate.
Standalone or Part of Series: It's part of the Immortals After Dark series, and I recommend reading in order.
Steaminess: ⭐️ ⭐️ ⭐️ ⭐️
Trope(s): Fated Mates; Enemies-to-Lovers
Would I recommend this book? Yes, most definitely. I highly recommend this book to Paranormal Romance readers.

This post contains affiliate links you can use to purchase the book. If you buy the book using that link, I will receive a small commission from the sale. It will help sponsor future giveaways but costs you nothing extra. You can read the full disclosure underneath the Privacy Policy.
---
---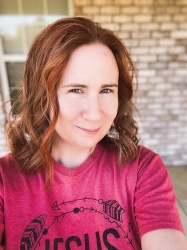 Latest posts by FranJessca
(see all)