Review: 'Visions of Heat' by Nalini Singh
March 24, 2021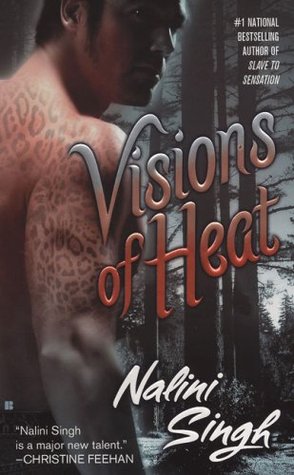 Visions of Heat
by
Nalini Singh
Series:
Psy-Changeling #2
Published by
Berkley Sensation
on March 6, 2007
Genres:
Paranormal Romance
Format:
Paperback
Source:
Purchased
Goodreads
Purchase at
Amazon
|
Barnes & Noble
|
Kobo

Hailed as a major new talent in paranormal romance, Nalini Singh takes us deeper into the world of the Psy and the changelings in her latest extraordinary novel, where a gifted woman sees passion in her future - a passion that is absolutely forbidden by her kind...
Used to cold silence, Faith NightStar is suddenly being tormented by dark visions of blood and murder. A bad sign for anyone, but worse for Faith, an F-Psy with the highly sought after ability to predict the future. Then the visions show her something even more dangerous - aching need...exquisite pleasure. But so powerful is her sight, so fragile the state of her mind, that the very emotions she yearns to embrace could be the end of her.
Changeling Vaughn D'Angelo can take the form of either man or jaguar, but it is his animal side that is overwhelmingly drawn to Faith. The jaguar's instinct is to claim this woman it finds so utterly fascinating and the man has no argument. But while Vaughn craves sensation and hungers to pleasure Faith in every way, desire is a danger that could snap the last threads of her sanity. And there are Psy who need Faith's sight for their own purposes. They must keep her silenced - and keep her from Vaughn.
---
I'm finally going to read the Psy-Changeling series because I've only read the first three books. I know I'm so behind, but I'll catch up. I did this with Nalini Singh's Guild Hunter series on catching up on them, and now 2021 is all about the Psy and Changelings.
The first time I read Visions of Heat was back in 2015, but I never reviewed it. It is time to rectify that since I enjoyed reading the second book to Nalini Singh's Psy-Changeling series. It was great to re-read Faith and Vaughn's story and how they met because these two were difficult at first.
Female Protagonist: Faith Nightstar is an F-Psy, which means she can predict the future. She's one Psy that is fully protected and kept sheltered from everyone and everything else. She's one Psy with no feelings, but that is not the case, especially after she meets Vaughn the first time. I was taken aback by her character at first until I got to know her. She's one character who will think positively about the Psy until she realizes the truth about what has already happened. (If you read the first book, you will read about what happened and a continuation of it.)
Male Protagonist: Vaughn D'Angelo is a Jaguar shifter amongst leopard shifters. He's had a hard life and doesn't like bringing up his past, especially after what happened to his family. He is a big-time alpha. I think he may even be more alpha than Lucas. I loved how his jaguar was always out more than his human self. He's more animal than human, and that makes him very unique compared to others. His character came off clingy and curious, especially when it came to Faith. He didn't know personal space, which drove her crazy and everyone else. I loved him, and I'll leave it at that; otherwise, I'll boast about him too much. 🙂
Storyline/My Thoughts: The Psy seriously have issues with how they treat their kind. I don't like the fact they don't have feelings, and they are blah! If you know what I mean. Also, I wouldn't say I like how they treated Faith in this book. No wonder why the F-Psy tends to go insane. They don't get any interaction because they are held prisoner for their predictions. Although, truths start to come out why the F-Psys are going insane when Faith starts doing her research. The F-Psy also are treated like they are fragile, which is not the case with Faith. She's a fighter in her way. She wants to get away from her kind, and it ends up happening when she reaches out to the changelings for help. Here it is when Vaughn meets Faith. He can't keep his hands off of her, and he ends up overloading her senses. He knows she's the one, but he has to learn boundaries. It takes Sascha and the other changelings to realize he needs to back off.
One of many reasons why I'm enjoying this series is due to the world-building and the characters. Here it is that Nalini Singh has created a futuristic world where you have Psy, Bhangelings, etc. Psy thinks they are over everyone else, but they should be worried about the changelings. The different kinds of shifters know how to handle their own. There is a mystery going on since some Psy are starting to realize the world they live in is corrupt. I feel a rebellion about to happen since Faith's father gives off those vibes in this book. I liked his character. I also loved how Faith finds out the truth about what is going on in this book. Vaughn also makes sure she's there when she finds out the truth and helps her. These two are complete opposite's of each other, but they start falling for one another. Faith brings out another side of Vaughn when they are together and vice versa. This book was hard to put down because of everything that was going on. I don't want to give anything away, so if you haven't read this book or this series, you should read it.
Standalone or Part of Series: It's part of the Psy-Changeling series. Each follows new characters, but I would recommend reading these in order.
Steaminess: Some Steam.
HEA: Yes
Trope: Fated Mates
Would I recommend this book? Yes. I give this book 4.5 stars and recommend it to Paranormal Romance and Urban Fantasy readers. Each book so far makes me fall hard for the characters. I love Nalini Singh and the world she creates for each of her series. Both series are very addicting, and I need more of them now. 🙂

This post contains affiliate links you can use to purchase the book. If you buy the book using that link, I will receive a small commission from the sale. It will help sponsor future giveaways but costs you nothing extra. You can read the full disclosure underneath the Privacy Policy.
---
---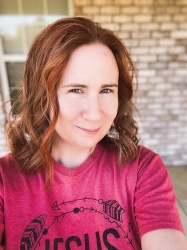 Latest posts by FranJessca
(see all)