Review: 'Archangel's War' by Nalini Singh
October 12, 2020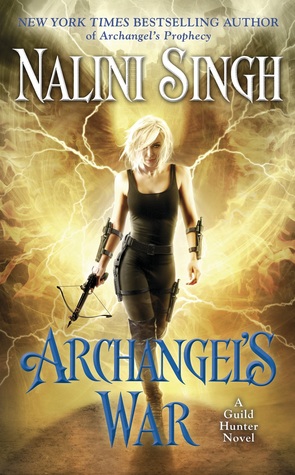 Archangel's War
by
Nalini Singh
Series:
Guild Hunter #12
Published by
Berkley
on September 24, 2019
Genres:
Paranormal Romance
Format:
Paperback
Source:
Purchased
,
Scribd
Goodreads
Purchase at
Amazon
|
Barnes & Noble

Wings of silver. Wings of blue. Mortal heart. Broken dreams. Shatter. Shatter. Shatter. A sundering. A grave. I see the end. I see. . .
The world is in chaos as the power surge of the Cascade rises to a devastating crescendo. In furiously resisting its attempts to turn Elena into a vessel for Raphael's power, Elena and her archangel are irrevocably changed. . .far beyond the prophecy of a cursed Ancient.
At the same time, violent and eerie events around the world threaten to wipe out entire populations. And in the Archangel Lijuan's former territory, an unnatural fog weaves through the land, leaving only a bone-chilling silence in its wake. Soon it becomes clear that even the archangels are not immune to this deadly evil. This time, even the combined power of the Cadre may not be enough. . .
This war could end them all.
---
I have finally caught up on the Guild Hunter series by Nalini Singh. I've wanted to catch up on this series since I read the first book in 2014. I'll be able to dive right into the next release this year (2020). Heck Yes!!!
If you read Archangel's Prophecy, then you know that Nalini Singh left readers with a cliffhanger. I couldn't wait to dive into Archangel's War to find out what would happen to Elena and Raphael.
I don't want to give anything away for readers that have not read this book yet, so here are some things I enjoyed about this book.
1. The relationship between Raphael and Elena and how no-one and nothing can get in between them. Not even the Cascade. They are unstoppable, and these two love each other unconditionally. You can see it in this book, as well as the previous books in the series. This book, though, proves they would rather die together instead of life without the other. Be prepared for lots of twists and turns with these two, especially after the previous book's cliffhanger.
2. Nalini Singh throws in other twists in this book that left me in shock. One of them dealing with my favorite angel (as well as other readers). Our Bluebell and his mother, known as the Hummingbird. Hummingbird has a fierce, strong side.
3. I loved the action-packed scenes between Raphael, Elena, Raphael's Seven, and the other Cadre against Lijuan and her forces. They didn't ever give up. Lijuan was determined to kill them all. Readers thought Lijuan was horrible in earlier books; you haven't seen anything yet. She is one wicked Archangel who needs to be killed already. I think she is by far one of the worst villains I've ever read in PNR.
4. There are other Archangel's and Ancient's that make an appearance in this book that were fascinating. I hope some of them get their books. One of the Ancients was introduced in the previous book, and I found her entertaining.
I could go on and on many other things that I loved about this book, but the review would be too long. Nalini Singh did not disappoint with the twelfth book in the series. I was turning the pages quickly because I needed to know what happened next in the book. (I'm a fast reader.) I love Nalini's writing style because all of her scenes are vivid in detail. Now I'm anxiously waiting for the next book to release in November.
Overall, this book receives five stars from me, and I highly recommend it to readers of the PNR/UF genres. If you haven't read any of Nalini Singh's books, then when are you waiting for, get to it! 🙂 I'm so glad I made time to read this series, and I'll have to catch up on the other books Nalini has written now.

This post contains affiliate links you can use to purchase the book. If you buy the book using that link, I will receive a small commission from the sale. It will help sponsor future giveaways but costs you nothing extra. You can read the full disclosure underneath the Privacy Policy.
---
---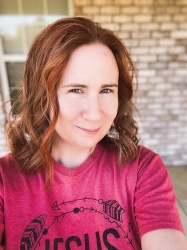 Latest posts by FranJessca
(see all)