Review: 'Branded by Fire' by Nalini Singh
August 26, 2021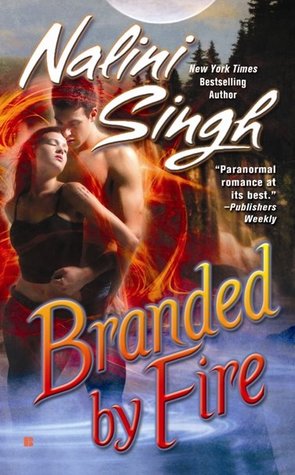 Branded by Fire
by
Nalini Singh
Series:
Psy-Changeling #6
Published by
Berkley
on July 7, 2009
Genres:
Paranormal Romance
Format:
Paperback
Source:
Purchased
Goodreads
Purchase at
Amazon
|
Barnes & Noble
|
Kobo

Though DarkRiver sentinel Mercy is feeling the pressure to mate, she savagely resists when Riley Kincaid, a lieutenant from the SnowDancer pack, tries to possess her. The problem is not simply that he pushes her buttons; the problem is that he's a wolf, she's a cat, and they're both used to being on top.
But when a brilliant changeling researcher is kidnapped from DarkRiver territory, Mercy and Riley must work together to track the young man - before his shadowy captors decide he's no longer useful. Along the way, the two dominants may find that submitting to one another uncovers not just a deadly conspiracy, but a passion so raw that it'll leave them both branded by fire...
---
Branded by Fire is the sixth book in Nalini Singh's Psy/Changling series. This book is the one I've been anticipating reading since it's Mercy and Riley's book. I never expected these two to end up together, and I don't think these two characters expected it either. 
Storyline/My Thoughts :
Both Mercy and Riley have been standout characters to me since they were introduced in previous books in the series. Both have different reasons why they stand out to me. Mercy is a DarkRiver sentinel, and she's all about taking her job seriously. She's one kick-butt heroine who can handle herself, especially since she's a DarkRiver sentinel. At times though, her character drove me crazy with going back and forth with Riley and why they couldn't be anything serious. She was worried that since she was a leopard and he was a wolf, it wouldn't work to be mates. She needed to find a leopard mate and her grandmother even sends her a couple from her pack to win her over. Although, Mercy doesn't want anything to do with them.
Let me not forget Riley; I fell for him because he has overcome a lot in his life. He lost his parents, and he almost lost his little sister to a Psy. He doesn't lose sight of what he is supposed to do in the pack, but he does fall hard for Mercy. At first, they are a fling, but then it becomes more, and Riley is determined to prove he wants more with Mercy. He gets put in his place several times, though, in this book that Mercy can handle herself. He can't change Mercy and how independent she is, and she's also very dominant.
Be prepared for some very steamy scenes between Riley and Mercy from beginning to end. These two could not stay away from each other, and both packs started realizing it, even if Mercy and Riley tried to hide it at times.
There were drama and action-packed scenes in this book that involved the Psy and the Alliance. Why are the Psy council members being targeted individually, and why are Changelings dealing with unexpected issues too.
Overall, this book receives 4.5 stars, and I can't wait to read the next book.
There was a big moment in this book that I was so happy about, but I don't want to spoil it for anyone. It happens to deal with one of my favorite couples in the series so far that I've read, and I hope more moments like this happen in the series.
Standalone or Part of Series: It's part of the Psy/Changeling series, and I recommend reading in order.
Steaminess: Steamy.
Trope: Fated Mates; Opposite's Attract
Would I recommend this book? Yes. I recommend this book/series to Paranormal Romance readers. I can't brag enough about how addicting Nalini Singh's books are since I started reading them. I wish I would've read them sooner. I love the world she creates in her books and the characters.

This post contains affiliate links you can use to purchase the book. If you buy the book using that link, I will receive a small commission from the sale. It will help sponsor future giveaways but costs you nothing extra. You can read the full disclosure underneath the Privacy Policy.
---
---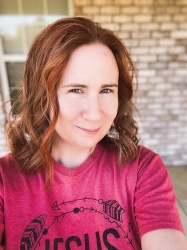 Latest posts by FranJessca
(see all)