Review: 'Archangel's Blade' by Nalini Singh
October 22, 2019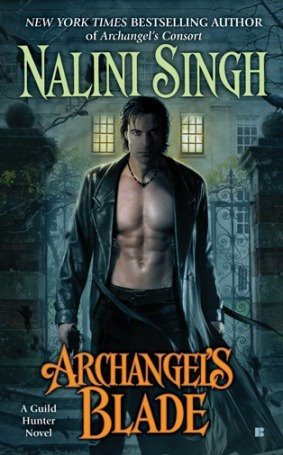 Archangel's Blade
by
Nalini Singh
Series:
Guild Hunter #4
Published by
Berkley Sensation
on September 6, 2011
Genres:
Paranormal Romance
Format:
Paperback
,
AudioBook
Source:
Purchased
Goodreads
Purchase at
Amazon
|
Barnes & Noble

New York Times bestselling author Nalini Singh is back in the shadows of a deadly, beautiful world where angels rule, vampires serve, and one female hunter must crawl out of the darkness to survive…
The severed head marked by a distinctive tattoo on its cheek should have been a Guild case, but dark instincts honed over hundreds of years of life compel the vampire Dmitri to take control. There is something twisted about this death, something that whispers of centuries long past…but Dmitri's need to discover the truth is nothing to the vicious strength of his response to the hunter assigned to decipher the tattoo.
Savaged in a brutal attack that almost killed her, Honor is nowhere near ready to come face to face with the seductive vampire who is an archangel's right hand, and who wears his cruelty as boldly as his lethal sensuality…the same vampire who has been her secret obsession since the day she was old enough to understand the inexplicable, violent emotions he aroused in her.
As desire turns into a dangerous compulsion that might destroy them both, it becomes clear the past will not stay buried. Something is hunting…and it will not stop until it brings a blood-soaked nightmare to life once more…
---
I read Archangel's Blade originally back in 2015 but never reviewed it. Now that I've read it a second time, I love this story even more, especially since it involves the lethal but sexy Dmitri. This would be the first full-length novel in the series that doesn't have Elena and Raphael as the main characters, but they do appear in this book.
Dmitri has been an interesting character in the Guild Hunter series since he was introduced in the first book. He's Raphael's right-hand man (vampire), and let's say this vampire is deadly and seductive. He also has the most alluring scent (according to Elena). The Guild Hunter that Dmitri ends up teaming up within Archangel's Blade doesn't have the hunter scents that Elena has, but instead, she can decipher tattoos and markings. She's been recovering from being brutally attacked for two months by vampires that kept her captive. She does not want to work with Dmitri or with any vampires since the attack. Unfortunately, Sara, the Guild Director, wants Honor to assist with a case that involves a severed head with a distinctive tattoo.
If there is one thing I enjoyed about Dmitri's story was getting to learn about his past and how he has never really fallen in love since his wife was killed. He's had lovers, but not someone that was permanent until he can't seem to get Honor out of his mind. I loved getting to know Dmitri before he became a vampire and also finding out what happened to make him a vampire. He was a loving father too. Nalini Singh did a fantastic job with the backstory of Dmitri and making me fall for him even more. I also loved the moment he met Raphael and how he ended up being his right-hand man/vampire. Raphael has been there for Dmitri through everything and knows that Dmitri is falling for an individual hunter.
Dmitri's determined to find the vampires that harmed Honor so that he can punish them. Honor is not a timid, scared hunter thought that Dmitri thinks she is after the attack. She'll fight back, and she does several times when Dmitri gets too close to her. I was proud of how strong Honor was after what she went through. Nalini knows how to write kick-butt heroines. She also knows how to write villains, which make the book hard to put down.
There is quite a bit of tension between Dmitri and Honor in this book. Be prepared for it. I thought Raphael and Elena's tension was hot, but Dmitri and Honor beat them with the sexual tension.
I loved how the ending of this book went to and had a feeling it was going to end that way. I'm glad to say that Dmitri does get a HEA, and it's well-deserved. Both Dmitri and Honor were meant to work together and also be with each other in the end.
---
Story Rating: 5 stars
Steaminess Rating: 3 stars
Standalone or part of series: Part of series.
Do I recommend this book? Yes.
Will I read other books from the author? Yes.
Tropes/Elements: Fated Mates; Enemies-to-Lovers
Hero: Vampire; Alpha; Protective; Sexy; Seductive; Lethal; Deadly
Heroine: Guild Hunter; Survivor; Tortured; Kick-butt

This post contains affiliate links you can use to purchase the book. If you buy the book using that link, I will receive a small commission from the sale. It will help sponsor future giveaways but costs you nothing extra. You can read the full disclosure underneath the Privacy Policy.
---
---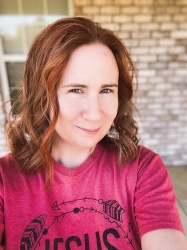 Latest posts by FranJessca
(see all)