Review: 'Archangel's Prophecy' by Nalini Singh
September 30, 2020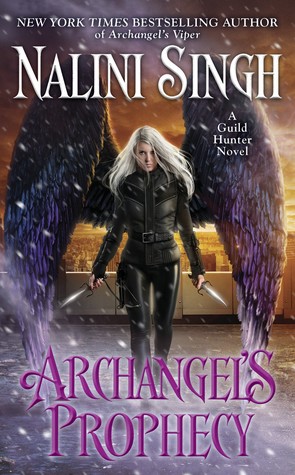 Archangel's Prophecy
by
Nalini Singh
Series:
Guild Hunter #11
Published by
Berkley
on October 30, 2018
Genres:
Paranormal Romance
Format:
Paperback
,
AudioBook
Source:
Purchased
Goodreads
Purchase at
Amazon
|
Barnes & Noble

Return to New York Times bestselling author Nalini Singh's darkly passionate Guild Hunter world, where human-turned-angel Elena Deveraux, consort to Archangel Raphael, is thrust center stage into an eons-old prophecy….
Midnight and dawn, Elena's wings are unique among angelkind…and now they're failing. The first mortal to be turned into an immortal in angelic memory, she's regressing. Becoming more and more human. Easier to hurt. Easier to kill.
Elena and Raphael must unearth the reason for the regression before it's too late and Elena falls out of the sky. Yet even as they fight a furious battle for Elena's very survival, violent forces are gathering in New York and across the world.
In China, the Archangel Favashi is showing the first signs of madness. In New York, a mysterious sinkhole filled with lava swallows a man whole. In Africa, torrential monsoon rains flood rolling deserts. And in Elena's mind whispers a haunting voice that isn't her own.
This time, survival may not be possible…not even for the consort of an archangel.
---
I'm almost caught up with the Guild Hunter series by Nalini Singh before the next book comes out in November. Thank goodness. This series has been one of my favorites to read because of the world and the characters. I've always loved angels/archangels in romance books, and this series feeds that passion.
The eleventh book in the series is back with Elena and Raphael. This time though, Elena is losing her immortality by regressing backward. She's losing her feathers, not healing minor cuts, and dealing with sharp pains and itching near her chest. It's like she's becoming a mortal again. Oh, and let's not forget the voice in her head that keeps telling her that she is destined to die for the other to live. There are also mysterious owls that keep showing up, but Ashwini says they are only messengers, and she shouldn't worry about them. Yup, Elena has it hard in this book. Raphael, her beloved archangel, is worried for her and will not be the same if something happens. He has to deal with strange happenings too because of the Cascade. It's never dull for these two characters.
There's also the issue of Harrison, Elena's little sister's husband, almost being killed by someone. Now that someone has threatened Beth and Harrison's daughter. Elena doesn't care that she is regressing because she needs to find the person that almost killed Harrison and protect her sister and her niece at all costs. She's a determined Guild Hunter who will do anything to protect her family, even if it kills her. < She's one of my favorite kick-butt heroines because of her determination and strength.>
This book will keep you turning the pages because it is a whirlwind of madness due to the Cascade and a killer on the loose. I wish Elena and Raphael could have some peace in their lives, but these two have a war coming soon, and they will need to be there to fight it. Unfortunately, it doesn't look like Elena will be there. If you've read the previous books that involve Raphael and Elena, you'll know these two are inseparable. Raphael is a true Alpha male who will do anything to make sure Elena lives. He will even die instead of having to deal with life without her. You can feel their connection between each other, and no strange old being talking to Elena about destiny will stop these two from loving each other.
Nalini Singh always does a fantastic job with her stories, and this one was no different. Be prepared, though, because there is a cliffhanger at the end of this book. I know I will be diving into the next book immediately. I need to know what happens. I was almost in tears towards the end due to what was happening. I don't particularly appreciate seeing anything happen between my favorite couple in the series.
One other thing that fascinated me about this book was how the Legion played a role in this book more than usual. They seem to be very protective of Elena for a reason. It may be because of Raphael, but I know it's something else. They are fascinated by Elena.
Overall, this book receives 4.5 stars from me, and I highly recommend it to PNR readers out there and readers that enjoy Urban Fantasy.
I'm crossing my fingers that Raphael and Elena finally get some peace in their lives in the next book, but that's highly unlikely. I wouldn't have it any other way because Nalini keeps me coming back for more with this series.

This post contains affiliate links you can use to purchase the book. If you buy the book using that link, I will receive a small commission from the sale. It will help sponsor future giveaways but costs you nothing extra. You can read the full disclosure underneath the Privacy Policy.
---
---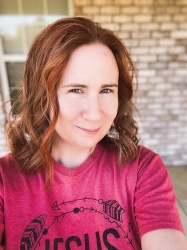 Latest posts by FranJessca
(see all)