Audio Review: 'Slave to Sensation' by Nalini Singh
December 23, 2015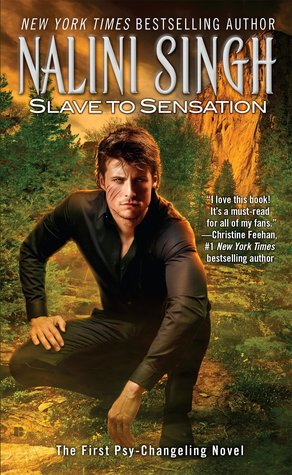 Slave to Sensation
by
Nalini Singh
Series:
Psy-Changeling #1
Published by
Penguin
on May 1, 2015
Genres:
Paranormal Romance
Format:
AudioBook
,
Paperback
Source:
Purchased
Goodreads
Purchase at
Amazon
|
Barnes & Noble
|
Google Play
|
Kobo

Previous edition for this ISBN found here
Nalini Singh dives into a world torn apart by a powerful race with phenomenal powers of the mind-and none of the heart.
In a world that denies emotions, where the ruling Psy punish any sign of desire, Sascha Duncan must conceal the feelings that brand her as flawed. To reveal them would be to sentence herself to the horror of "rehabilitation" - the complete psychic erasure of everything she ever was...
Both human and animal, Lucas Hunter is a changeling hungry for the very sensations the Psy disdain. After centuries of uneasy coexistence, these two races are now on the verge of war over the brutal murders of several changeling women. Lucas is determined to find the Psy killer who butchered his packmate, and Sascha is his ticket into their closely guarded society. But he soon discovers that this ice-cold Psy is very capable of passion - and that the animal in him is fascinated by her. Caught between their conflicting worlds, Lucas and Sascha must remain bound to their identities - or sacrifice everything for a taste of darkest temptation.
---
Read or Listened: (1st time) June 2015
Read: (2nd time) January 2021
I finished listening to Slave to Sensation back in June. I know I'm late typing up a review on it. It'sIt's been hectic the last 6-7 months at my day job, and now I'm on vacation. I'm catching up on my reviews finally. Thank goodness.
I have meant to start the Psy-Changeling series but never got a chance to. Now I'm more determined than ever to read or listen to ALL of the series's books. I became enthralled into this world as soon as I started listening to Slave to Sensation. This PNR is different from any other PNR I'veI've read, but I already knew Nalini Singh was a great PNR writer the minute I started reading her Angel Guild series.
Welcome to the world where the powerful Psy don't take lightly to Changelings. Psy doesn't have any feelings at all, and if they do, they are considered broken. In the case of Sascha, she's trying to keep her feelings secret because if any of the Psy find out, they could sentence her to "rehab," which consists of erasing everything she knows about herself and her world.
Sascha is about to face Changelings due to Psy's wanting to make deals with the Changelings. Unfortunately, the Changelings are not easy to work within the book. Sascha is going to meet the sexiest Changeling of them all, Lucas Hunter. Lucas is what you consider the perfect alpha specimen in the Changeling world. He's determined to find out who killed his packmate, and he knows the Psys have something to do with it. He'llHe'll realize Sascha is different from the other Psy, and let's say these two together are phenomenal.
Nalini Singh did a fantastic job with starting the series with Sascha and Lucas. I also enjoyed the world-building and finding out about the Psy and Changelings. I swear Nalini knows how to keep a reader continually turning the pages or, in my case listening to the audible version with her storytelling. I could go on and on with what I enjoyed the first book, but I'll finish it by saying if you haven't read this book yet, you should.
I give this book five stars and look forward to reading the rest of Nalini Singh's series. I'm determined to catch up. ?
Narration: I enjoyed listening to Slave to Sensation, narrated by Angela Dawe. This was the first book I heard of that was told by her, and I look forward to listening to more of the books she's narrated. I know I enjoyed listening to this book rather than reading it because of Angela. She brought Lucas and Sascha to life, and she told Nalini'sNalini's story entirely. Her voice changed with each character, and she brought out the emotions of the characters the way I imagined. I recommend listening to Slave to Sensation due to Angela'sAngela's narration.

This post contains affiliate links you can use to purchase the book. If you buy the book using that link, I will receive a small commission from the sale. It will help sponsor future giveaways but costs you nothing extra. You can read the full disclosure underneath the Privacy Policy.
---
---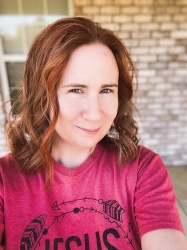 Latest posts by FranJessca
(see all)