Review: 'The Darkest Kiss' by Gena Showalter
March 28, 2023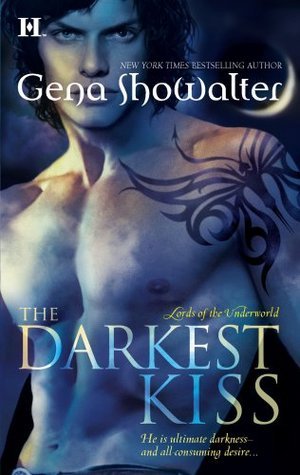 The Darkest Kiss
by
Gena Showalter
Series:
Lords of the Underworld #2
Published by
Harlequin HQN
on May 27, 2008
Genres:
Paranormal Romance
Format:
AudioBook
,
Paperback
Source:
Purchased
Goodreads
Purchase at
Amazon
|
Barnes & Noble
|
Kobo

She has tempted many men...but never found her equal. Until now.
Though she has lived for centuries, Anya, goddess of Anarchy, has never known pleasure. Until Lucien, the incarnation of death—a warrior eternally doomed to take souls to the hereafter. He draws her like no other. And Anya will risk anything to have him.
But when the merciless Lord of the Underworld is ordered by the gods to claim Anya herself, their uncontrollable attraction becomes an anguished pursuit. Now they must defeat the unconquerable forces that control them, before their thirst for one another demands a sacrifice of love beyond imagining...
---
The Darkest Kiss is the second book in Gena Showalter's Lords of the Underworld series. This has always been one of my favorite books in the series due to the couple in the story. Yes, this means I've read this book before. I read it first in 2009 since I was in my PNR era and always stayed there. It's the subgenre that got me back into reading in my twenties and will remain a fave when I find myself in a book slump, well into my sixties, seventies, and so on. It also helps when you find an author like Gena Showalter, who becomes an instant fave and knows how to suck me into her fictional stories with unforgettable characters.
Storyline/My Thoughts: What did I love about The Darkest Kiss the second time reading it?
The main couple in this story is what made me love the story. Lucien, the MMC who was deemed my book boyfriend in 2009 and will always be my book boyfriend (maybe book husband) because he's the alpha, tortured hero I crave in stories. He's cursed from Pandora's Box with Death, and every time someone passes, he has to take them to the hereafter. He is like the Grim Reaper in the Lords of the Underworld series, and the FMC in the story is intrigued by him. This brings me to the second reason I loved this book, Anya, the Goddess of Anarchy. I have a girl crush on Anya, and she has always been a fave FMC in this series. Whenever I'm asked who my fave kick-butt heroine in romance is, I bring up Anya. Why? Because she is one FMC that can handle anything thrown at her, and she does it while sucking on a lollipop and fighting with her words or weapons.
I loved the banter between her and Lucien. Here it is, Lucien has been tasked to unalive Anya, and she has made it a mission to stalk Lucien and make his life difficult. They will inevitably fall for each other, even though they annoy each other at every turn. Anya is the one, though, that can bring Death to his knees, and I loved when they finally gave in to each other. Seriously, who doesn't love characters that constantly spar, and then when they do kiss, there are sparks instantly? I know I do in romance.
I love that Gena Showalter gives us readers both main characters their POVs, plus additional characters. Not only are you reading the main characters and how they loathe or love each other, but you are also getting other characters dealing with some things. This enables Gena to set her readers up with who the other Lords will end up with in their books. One of my favorite secondary characters introduced in this book is William, who plays a significant role in the series. I loved when he came to play in the book and how he and Anya were friends. Gena not only writes spice but comedy, too, in her PNR books. =)
I loved being back in this book and series because it reminded me why I fell in the first place. Greek Mythology and sexy male warriors trying to live with the curses they live with inside them due to opening Pandora's Box. However, they are dealing with new Gods over them, which are not the same as the others. They must obey the new Gods or fight against them and end up unalived. It's not fun and games in this fictional world.
These books should be read in order, coming from someone who has read the series. If you don't read in order, you'll miss out on things.
I give this book five stars again, and glad I made time to reread it. I loved being back with my girl crush, Anya, and her sassy self, and then Lucien and his grumpiness when it came to Anya stalking him and him trying to complete his mission, which he knew was wrong in the first place.
Standalone or Part of Series: It's part of the Lords of the Underworld Series.
Steam/Spice: 🌶 🌶
Genre/SubGenre(s)/Trope(s)/Element(s): Romance. Paranormal Romance. Fated Mates. Grumpy vs. Sunshine. I Was Sent to Unalive You. Kickbutt FMC. Alpha MMC. Tortured MMC.
Would I recommend this book/series? Yes. I always recommend this series by Gena Showalter if you are a fan of PNR, Greek Mythology, and sexy warriors in your books. Check out the tropes above for what to expect in The Darkest Kiss.
Favorite Quote(s): "Apparently, dancing for him and throwing herself at him weren't enough. Apparently, she had to nearly commit murder to arouse him enough to attack her."
"He didn't face her. "I said go away." "Like I'm going to obey you. You aren't my daddy. Unless you want to be. 'Cause I've been a bad, naughty girl and I need a spanking."

This post contains affiliate links you can use to purchase the book. If you buy the book using that link, I will receive a small commission from the sale. It will help sponsor future giveaways but costs you nothing extra. You can read the full disclosure underneath the Privacy Policy.
---
---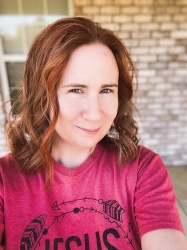 Latest posts by FranJessca
(see all)