ARC Review: 'Archangel's Light' by Nalini Singh
October 26, 2021
I received a complimentary copy of the book from Netgalley in exchange for an honest review. This does not affect my opinion of the book or the content of my review.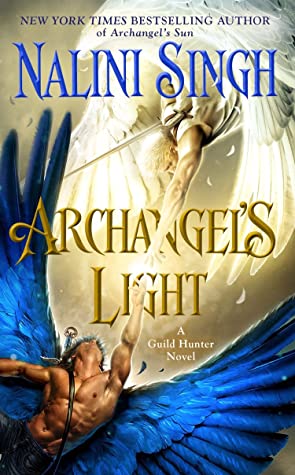 Archangel's Light
by
Nalini Singh
Series:
Guild Hunter #14
Published by
Berkley Books
on October 26, 2021
Genres:
Paranormal Romance
Format:
eArc
Source:
Netgalley
Goodreads
Purchase at
Amazon
|
Barnes & Noble
|
Kobo

Nalini Singh returns to the world of the Guild Hunters for the most highly anticipated novel of the beloved series—a love story so epic it's been half a millennia in the making…
Illium and Aodhan. Aodhan and Illium. For centuries they've been inseparable: the best of friends, closer than brothers, companions of the heart. But that was before—before darkness befell Aodhan and shattered him, body, mind, and soul. Now, at long last, Aodhan is healing, but his new-found strength and independence may come at a devastating cost—his relationship with Illium.
As they serve side by side in China, a territory yet marked by the evil of its former archangel, the secret it holds nightmarish beyond imagining, things come to an explosive decision point. Illium and Aodhan must either walk away from the relationship that has defined them—or step forward into a future that promises a bond infinitely precious in the life of an immortal…but that demands a terrifying vulnerability from two badly bruised hearts.
---
Archangel's Light is the fourteenth book in Nalini Singh's Guild Hunter series. If you've read from the beginning, you know many readers have fallen for both Illium (Bluebell) and Aodhan (Sparkles). I know I was one of them. Since the beginning, I've been waiting to know both of these characters' backstories, and Nalini Singh finally wrote their book.
(This cover has to be my favorite of the series, so far and I can't wait to have it in my bookcase to stare at every day.)
Storyline/My Thoughts: Since reading the Guild Hunter series, I have been a big fan of Illium and Aodhan. I couldn't wait to see where Nalini was going to take them in the series. Now, I will say I was a little skeptical reading Archangel's Light, knowing it would be different from the other books in the series, but I gave it a chance. I've read M/M romance before, but this book was very light on romance. Nalini has flashbacks of when Illium and Aodhan met each other and how their friendship grew in all the years they knew each other. I loved reading when both of these angels were younger.
In this book, Aodhan is acting as second to Suyin, who was Lijuan's niece. Suyin is now the Archangel of China. She has a lot to do in her area after what her Lijuan did to her territory. Suyin relies on Aodhan for his assistance, especially since he's one of Raphael's Seven. Illium ends up in China with him to assist, too. These two have always been closed until recently. Now Illium feels that Aodhan is pushing him away for some reason.
Readers will find out what happened to Aodhan, and it's not for the faint of heart. It broke my heart to discover what Aodhan went through, and I could now understand why he distances himself. I'm so glad he had Raphael and the rest of the Seven to help him. I saw another side of Raphael that made me respect him even more, especially after handling what happened to Aodhan. Raphael is not an archangel to mess with when it comes to his Seven. The other Seven even stepped up to help when it came to Aodhan.
Now, let's get into the romance in the story. There wasn't much but towards the end. This book is all about sharing Aodhan and Illium's friendship. It's also about them coming back together. They finally talk out their feelings on why their friendship has been strained. Aodhan has his reasons, and I felt for his character.
I loved how Nalini wrote this story because it made me understand both of these male characters better. I hope, though, she writes another story and grows their relationship more in the future. I'm also interested in finding out what/who they found in this book and how Suyin will grow as an Archangel of China.
I'm hoping that Nalini writes a book of either Illium or Aodhan becoming an Archangel. I need that book in my life.
I can't wait to find out where Nalini takes us next in the series. I know there's more going on, and I'm not ready to let go of this series. I love it too much. This series is the one series I know I can count on to always get me out of a reading slump. I have a feeling I'll reread these books over and over. I can't get enough of this world.
Overall, this book receives four stars from me. This doesn't mean I didn't enjoy it. I felt more could've been told in this story, and I was left hanging a bit, but that's okay. I already have plans for when the next book is released, always to make time to read it. I don't care what I'm reading, and I'll always make room for the Guild Hunter books.
Standalone or Part of Series: It's part of the Guild Hunter series, and I highly recommend reading in order.
Trope: Slow Burn; (Best) Friends to Lovers (M/M)
Triggers: Violence/Torture (Flashbacks of what happened to Aodhan)
Would I recommend this book? Yes. If you are a fan of Paranormal Romance, then you'll enjoy this book. I also recommend it to readers who enjoy M/M Romance that is a slow-burn romance.
Nalini Singh will always be a favorite author of mine, and I'll always recommend her books. I'm so happy that I read the Guild Hunter series because it will always be a favorite.

This post contains affiliate links you can use to purchase the book. If you buy the book using that link, I will receive a small commission from the sale. It will help sponsor future giveaways but costs you nothing extra. You can read the full disclosure underneath the Privacy Policy.
---
---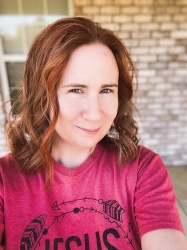 Latest posts by FranJessca
(see all)