Re-post Review: 'Angel's Blood' by Nalini Singh
April 14, 2017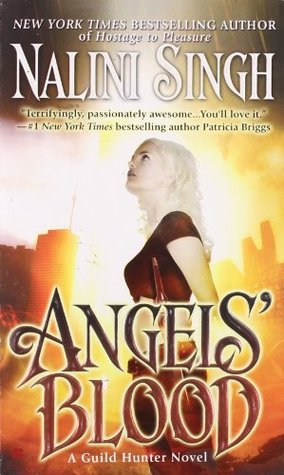 Angels' Blood
by
Nalini Singh
Series:
Guild Hunter #1
Published by
Berkley Sensation
on March 3rd 2009
Genres:
Paranormal Romance
Format:
AudioBook
Source:
Purchased
Goodreads
Purchase at
Amazon

Vampire hunter Elena Deveraux knows she is the best- but she does not know if even she is good enough for this job. Hired by the dangerously beautiful archangel Raphael, a being so lethal that no mortal wants his attention, Elena knows failure is not an option—even if the task is impossible.
Because this time, it's not a wayward vamp she has to track. It's an archangel gone bad.
The job will put Elena in the midst of a killing spree like no other—and pull her to the razor's edge of passion. Even if the hunt does not destroy her, succumbing to Raphael's seductive touch just might. For when archangels play, mortals break.
---
(Re-post of review due to a re-read or in my case listened to audible version, while I was at work within two days. I still love this book!)
I have been underneath a rock since 2009, I guess, because I wish I had read this book/series sooner. Now I'm making time to darn it because I have been in a reading rut and needed something to get me out of it. Thank goodness for Angel's Blood because I'm out of that rut, and I'm now obsessed over Nalini's Guild Hunter series. I read this book so fast that I'm already having withdrawals. Thank goodness for having the next couple of books in the series on hand; otherwise, I would be driving my family crazy. (especially the husband)The minute I started reading Angel's Blood, I knew I was not going to get anything done. The very first page had me hooked into this world that Nalini Singh created. There is nothing new about me loving to kick-butt female characters because I prefer heroines that can handle their own, other the damsel in distress. Elena is that character in this book, and Nalini got me liking her the minute she stood up to Raphael (the archangel). Oh, how I LOVED Raphael in this book. He was one lethal, sexy archangel that I loved following in the story.
Elena is a Guild Hunter who hunts vampires that the archangels want back who try to run from their duties. Elena has been tasked though to hunt down an archangel that has gone rogue. She's going to be tested and put through a lot during this mission because she has the sexy, dark archangel making sure she doesn't screw up. In the meantime, she's trying to resist his charms, and Raphael is trying to resist losing his angel powers to a human that intrigues him. Nalini creates a different world where nothing is what it seems. There are archangels in the world that try to keep everything in order, but it's kind of hard when one of them goes rogue. In comes the importance of the Guild Hunters who help in the matter of the rogue vampires and now rogue archangels. Elena is the strong female lead in the story that will steal the show with her personality, and Raphael is the dangerous archangel that you will either love or hate. In my case, I LOVED him!
I loved how Nalini made the story from different points of view so that the reader can follow Elena and Raphael in the story. It made the story very well with the back and forth between the characters. I also enjoyed the ending. I expected the conclusion but was still blown away with how Nalini ended it. Okay, I admit it was an explosive ending. Now I need to find time to read the next books in the series back to back with no interruption. I must convince the husband to let me have 3 to 4 days by myself to read them. Ha…we'll see how it goes. He did allow me to have my birthday weekend last year to read a series. It was my birthday wish, and he knew I instead read books then have an actual birthday present (but he still got me a fantastic birthday present) =)I give this book five full moons (ten if I could) and highly recommend it to UF/PNR readers out there.
(Re-Read/Listened to this book again in 2019. This book always gets me out of a reading rut.)

This post contains affiliate links you can use to purchase the book. If you buy the book using that link, I will receive a small commission from the sale. It will help sponsor future giveaways but costs you nothing extra. You can read the full disclosure underneath the Privacy Policy.
---
---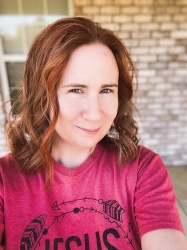 Latest posts by FranJessca
(see all)