ARC Review: 'Archangel's Sun' by Nalini Singh
November 24, 2020
I received a complimentary copy of the book from Netgalley in exchange for an honest review. This does not affect my opinion of the book or the content of my review.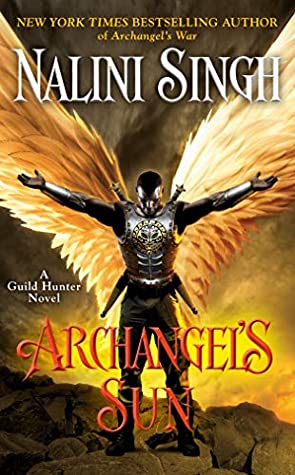 Archangel's Sun
by
Nalini Singh
Series:
Guild Hunter #13
Published by
Berkley
on November 24, 2020
Genres:
Paranormal Romance
Format:
eArc
Source:
Netgalley
Goodreads
Purchase at
Amazon
|
Barnes & Noble

A horrifying secret rises in the aftermath of an archangelic war in New York Times bestselling author Nalini Singh's deadly and beautiful Guild Hunter world...
The Archangel of Death and the Archangel of Disease may be gone but their legacy of evil lives on—especially in Africa, where the shambling, rotting creatures called the reborn have gained a glimmer of vicious intelligence.
It is up to Titus, archangel of this vast continent, to stop the reborn from spreading across the world. Titus can't do it alone, but of the surviving powerful angels and archangels, large numbers are wounded, while the rest are fighting a surge of murderous vampires.
There is no one left…but the Hummingbird. Old, powerful, her mind long a broken kaleidoscope. Now, she must stand at Titus's side against a tide of death upon a discovery more chilling than any other. For the Archangel of Disease has left them one last terrible gift…
---
Archangel's Sun is the thirteenth book in Nalini Singh's Guild Hunter series. This time Nalini Singh gives us the Hummingbird and Archangel Titus's story. I've wanted to know more about the Hummingbird since she was introduced in the series. Here I thought she was only an artist; well, there's more to the Hummingbird than readers thought initially.
Female Protagonist: Sharine, aka the Hummingbird, is known as the gentle, artistic Angel who has gone through a lot in her lifetime. She became lost to her grief after losing several important people in her life. A lot of her kind forget that's she's an Ancient and has seen a lot and used to be a fighter. If there is one thing I love about her character, she loves her son, Illium, and adores Aodhan. She's what I would consider a mother to everyone. She may have been broken at one time, but there was another side of her in this book. I loved getting her back story and getting to see her grow in this book. Don't underestimate the gentle Angel anymore.
Male Protagonist: Titus is the Archangel of Africa, and he's known to being stubborn and loud. He's a warrior and loves his people. He learned from the best underneath his mother, who was a General and Archangel Alexander. He's known as a lady's man, according to how Sharine describes him in the beginning. At first, I was wary about his character, but I did start to like him towards the middle and end. He is nothing like Raphael, but he does have some scary features to him.
Storyline: If you read Archangel's War, then you would've read that Lijuan was defeated. Unfortunately, the Cadre is still dealing with the legacy of what the Archangel of Death and Archangel of Disease left behind. Titus's territory was impacted the most with the Reborn since he lived close to the Archangel of Disease. Raphael sends the Hummingbird to help Titus with the Reborn because the rest of the Cadre are still dealing with their war issues. Titus is hesitant about having the Hummingbird help him. She's known as an artist and not a warrior, but he's going to find out he's wrong about her. They also will discover that the Archangel of Disease left them a bigger surprise behind what they need to deal with in this book.
My Thoughts: I was excited to read this book because I had caught up with the series in October of 2020. I was ready to dive into the next book, even though I knew I would now have to wait for the next book in the series. This book gives readers the aftermath of the war. This book brought up a big issue to the Cadre that they were not expecting, which I thought it couldn't get worst, but Nalini proved me wrong. She managed to throw in a twist. I loved getting to know the back story of both Titus and Sharine (aka the Hummingbird) and wanted them to have happiness with each other. They both deserved it. Readers beware, though, because this is what I would consider a slow-burn. These two did not like each other initially but end up getting to know each other better when they work together. Readers who love Bluebell and Aodhan will get some of them in this book. I need more, though. I need to know who they will end up with, and I need it now!! I'm glad to know that Sharine and Titus found each other, but I need Bluebell and Aodhan's books.
Steaminess: Some Steam. (It comes closer toward the end of the book.)
Standalone or Part of Series: Part of Series.
HEA: Somewhat of a HEA. Some readers may have an issue with the ending.
Trope: This book had somewhat of a Slow Burn to it and Opposite's Attract.
Would I recommend this book? Yes. Overall, this book gets ⭐️⭐️⭐️⭐️ (four stars) from me, and I would recommend it to readers of the PNR/UF genres. If you have read the previous books in the series, then you will enjoy this book; if you have not started this series, then I would recommend reading in order. You will miss out on a lot of stuff if you read from this book. I'm ready for the next book in the series. Nalini, please give us Aodhan or Bluebell's book next. 🙂 Please! I <3 this series from Nalini Singh. If it weren't for this series, I would never get out of my reading funk this year. I loved reading from the beginning to catch up on this series.

This post contains affiliate links you can use to purchase the book. If you buy the book using that link, I will receive a small commission from the sale. It will help sponsor future giveaways but costs you nothing extra. You can read the full disclosure underneath the Privacy Policy.
---
---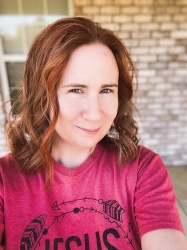 Latest posts by FranJessca
(see all)