Review: 'Caressed by a Crimson Moon' by Amanda J. Greene
March 28, 2013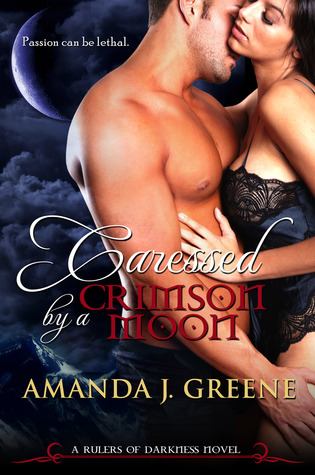 Caressed by a Crimson Moon
by
Amanda J. Greene
Series:
Rulers of Darkness #3
Published by
Self-Published
on January 27, 2013
Genres:
Paranormal Romance
Format:
eBook
Source:
Purchased
Goodreads
Purchase at
Amazon

Consumed by madness and tormented by dark memories of blood and death, Hadrian Lucretius, King of the Validus Clan, has returned after living in self-imposed exile for nearly three hundred and fifty years.
To maintain peace with the vampires, Eva Maldonado is offered as a sacrifice to the crazed vampire king by her father, the alpha of the Silveria Shifter Pack. Hadrian's reputation is both legendary and lethal; he is ruthless, bloodthirsty, lusty, and soulless. When Eva arrives at the ancient fortress high in the Carpathian Mountains, she is shocked to find a ravaged man with dark burning eyes filled with loneliness and dangerous desire.
Would she be his lover…or his prey? His savior…or his victim? Would Hadrian lure her into madness or would their perilous passion be their redemption?

"Caressed by a Crimson Moon" is the third installment to the Rulers of Darkness and it is about Hadrian Lucretius and Eve Maldonado.
Hadrian is the King of the Validus Clan, but he renounced his claim to the throne when he went mad after killing his twin brother, Titus. Now he is back to become ruler again and to do that; he has to control the demon inside that has plagued him since the dreadful night that he chose to take a life instead of saving it.
His second in command, Falcon goes to Brazil to claim their ward from the Silveria Shifter Pack that they made in a treaty with them. Instead of getting a full-blown shifter, they choose to give them their half-breed who they have treated poorly since the day her father, the alpha, kidnapped her from her home. Eva Maldonado is glad to leave her father and his pack, but she's not sure what to think about her temporary home in a castle with a mad and crazed vampire.
The minute she comes in contact with him, he is all she can think of, and for some reason, she is drawn to him and vice versa.
Hadrian is trying everything to come to his feelings for the half-breed, but she is unique, and he is determined to find out why he wants her.
The truth of what she is, makes him realize why the alpha wanted to keep her hidden and also why her mother never told her she was.
Now he has to choose to save her for what she is to become or watch her die a painful death.
Amanda J. Greene gives another gripping tell of two lovers who need each other to survive. Hadrian has been dealing with his inner demon for so long; he needed someone to tell him, he is so much more than a terrible person and to let go of his past. Eva needed someone to save her and realize the truth about what she is. Both characters were determined though to fight their urges, Hadrian was more stubborn than Eva. I adored Eva more than I did Hadrian in the story.
Eva was a strong female character who spoke her mind and was determined to fight for what she wanted. Hadrian needed some guidance along the way. I'm glad though; he had his second in command, Falcon to help him on some issues. He needed someone else to realize his potential of being a great rule of his kind.
I love how Amanda ties in the previous characters from the first two books and also gives you potential characters who deserve to have their own stories as well. I was intrigued by Queen Sonya and Falcon from the previous book and how they have been fighting feelings for each other, but now I am more curious with Silvie and Gannon.
I also love how Amanda keeps the paranormal creatures for what they really should be like, dark, twisted, and evil at times…but they still have a very romantic and caring soul as well, especially when it comes to the person they love.
The ending was swift especially when it came to Hadrian claiming his place back, but Amanda gives you a cliffhanger at the end and makes you want more.
I look forward to reading which gets their next story in the Rulers of Darkness.
I give this book 4.5 moons and highly recommend it to paranormal romance readers out there.
You could read the first two as a standalone, but I recommend you read in order. You will love each of the characters and want to find out how they got their happily ever after also.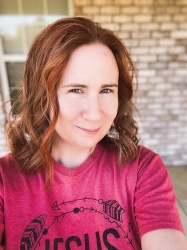 Latest posts by FranJessca
(see all)