ARC Review: 'Annihilation Road' by Christine Feehan
December 28, 2021
I received a complimentary copy of the book from in exchange for an honest review. This does not affect my opinion of the book or the content of my review.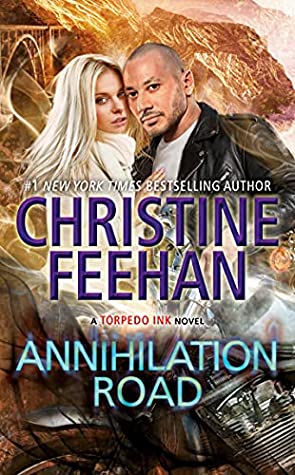 Annihilation Road
by
Christine Feehan
Series:
Torpedo Ink #6
Published by
Berkley Books
on December 28, 2021
Genres:
Paranormal Romance
Format:
eArc
Goodreads
Purchase at
Amazon
|
Barnes & Noble
|
Kobo

All paths lead to destruction in the new Torpedo Ink novel from #1 New York Times bestselling author Christine Feehan.
Savin "Savage" Pajari is convinced he's not worth a damn thing. He's not like his brothers. He's a sadistic monster, a killer--a man no woman could truly love. So it completely throws him when a stranger risks her life for his, pushing him out of the way and taking the hit that would have sent him six feet under. If he had any kind of sense, he'd leave her alone, but Savage can't get the woman with a smart mouth and no sense of self-preservation out of his head. With one kiss, he's lost.
Seychelle Dubois has spent her entire life not feeling much of anything, until Savage comes along and sets her whole body on fire. Kissing him was a mistake. Letting him get close would be a catastrophe. He's the most beautiful--and damaged--man she's ever met. He has a way of getting under her skin, and what he's offering is too tempting to resist.
Seychelle knows so little about Savage or the dangerous world of Torpedo Ink, but his darkness draws her like a moth to a flame. Loving him could mean losing herself completely to his needs--needs she doesn't understand but is eager to learn. But what Savage teaches her could destroy her.
---
Annihilation Road is the sixth novel in Christine Feehan's Torpedo Ink series. This is Savage's story. Readers won't only get one book, but two books this time around for Savage and the woman he falls in love with within his book. (Don't worry, the next book releases January 2022.)
Storyline/My Thoughts: I was a little taken aback by having two books for Savage, but after reading Annihilation Road, I was left with more questions than answers. Now, I know why Christine Feehan has two books for Savage. Savage is Reaper's brother and the Torpedo Ink's other Enforcer. He's a sadistic monster who doesn't believe a stranger risks her life for his one day. It confuses him that this woman would save him. Now, he has become intrigued by her and wants her in his life. However, he's hesitant to let her see the real him because it may end up scaring her away.  
Seychelle Dubois is trying to live her life until she saves Savage, and he won't leave her alone. She gives him one kiss, which has him wanting her in his life permanently. The minute these two get to know each other, they realize they are complete opposites. Seychelle isn't sure of Savage and his way of life, especially in the bedroom. Savage realizes that Seychelle may have her own abilities that may do more harm than good, especially physically and mentally.
Things I enjoyed about this book:
I liked getting to know Savage a little more. He went through a lot and now is dealing with everything he went through. His Torpedo Ink team doesn't realize what he does for them. He's one character that either a reader will like or dislike. In my case, I'm learning more about him and feel for his character. Now, I do have a dislike for something he did in this book. I'll go into detail about my dislikes below.
I was intrigued by Seychelle's character because she has abilities that help others. There is a negative impact on her when using the powers, but she will learn to use them. 
I love how Christine Feehan has characters from the previous series in the Torpedo Ink books. For instance, the Drake sisters appear in the books because this series is in the same setting. I still need to read those books, and I plan on it soon. 
Things I didn't like in this book:
I know I said above that I liked getting to know Savage, but he did something that made me dislike his character in the beginning when he was first winning over Seychelle to be in his life. He should've communicated to Seychelle instead of seeking out someone else. I'm glad Seychelle put her foot down with him, but Savage should've known for a relationship to work; communication is the key.
There was some repetition in the story, especially when he came to Savage voicing what he needed in the bedroom with Seychelle. I know it's because Seychelle is hesitant about what Savage is looking for in their relationship. 
Seychelle did drive me crazy with her naivety at times. She lived a very sheltered life. (She left her place and car unlocked, driving Savage crazy.) There was also the issue of trusting people when she shouldn't and not knowing that bad people had plans for her. 
There is so much going on in this book that doesn't involve only Savage and Seychelle. There is the drama of another club causing issues with Torpedo Ink.
I give this book 3.5-stars, and I look forward to reading Savage Road, which continues Seychelle's and Savage's story. Hopefully, these two will trust each other's wants and needs in their relationship. Seychelle's going to learn that Savage didn't have an easy life growing up, so she'll need patience. Savage will also need patience with how Seychelle handles everything in the club.
Standalone or Part of Series: It's part of the Torpedo Ink series, but it could be read as a standalone. You'll miss out on the previous books, though.
Steaminess: ⭐️ ⭐️ ⭐️ 💫
Trope(s): Instant-Love/Attraction; Opposite's Attract
Triggers: Cheating, Kidnapping, Emotional/Mental Abuse, Trafficking, Sadism in the bedroom, Rape, etc.
Would I recommend this book? Yes, if you've read the previous books in the Torpedo Ink series. I also recommend to Christine Feehan fans.

This post contains affiliate links you can use to purchase the book. If you buy the book using that link, I will receive a small commission from the sale. It will help sponsor future giveaways but costs you nothing extra. You can read the full disclosure underneath the Privacy Policy.
---
---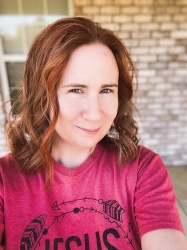 Latest posts by FranJessca
(see all)