ARC Review: 'Vendetta Road' by Christine Feehan
January 29, 2020
I received a complimentary copy of the book from the publisher in exchange for an honest review. This does not affect my opinion of the book or the content of my review.
This book may be unsuitable for people under 18 years of age due to its use of sexual content, drug and alcohol use, and/or violence.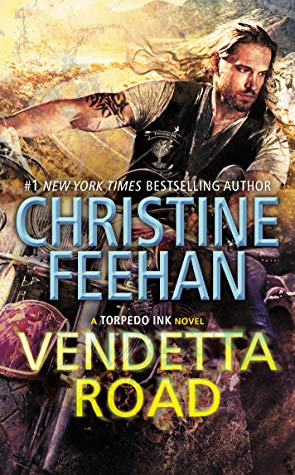 Vendetta Road
by
Christine Feehan
Series:
Torpedo Ink #3
Published by
Berkley
on January 28, 2020
Genres:
Paranormal Romance
Format:
eArc
Goodreads
Purchase at
Amazon
|
Apple
|
Kobo

#1 New York Times bestselling author Christine Feehan pushes the limits in her next novel in the Torpedo Ink series.
Isaak "Ice" Koval is on a club mission when he sees a woman who stops him dead in his tracks. Soleil is a sweet, sexy, girl-next-door type. She's an innocent who should be nowhere near the rough-and-ready world of the Torpedo Ink motorcycle club. But Ice knows Soleil belongs with him—and he'll do whatever it takes to keep her.
After a life of drifting from one thing to the next, Soleil Brodeur is determined to take control of her life. When her breakup with her manipulative fiancé turns ugly, Soleil searches out the stranger who offered her a lifeline and ends up in a Las Vegas biker bar where she meets a gorgeous, dangerous man straight out of her most secret fantasies.
High on adrenaline, she finds herself falling faster than she thought possible. But Soleil knows little about the territory she's stumbled into, and even less about what it really means to be Ice's woman.…
---
Christine Feehan heats it up in her third installment in her Torpedo Ink series. I thought Christine heated it up the last couple of books in the series, but she proved me wrong with Vendetta Road. She went from steamy to scorching with Ice's story. Although, forewarning ahead of time that this book includes a lot of dark triggers/elements in it. If you read the previous books, then you know the Torpedo Ink members grew up in Russia being trained as assassins, but in the worst way possible. No child should ever go through what they went through, and that is why they now hunt pedophiles. Christine Feehan will bring up the past of each Torpedo Ink character in her books, and this time its Ice's book. He went through hell growing up, primarily to protect his twin brother and little sister.
Isaak 'Ice' Koval has never had a connection with a woman until he comes across a woman in a sundress, while he's on a mission in Nevada. He almost blows his mission because of the woman. The beautiful woman Soleil Brodeur is in Las Vegas with her so-called fiancé, Winston, who's trying to force her marry him. She's an heiress to a fortune, and she doesn't want to marry Winston. The minute she tries to break it off with him, Winston becomes violent. She ends up running into one of the female Torpedo Ink members, Lana, who gives her Soleil's information if she ever needs help. Soleil ends up needing her help and runs into a bar where the Torpedo Ink members are, and Ice immediately recognizes her from earlier. Ice and the rest of the Torpedo Ink club members are determined to help Soleil, especially after finding out the truth about what Winston is up to with Soleil.
Ice and Soleil's connection is instant that they can't keep their hands to themselves. Let's say these two end up together several times that include on the pool table, in a clothing store, and at a camp in front of many others watching them. Their connection is not steamy, but off the charts, HOT! I felt that this book had a lot more sex in it from the other books due to the couple. Ice and Soleil are not prudish at all when it comes to being with each other.
So why only 3.5 stars? Unfortunately, I'm not a fan of instant-love connections. I wanted more of Soleil and Ice getting to know each other before jumping at each other. Although, I did enjoy how Ice protects Soleil and tries everything to reassure her that he can handle going after her fiancé. One of the most significant issues I had in the book was how Soleil doubted Ice and the Torpedo Ink members too much on protecting her. She didn't know them very well, which was another thing that made me mad. She should've been told who they were from the beginning. There was also the quick plot to the story of what Soleil was running from and how Ice and the other Torpedo Ink members are protecting her from in the story.
Things I enjoyed though was getting more of what the Torpedo Ink members are trying to stop due to what they went through in their pasts. I love how they are not the typical Motorcycle Club too. They each have their powers, and they use those powers to take down some dark and twisted people. Christine Feehan manages to go into each character's background a little bit more in each one of the books. I need to know more about each of the secondary characters.
Even though this book didn't get a high rating from me, I'm happy that Ice got his HEA with Soleil. He deserved it, especially after everything he went through in his past and continued to go through in his present. I will say this that Soleil is perfect for Ice. She gets him on why he is the way he is after he finally reveals the truth. I wish I could like the instant-attraction, but sometimes it can be over the top for me.
Now his twin brother, Storm, and his sister, Alena, need an HEA too. They all deserve a HEA. Christine Feehan has managed to suck me into this twisted world, and I'm hoping that Torpedo Ink takes out all the sick and dark people of this fictional world.
I'm anxiously waiting for the next book since it's Absinthe's book and he's fascinated me since book one.
---
Story Rating: 3.5 stars
Steaminess Rating: 5 stars
Standalone or part of series: Part of series, but each book follows a new couple.
Do I recommend this book? Yes.
Will I read other books from the author? Yes.
Tropes/Elements: Motorcycle Club; Insta-Love; Damsel in Distress; Dark Triggers: Human (Kids) Trafficking; Rape, Child Molestation, Violence, Murder

This post contains affiliate links you can use to purchase the book. If you buy the book using that link, I will receive a small commission from the sale. It will help sponsor future giveaways but costs you nothing extra. You can read the full disclosure underneath the Privacy Policy.
---
---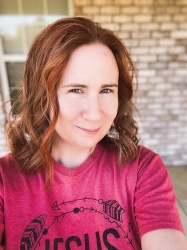 Latest posts by FranJessca
(see all)