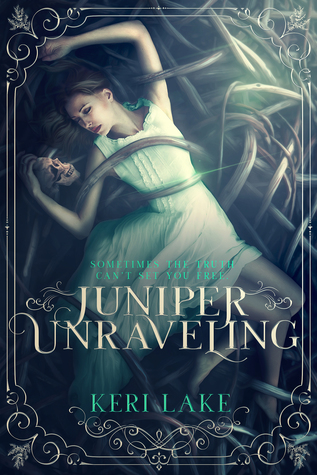 Juniper Unraveling
by
Keri Lake
,
Julie Belfield
Series:
Juniper Unraveling #1
Published by
Self-Published
on October 31, 2017
Genres:
Dark Romance
,
Dystopian
Format:
eBook
Source:
Kindle Unlimited
Amazon Kindle
|
Amazon Paperback
Goodreads

Papa says everyone has a story that deserves to be told.
Most begin years ago, after the second bomb hit, unearthing a deadly contagion that divided the population into the pure, the infected, and the Ragers.
Many recount the moment we rose up from the ashes and started anew.
Others tell of the day we built a wall to keep them out.
For some, they're nothing more than the vestiges left behind—a simple name carved into the knotty bark of a Juniper tree.
My story begins with a boy. A mute, from the other side of the wall, known only as Six, who touched my heart in ways that words never could, and gave me the courage to face my darkest truth.
Warning: This book contains explicit sexual content, and violent scenes that some readers may find disturbing.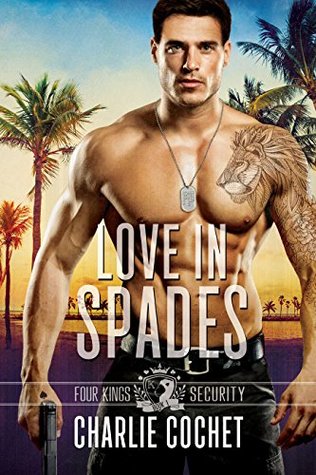 Love in Spades
by
Charlie Cochet
Series:
Four Kings Security
,
Published by
Amazon Digital Services
on April 21, 2018
Pages:
302
Format:
eBook
Source:
Kindle Unlimited
Goodreads

When the cards are stacked against you, the Kings will even the odds.
Ex-Special Forces soldier Anston "Ace" Sharpe is fighting a different battle these days—one involving the world of private security across the state of Florida. As part owner of Four Kings Security, Ace and his fellow Kings tackle everything from armed transport and investigations to cyber intelligence and executive protection. Cocky, fearless, and brash, Ace isn't afraid to take risks.
After years of working alongside his father, Colton Connolly is ready to take the helm at Connolly Maritime, but his father's retirement is put on hold when Colton begins receiving death threats. If that isn't bad enough, his father signs a contract with Four Kings Security to provide Colton with round-the-clock protection, despite his adamant refusal. Colton's life has been turned upside down, the last thing he needs is a shadow, especially in the form of infuriating, sexy-as-sin Ace Sharpe, who seems to be on a mission to drive Colton mad.
Sparks fly the moment Colton and Ace meet on a sultry night club dance floor. But getting involved with a client, even one as fiery and beautiful as Colton Connolly, is a line Ace is unwilling to cross. Colton might be attracted to Ace, but he'd been burned before. He might be willing to put his life in Ace's hands, but not his heart.
As the Florida nights heat up, so does their passion, and Ace and Colton are faced with a difficult choice—take the plunge and risk it all, or play it safe and walk away?
If Ace can keep a deadly threat from robbing Colton of a future….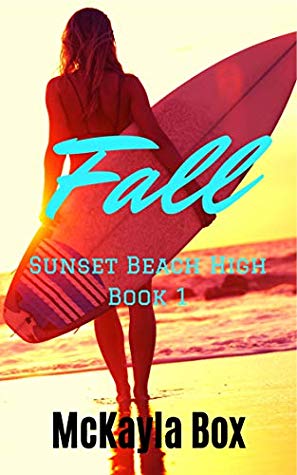 Fall
by
McKayla Box
Series:
Sunset Beach High #1
Published by
Self-Published
on July 30, 2019
Pages:
214
Format:
eBook
Source:
Kindle Unlimited
Amazon Kindle
Goodreads

It's not happening again.
It's the first day of my senior year.
Which should be awesome.
Except I'm in a new town.
At a new school.
And that makes me the new girl.
Which is not awesome at all.
And the guy everyone is telling me to stay away from? The one who rules the school, the one who has mountains of money, the one who is drop dead gorgeous, and the one who does whatever he wants?
He's already made me a target, thinking he can pull the new girl into his world by sheer force.
And that's going to be a problem for him.
Because I've been a target before.
And it's not happening again.
WARNING: Fall is the first book in the Sunset Beach High series. It contains mature themes, sexual content, and profanity. If you're not a fan of those things, this isn't the book for you. But if you like serious stuff mixed with lots of bad words and some sweaty sex, THIS IS THE BOOK FOR YOU. It is the first in a four book series.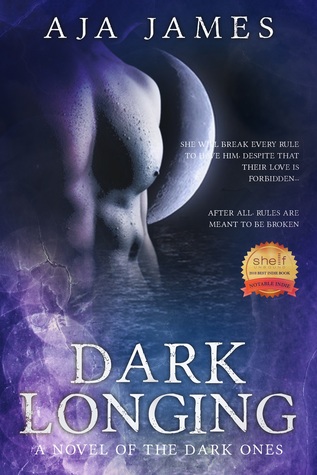 Dark Longing
by
Aja James
Series:
Pure/Dark Ones #2
Published by
Self-Published
on January 18, 2018
Genres:
Paranormal Romance
Pages:
335
Format:
eBook
Source:
Kindle Unlimited
Amazon Kindle
|
Amazon Paperback
Goodreads

"Every story has more than one side, like a crystal that captures and reflects different colors of light. Do not take for granted what you think you know, for until you hold the entire jewel in your palm, the temptation is to fall prey to illusion and deception."
This is a story of the Dark Ones…
Inanna: the vampire warrior
Known as the Angel of Death among her kind, she has lived millennia alone, one of the remaining True Bloods in existence, unconsciously longing for the one male she could never have.
Gabriel: the forbidden human
His soul recognizes hers from the first encounter. With the first touch, he is awakened. Though he does not know it, he has been searching for her across the ages.
But even as they are finally reunited, their love faces seemingly impossible odds. Will history repeat itself or will they break all the rules and chart a new course together?
My Review Continue reading →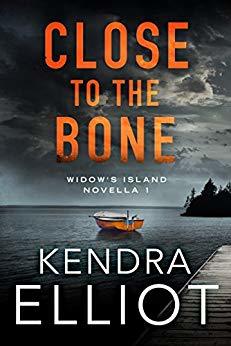 Close to the Bone
by
Kendra Elliot
Series:
Widow's Island #1
Published by
Montlake Romance
on October 23, 2018
Genres:
Romantic Suspense
Pages:
83
Format:
eBook
Source:
Kindle Unlimited
Amazon Kindle
|
Audible
Goodreads

FBI Special Agent Cate Wilde is back home on a remote Pacific Northwest island when she gets the call: a teenager's skeletal remains have been found on a nearby island.
Together with Tessa Black, a childhood friend turned local deputy, Cate confronts dreary weather and bleak leads to make sense of the death. The complications pile up as Cate is distracted by the coroner on the case—and by nagging memories that draw her twenty years into the past. The remains suggest eerie similarities between this victim, and Cate and Tessa's friend Samantha, who disappeared when she was fourteen.
Cate finds herself up against closemouthed locals, buried town secrets, and even her own heart. As the case unravels, will she be able to cut through the fog and find justice for the missing and the dead

Continue reading →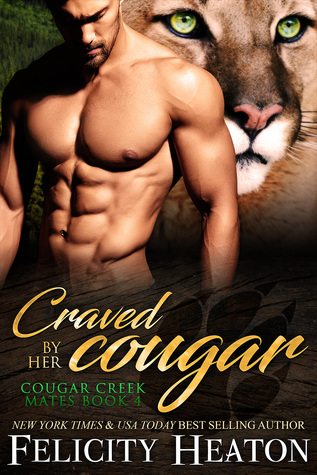 Craved by her Cougar
by
Felicity Heaton
Series:
Cougar Creek Mates #4
Published by
Self-Published
on September 29, 2018
Genres:
Paranormal Romance
Format:
eBook
Source:
Kindle Unlimited
Amazon Kindle
|
Amazon Paperback
Goodreads

For the last twenty years, Cobalt has burned with a need of one female, a beautiful raven-haired cougar who captured his heart the moment he set eyes on her. His position as pride protector has been a blessing at past mating gatherings, keeping females away, but this time it feels like the worst of curses, because the female who has bewitched him so thoroughly is taking part for the first time and all he can do is watch as males battle for her.
As much as she hates the way her mother controls everything in her life, Ember is thankful for it as she constantly turns away suitors, unaware of the pain she's sparing Ember from with every male she rejects. Every male who isn't the gorgeous blond with darkness in his eyes and an easy smile she burns for with an intensity that scares her, awakens feelings in her that have her verging on doing something reckless. Damaged goods he might be, dangerous and unpredictable, but with every contest over her that pulls her closer to her doom, she grows more determined to follow her heart, no matter the consequences.
With every fight over the right to Ember, the tethers on Cobalt's feelings twist and threaten to snap, a torment he cannot bear and one that has him willing to risk it all, because a single kiss would make even the harshest punishment worth it. He would die for one moment with her… his fated mate.
Discover four sexy cougar shifter brothers guaranteed to become your next book boyfriends in this hot new shapeshifter romance series from New York Times and USA Today international best-selling author Felicity Heaton, set in the same rich and addictive world as her Eternal Mates paranormal romance series. Book 1: Claimed by her Cougar Book 2: Captured by her Cougar Book 3: Courted by her Cougar Book 4: Craved by her Cougar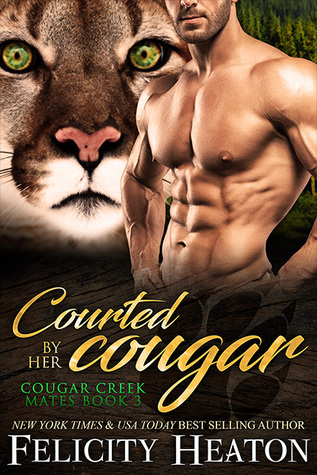 Courted by her Cougar
by
Felicity Heaton
Series:
Cougar Creek Mates #3
Published by
Self-Published
on September 8, 2018
Genres:
Paranormal Romance
Pages:
163
Format:
eBook
Source:
Kindle Unlimited
Amazon Kindle
|
Amazon Paperback
Goodreads

Madness is sweeping through Cougar Creek, and Flint wants no part of it. The fever has two of his brothers in love already, and Flint is damned if he's giving up the bachelor life to tie himself to one female, but when a perimeter sweep has him running into an exotic and enthralling beauty who rouses his instincts as a cougar shifter and a male, the hunt is on.
All Yasmin is interested in is making sure her friend, Ivy, is safe, but the alluring black-haired man with a wicked smile she meets on the path to the creek has her thinking about other things. When an incident at Cougar Creek leads to her revealing a secret, and Flint's persistence pushes her to a rash decision, her entire world is in danger of being turned upside down.
With the gathering in full swing, and males determined to prove their worth to Yasmin, Flint discovers he's not immune to the madness sweeping through the creek, because he'll do whatever it takes to claim victory and win Yasmin's heart… no matter how dangerous it is.
Discover four sexy cougar shifter brothers guaranteed to become your next book boyfriends in this hot new shapeshifter romance series from New York Times and USA Today international best-selling author Felicity Heaton, set in the same rich and addictive world as her Eternal Mates paranormal romance series. Book 1: Claimed by her Cougar Book 2: Captured by her Cougar Book 3: Courted by her Cougar Book 4: Craved by her Cougar
My Review Continue reading →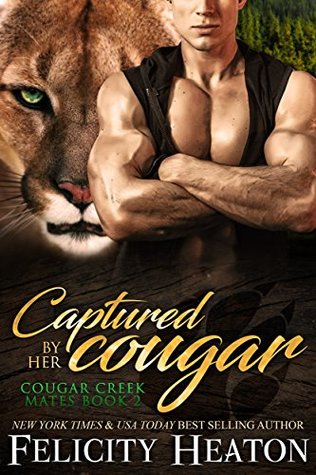 Captured by her Cougar
by
Felicity Heaton
Series:
Cougar Creek Mates #2
Published by
Self-Published
on August 18, 2018
Genres:
Paranormal Romance
Pages:
139
Format:
eBook
Amazon Kindle
|
Amazon Paperback
Goodreads

In the wake of an Archangel attack on Cougar Creek, Storm is seething with a need for revenge against the hunter organisation and the key to it might be the petite blonde mortal he's locked in his cabin, one he's determined to make sing for him. Only the beauty has a fiery temperament to match his own, and the more time he spends with her, the more she stokes a fire inside him. One that fills him with a startling and undeniable need to make her sing in another way—in his arms.
Gabriella isn't going to take her captivity lying down. She's going to give the pig-headed brute holding her against her will hell until he finally believes she's innocent. He might be a cougar shifter, but she isn't afraid of him. Or at least she isn't afraid of what he is. The way he affects her, the flames that lick through her whenever they're close, terrifies her though, because the longer she's around the towering sexy-as-sin shifter, the hotter that fire blazes, and it's only a matter of time before it burns away all her restraint.
With the mating heat and the attack bringing cougars back to the creek, Gabriella is a complication Storm doesn't need, but she's one that he wants… because she might just be his one true mate.
Discover four sexy cougar shifter brothers guaranteed to become your next book boyfriends in this hot new shapeshifter romance series from New York Times and USA Today international best-selling author Felicity Heaton, set in the same rich and addictive world as her Eternal Mates paranormal romance series. Book 1: Claimed by her Cougar Book 2: Captured by her Cougar Book 3: Courted by her Cougar Book 4: Craved by her Cougar
My Review Continue reading →