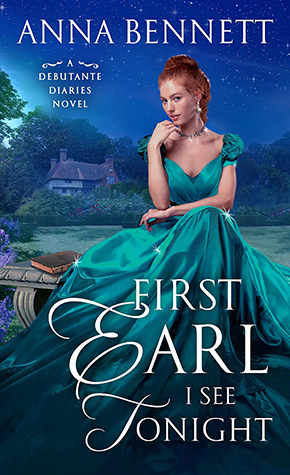 First Earl I See Tonight
by Anna Bennett
Series: Debutante Diaries #1
Published by St. Martin's Press on October 30, 2018
Genres: Historical Romance
Pages: 338
Format: Paperback
Source: Library
Amazon Kindle | Amazon Paperback | Audible | Barnes & Noble | Kobo
Goodreads



An heiress with a daring proposal. An earl who's determined to resist her. And a love that just might be written in the stars…

Recently jilted by his fiancée, David Gray, Earl of Ravenport is not in the market for a wife. Even if Gray didn't have his hands full renovating his crumbling country house, it would take more than a bold marriage proposal from a headstrong young beauty to thaw his frozen heart. Gray is confident that spending a week at his ramshackle estate will change her mind about marriage, but every passionate moment he spends with her tempts him to change his…
A talented artist, Miss Fiona Hartley desperately needs her dowry money to pay off a blackmailer set on ruining her sister. The handsome earl seems a sensible choice for a husband…if only she can convince him that romance will play no part. But marrying in name only may prove difficult for Fiona. Gray can't help but be dazzled by her genuine warmth. Yet as their feelings deepen, Fiona's deadline looms. Will her secrets destroy them, or is true love their final destiny?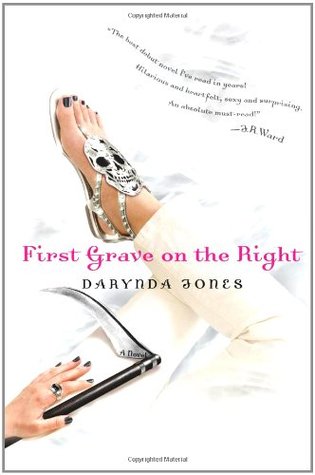 First Grave on the Right
by Darynda Jones
Series: Charley Davidson, #1
Published by St. Martin's Press on February 1st 2011
Genres: Urban Fantasy
Pages: 310
Source: Library
Amazon Kindle | Amazon Paperback
Goodreads


This whole grim reaper thing should have come with a manual.Or a diagram of some kind.A flow chart would have been nice.
Charley Davidson is a part-time private investigator and full-time grim reaper. Meaning, she sees dead people. Really. And it's her job to convince them to "go into the light." But when these very dead people have died under less than ideal circumstances (like murder), sometimes they want Charley to bring the bad guys to justice. Complicating matters are the intensely hot dreams she's been having about an entity who has been following her all her life...and it turns out he might not be dead after all. In fact, he might be something else entirely. But what does he want with Charley? And why can't she seem to resist him? And what does she have to lose by giving in?
With scorching-hot tension and high-octane humor, First Grave on the Right is your signpost to paranormal suspense of the highest order.
My Review: Continue reading →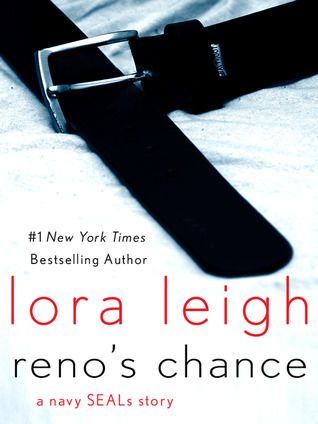 Reno's Chance
by Lora Leigh
Series: Tempting SEALs #1
Published by St. Martin's Press on August 24, 2010
Genres: Romantic Suspense, Military Romance
Pages: 100
Format: eBook
Source: Purchased
Amazon Kindle | Amazon Paperback
Goodreads


Reno's Chance- never before released as a standalone novella! Previously published in the anthology Honk If You Love Real Men.
Ever since she was a little girl, Raven McIntire has secretly pined and longed for her best friend's sexy older brother, Reno, a Navy SEAL who has just returned home from duty. What she doesn't realize is that his only true mission is to get into her heart and get her into his bed.
My Review Continue reading →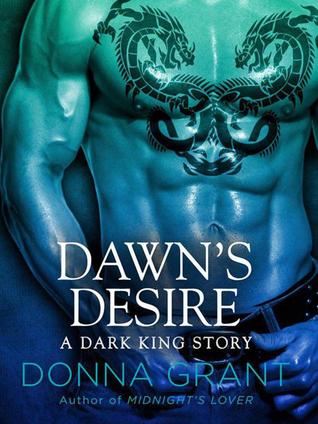 Dawn's Desire
by Donna Grant
Series: Dark Kings #0.3
Published by St. Martin's Press on September 25th 2012
Genres: Paranormal Romance
Format: eBook
Source: Purchased
Amazon Kindle | Amazon Paperback
Goodreads


For centuries, the immortals knows as the Dragon Kings have hidden their shapeshifting powers from the world. But when a mortal enemy threatens to expose them, the warrior Banan must leave his secret lair in the Highlands, risk his life for the dragons within – and resist the temptations of human love…
Jane Holden has never considered herself beautiful. But when the impossibly handsome Banan casts his gaze upon her, smoldering with sensuality, she feels like the sexiest woman on earth. Banan, however, is a man on a mission. He refuses to succumb to this modern woman's charms – or his own desires. Two of his warrior brethren have already surrendered to forbidden love. But as the danger closes in, Banan realizes that he needs to possess Jane – mind, body, and soul. For she is more than his match. She is his destiny…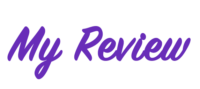 Continue reading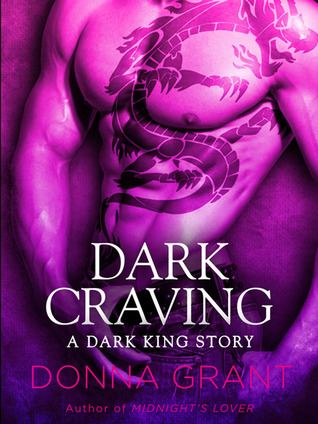 Dark Craving
by Donna Grant
Series: Dark Kings #0.1
Published by St. Martin's Press on July 31st 2012
Genres: Paranormal Romance
Pages: 105
Format: eBook
Source: Purchased
Amazon Kindle | Amazon Paperback
Goodreads


Fueled by ancient magic--and enflamed by human desire--the Dragon King known as Hal can transform himself at will into one of the legendary winged creatures he is sworn to protect. But one thing he can never do is fall in love...with a mortal woman.
Searching for her brother in Scotland--and succumbing to the freezing cold--Cassie Hunter awakens to find herself in the arms of a magnificent Highland warrior. Across his chest is the tattoo of a fiery dragon. And in his heart is a burning passion that, once unleashed, will consume them both...body and soul.
This is a story of destiny and desire, magic and mystery, warriors and lovers.
These are the forbidden cravings of the Dark Kings.
Don't miss the Dark Sword and Dark Warrior novels by Donna Grant--also set in this scintillating world of Highland magic and legendary lovers.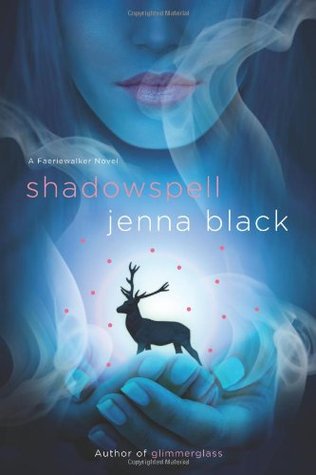 Shadowspell
by Jenna Black
Series: Faeriewalker #2
Published by St. Martin's Press on January 4th 2011
Pages: 295
Format: eBook
Source: Purchased
Amazon Kindle | Amazon Paperback
Goodreads


On top of spending most of her time in a bunker-like safe house and having her dates hijacked by a formidable Fae bodyguard, Faeriewalker Dana Hathaway is in for some more bad news: the Erlking and his pack of murderous minions known as the Wild Hunt have descended upon Avalon. With his homicidal appetite and immortal powers, the Erlking have long been the nightmare of the Fae realm.
A fragile treaty with the Faerie Queen, sealed with a mysterious spell, is the one thing that keeps him from hunting unchecked in Avalon, the only place on Earth where humans and Fae live together. Which means Dana's in trouble, since it's common knowledge that the Faerie Queen wants her—and her rare Faeriewalker powers—dead. The smoldering, sexy Erlking's got his sights set on Dana, but does he only seek to kill her, or does he have something much darker in mind?
My Review