Review: 'Dark Craving' by Donna Grant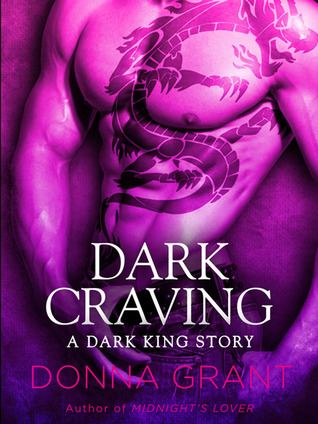 Dark Craving
by
Donna Grant
Series:
Dark Kings #0.1
Published by
St. Martin's Press
on July 31st 2012
Genres:
Paranormal Romance
Pages:
105
Format:
eBook
Source:
Purchased
Amazon Kindle
|
Amazon Paperback
Goodreads

Fueled by ancient magic--and enflamed by human desire--the Dragon King known as Hal can transform himself at will into one of the legendary winged creatures he is sworn to protect. But one thing he can never do is fall in love...with a mortal woman.
Searching for her brother in Scotland--and succumbing to the freezing cold--Cassie Hunter awakens to find herself in the arms of a magnificent Highland warrior. Across his chest is the tattoo of a fiery dragon. And in his heart is a burning passion that, once unleashed, will consume them both...body and soul.
This is a story of destiny and desire, magic and mystery, warriors and lovers.
These are the forbidden cravings of the Dark Kings.
Don't miss the Dark Sword and Dark Warrior novels by Donna Grant--also set in this scintillating world of Highland magic and legendary lovers.
My Review

Can I just say…that my ALL-time favorite shifter has always been "Dragon-shifters".  OMG!!! And…look at the cover…does it not make you want to go to the nearest online book store to buy it. I actually pre-ordered this book and I found out that Heroes and Heartbreakers was going to give a first glimpse into the new series by Donna Grant, by posting "Dark Craving" on their site for 3 days.  I jumped at the chance to read it before it downloaded to my Kindle…which by the way I'm still keeping my pre-order because this book is a "re-read" for me in the future…because I loved it that much. Donna Grant definitely prepares you for what is ahead in the Dark Kings books.  She sets her new trilogy off without confusion. You're introduced to Cassie and how she is moving in with her brother, Dan in Scotland.  She's already having a horrible time adjusting there.  The airline lost her luggage and Dan is not there to pick her up.  Instead, she is given keys to a small car and is given directions to pick up Dan's dog before she heads to his house.  Where is her brother, Dan when she really needs him?  She is trying to spend time with him since she hasn't seen him for 9 years and he's the only family she has left.  She's had it rough…let's just say that. Then the sexy Hal is introduced….and he did not realize that his life would change the moment he helps Cassie into Dan's house.  He can not help the fact that she is attractive and that he may be falling for her.  His kind is not supposed to fall in love with a human though…at least they haven't even fallen in love for years now. Oh boy…I could go on and on what the story is about, but I do not want to give it away.  I'm not spoiling this book for anyone.  Let's just say if you haven't added this book to your to-read list or even pre-ordered it, you need to.  Donna brings you a magical world of dragon shifters and what happens when humans end up in the middle of the sexy dragon shifters and their magic. I recommend this to anyone who has read Donna Grant's books before, who loves reading about dragon shifters (like I do…oh how I love dragon shifters…*sigh), and loves the paranormal romance genre. I'm looking forward to the 2nd book to the trilogy now.  Is it the end of August yet?  Because I think this will be the trilogy that will make me lose my patience on waiting.  *sigh*  At least I can look at the covers of all the books and drool at my computer while I wait.  =)  I want to find out more about this world Donna has created and maybe even hook myself a sexy shifter.  (shhh…don't tell my hubby…)  =)


I guess I should type a bio here. I'm FranJessca or Fran for short. I'm the owner of Book Lovin' Mamas and main Reviewer. I've been reviewing books since I got out of the Navy in 2011. Now 8 years later, I'm still reviewing, but this time with my youngest sidekick.
When I'm not reading and reviewing, you can find me at my day job during the week and on the weekend taking care of our little farm.

Latest posts by FranJessca (see all)