Review: 'First Grave on the Right' by Darynda Jones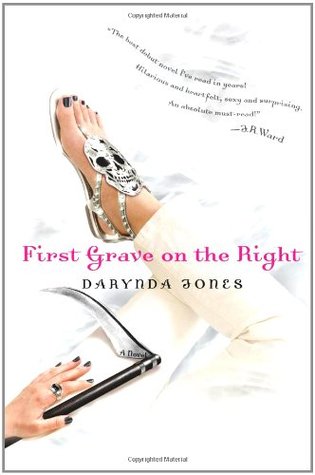 First Grave on the Right
by
Darynda Jones
Series:
Charley Davidson
,
#1
Published by
St. Martin's Press
on February 1st 2011
Genres:
Urban Fantasy
Pages:
310
Source:
Library
Amazon Kindle
|
Amazon Paperback
Goodreads

This whole grim reaper thing should have come with a manual.Or a diagram of some kind.A flow chart would have been nice.
Charley Davidson is a part-time private investigator and full-time grim reaper. Meaning, she sees dead people. Really. And it's her job to convince them to "go into the light." But when these very dead people have died under less than ideal circumstances (like murder), sometimes they want Charley to bring the bad guys to justice. Complicating matters are the intensely hot dreams she's been having about an entity who has been following her all her life...and it turns out he might not be dead after all. In fact, he might be something else entirely. But what does he want with Charley? And why can't she seem to resist him? And what does she have to lose by giving in?
With scorching-hot tension and high-octane humor, First Grave on the Right is your signpost to paranormal suspense of the highest order.
My Review:
I've had First Grave on the Right on my TBR for a few years now, and I decided it was time to finally start reading the Charley Davidson series. I reserved the book at my local library to pick up one day after work, and dived right into First Grave on the Right the first night I had the book. A couple days later, I had the next book reserved at the library, so I could pick up after I finished reading the first book. I knew I was going to have a hard time putting down First Grave on the Right.
Here are the main reasons why I enjoyed First Grave on the Right:
– Very different from any other book I've read. I loved the storyline of Charley being a private investigator and grim reaper. She's a character that talks to dead people who need help passing over. Sometimes an easy passing over and other times it can get be dangerous for Charley.
– The character Charley Davidson is one kick-butt character and I've always been a fan of kick-butt heroines.
– Charley's romantic interest, Reyes was friggin' HOT and dangerous in one package. (Oh…and his story in the book kept me turning the pages. I wanted to know who he was, dang it!)
– Even the supporting characters were AWESOME in the story. Angel was one of my favorites, as well as Charley's Aunt.
– The book was hilarious. I love when there's seriousness in a story, but I also love when there's humor in the story too.
I could go on and on about why I loved the first book in the series. Now I have to make it a point to listen to the Charley Davidson series after I catch up in the series. I always try to get the audiobooks, so I could go back to the beginning with someone else bringing the story to life for me.
If you're a fan of Urban Fantasy that is action packed and filled with humor, you'll enjoy the first book in the Charley Davidson series. I give this book 5 stars and look forward to diving into the next book soon.
Now…do not disturb for the next few days. I need to finish reading my other books for review and then I'm diving back into the 2nd book in the Charley Davidson series. My local library better be prepared to reserve the next book in the series soon for me.  🙂


I guess I should type a bio here. I'm FranJessca or Fran for short. I'm the owner of Book Lovin' Mamas and main Reviewer. I've been reviewing books since I got out of the Navy in 2011. Now 8 years later, I'm still reviewing, but this time with my youngest sidekick.
When I'm not reading and reviewing, you can find me at my day job during the week and on the weekend taking care of our little farm.

Latest posts by FranJessca (see all)