ARC Review: 'Miss Frost Solves a Cold Case' by Kristen Painter
March 8, 2016
I received a complimentary copy of the book from the author in exchange for an honest review. This does not affect my opinion of the book or the content of my review.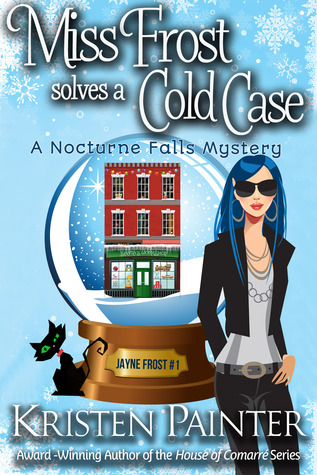 Miss Frost Solves A Cold Case : A Nocturne Falls Mystery
by
Kristen Painter
Series:
Jayne Frost
,
on January 1st 1970
Goodreads
Purchase at
Amazon

Welcome to Nocturne Falls, the town that celebrates Halloween 365 days a year.
Jayne Frost is a lot of things. Winter elf, Jack Frost's daughter, Santa Claus's niece, heir to the Winter Throne and now…private investigator. Sort of.
Needing someone he can trust, her father sends her undercover to Nocturne Falls to find out why employees at the Santa's Workshop toy store are going missing.
Doing that requires getting to know the town, which leads to interesting encounters with a sexy vampire, an old flame, and an elevator that's strictly off-limits. The more Jayne finds out, the more questions she has, but the answers lead her deeper into danger.
Will her magic save her? Or will she come up cold?
My Review
When Kristen Painter said she was going to write a mystery series that was going to be based in Nocturne Falls, I was all for reading it. I'm addicted to the fictional Nocturne Falls town in Georgia and its inhabitants. You may be hesitant to read Miss Frost Solves a Cold Case due to it not being a Paranormal Romance, but do you really think Kristen would leave out some kind of romantic mention in her stories? In fact, you'll have a hard time deciding which guy Lillibeth aka Jayne Frost should go out more with, while she's trying to solve a case in Nocturne Falls. (At least that is what my dilemma was with who she was seeing).
But let's get on to the reasons why I enjoyed Kristen's first book to her new series.
First off, anything that takes me to Nocturne Falls I will automatically read because I love this fictional town.
I love the idea of Jayne Frost's character. She's the Princess of the Winter King himself and she's become an investigator for her father to find out what is happening to the Winter elves in the Nocturne Falls Christmas Shop. I also loved finding out what the winter elves are capable of doing and the summer elves.
The secondary characters that Jayne meets along the way of solving the case of the missing elves: Juniper, Buttercup, Cooper, and Greyson.
How the characters from Nocturne Falls series play out in Jayne Frost's story, which have been introduced in the Nocturne Falls series. Some of them are just mentioned and others have a quick spotlight on them.
I love how Kristen had the storyline flow and how Jayne was determined to find out what was happening to the Winter Elves. Let's not forget how her guy friend or boyfriends, whatever she decides to call them eventually were helping her a long the way too. Although, I'm having a hard time deciding between the two characters she's seeing.
Miss Frost Solves a Case is a great start to Kristen Painter's new mystery series. I loved trying to figure out the mystery with Jayne, even though I may have solved it way before Jayne did, especially since a certain character was mentioned in the story. Don't get me wrong I do enjoy my romance stories, but this story kept me flipping the pages on my Kindle, so I could figure out what Jayne would find out next.
I give this book 4 stars and highly recommend to readers who enjoy paranormal elements in their mysteries. If you are a fan of Kristen Painter's Nocturne Fall series, you'll definitely enjoy this book.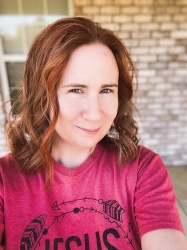 Latest posts by FranJessca
(see all)