#CMCon23 Featured Author Spotlight: Julie Morgan
August 30, 2022
I have another Featured Author Spotlight for the Coastal Magic Convention in Daytona Beach, FL (February 23-26, 2023). If you want to get away from cold weather and snow in February next year, I highly recommend heading to this book convention. It's at one of my favorite beaches that I visited as a kid when I grew up in the Orlando, FL, area. (Now, I live forty minutes from Pensacola Beach, FL)
Today, I'm featuring the fabulous author, Julie Morgan, who will attend the Coastal Magic Convention next year. She's the author of the following: The Covenant of New Orleans, Blood Chronicles series, Rise of the Alpha series, The Alchemy series, Fairytale Retellings, Chronicles of the Veil series, and Misadventure series. She also writes books for the Speed Dating with the Denizens of the Underworld series with other fellow PNR authors.
Check out the Character Interview I did below with Julie Morgan's characters, Annabelle and Cade, from her latest release Hell's Belle. I had a lot of fun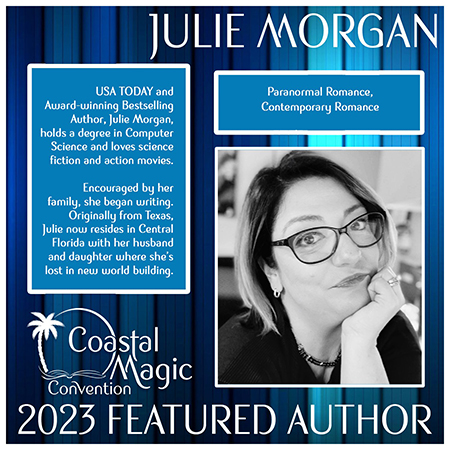 Check out Julie Morgan's Website. Make sure you follow her Social Media Accounts: Facebook | Instagram | Twitter.
Q&A with Annabelle/Persephone and Cade from Hell's Belle
---
FranJessca: Question for Annabelle/Persephone – Tell the readers a little bit about yourselves. (Five Quick Fun Facts)
Annabelle: I love to collect ceramic cows but you wouldn't know this in the story. There's something cute about having cows decorate the kitchen! And living in LA, people tend to find this odd for some reason. No idea why?
Annabelle: The locket I wear has been handed down in our family for a few generations. I'm honestly not sure how long it's been in our family, but until it was given to me, no one has been able to open it. Funny how life works.
Persephone: The moment I was allowed to finally be released, it wasn't like a genie in a bottle type of thing where I'd been trapped. It was nothing like that at all. What Hades did for me was a blessing. It was a sacrifice he made and I'm grateful I was able to finally thank him for it.
Persephone: The day Annabelle met Cade at the Speed Date mingle, I felt his presence immediately, but it wasn't just him I felt. It was also his dragon. Maybe this was why we became fated mates, I'm not quite certain, but Cade belongs to Annabelle. As for me? I'm simply along for the ride. I'm as much of her as she is of me. We're one in the same, but it is she who fell in love with him, and it is he who fell in love with her.. if that even makes any sense at all.
Annabelle: Drive it like you own it! That's my motto! When driving the car, have fun with it! It makes Cade crazy to ride with me, but it's also fun watching him squirm!
FranJessca: Same Question for Cade – Tell the readers a little bit about yourself. (Five Quick Fun Facts)
Cade: Forever the playboy, or so I thought. Meeting Annabelle was like a slap to my ego. And what the hell with all the ceramic cows?
Cade: When I was child, I used to play dungeons and dragons, but we played like it was real life. You know, because we are dragons. And if I didn't like the turn of events, I'd just tear down whatever was in my way. I'm not sure why others stopped playing with me after that. Hmm…
Cade: As much as I could tell you my best friend would be my brother, over time, it's grown to be Cassiel, the angel who heal our wounded. He has a smart mouth and gives zero eff's about anything. I think I've rubbed off on him!
Cade: I personally think Chick-Fil-A should be part of the food groups.
Cade: I want to create the worlds first Shifter Bowl where creatures of all kinds could come compete to be the best of their flock. Think of it like Olympics but for supernatural creatures! 
FranJessca: What was your first impression of each other during Speed Dating?
Annabelle/Persephone: He was charming and made me laugh, which is always a good way to start out!
Cade: I didn't want to be there in the first place, but the moment I saw and met Annabelle, I knew she was my fated mate. I couldn't deny my destiny.
FranJessca: What's your favorite thing about your fated mate after spending time with them?
Annabelle/Persephone: How committed he is to his people and protecting them no matter what it takes. He may come off as a playboy but he takes his role as prince very seriously.
Cade: She accepted me for what I am and I can't ask for more of a perfect woman than that.
FranJessca: Tell readers why they should definitely pick up 'Hell's Belle' to read.
Annabelle/Persephone: Between the humor in the dialogue and the 'getting to know you', the angst and love story between Cade and I is dynamic. Our story truly takes you through so many twists and turns, and when the big battle scene comes… well I'll just leave it at that.
Cade: Yeah, what she said. And you'll get to meet Hades. He's pretty cool.
FranJessca: One last question for the fated mates. Halloween is around the corner in the mortal world. What would you dress up as for Halloween? (Matching costumes, maybe, or theme related) 
Annabelle/Persephone: (laughs) A princess with her dragon
Cade: I guess I'm said dragon?
FranJessca: Quick Question for Julie Morgan: What book is up next, and tell readers a little about it? 
Julie Morgan: Next book in the Speed Dating Mingle world from me is Cassiel's story, the angel mentioned by Cade. His story is definitely on the rom com angle and has some seriously sexy undertones. It also brings more of Alastor into the story (demon from Den of Sin) to setup for his story to come soon. 
I also have another series I'm writing in, Blood Chronicles, which is a spin-off of The Covenant of New Orleans. Blood Chronicles: New Orleans released not too long ago and Blood Chronicles: Paris is coming soon! Following Paris will end the series with Blood Chronicles: Australia.
---
Check out her books in the Speed Dating with the Denizens of the Underworld series.
Purchase Links
Samael (Book #4)- Amazon | Barnes & Noble | Kobo
Hell's Belle (Book #11) – Amazon | Barnes & Noble | Kobo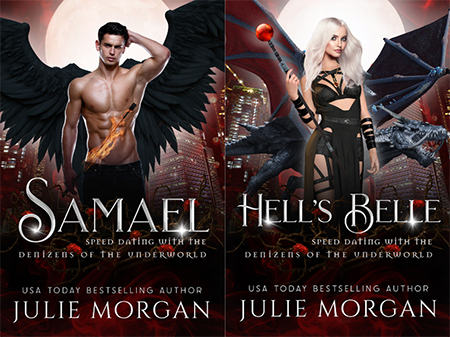 Check out ALL the other books in the series at Goodreads from the other amazing PNR Authors.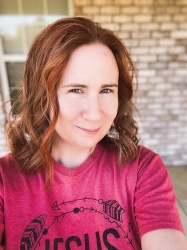 Latest posts by FranJessca
(see all)