#CMCon23 Featured Author Spotlight: Kait Ballenger
July 1, 2022
---
It's been a long time since I attended a book/author convention, even before Covid hit. The last time I attended the Coastal Magic Convention was in 2015. That's seven years of not being able to attend one of my favorite conventions because of working full-time and attending soccer tournaments for my daughters. 2023 is the year I'm going to attend conventions again. I've missed it.
If you are looking for a book convention during February on one of my favorite beaches (Daytona Beach, FL) that I grew up going to when I was a little girl, then I highly recommend the Coastal Magic Convention.
I'm excited to not only be able to attend the Convention in 2023 but to be a Featured Blogger. I will spotlight one or two authors attending the Convention every month on my blog. This month I'm featuring one of my favorite PNR authors: Kait Ballenger. If you enjoy reading Paranormal Romance, Kait's books should be added to your TBR immediately, especially her Seven Range Shifter series.
Q&A with Kait Ballenger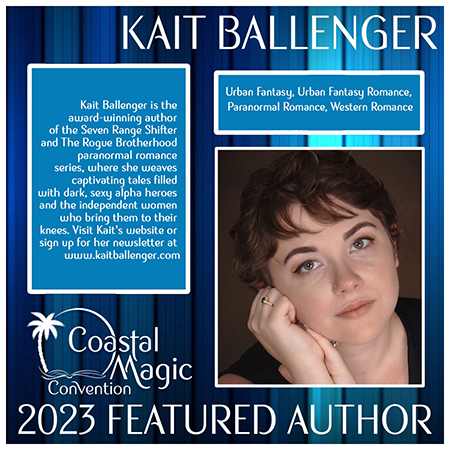 Check out Kait Ballenger's Website. Sign up for her Mailing List. Make sure you follow her Social Media Accounts: Facebook | Instagram | TikTok | Twitter
---
FranJessca: How long have you been writing, or when did you start?
Kait: I've wrote on an off for fun since I was around 11 years old. But I didn't get serious about writing until 2008 when I was 18. I published my first book in 2012 at age 22.
FranJessca: What is your schedule like when you're writing a book?
Kait: It really depends on what the rest of my life looks like at the moment. I don't always write every day, even when I'm in the middle of working on a book. It changes whenever I have more or less time available due to life, family, etc. But usually, I try to do my writing first thing in the mornings. I get the largest amount of my work done on the weekends though when I have larger stretches of time available.
FranJessca: What comes first for you — the plot or the characters — and why?
Kait: The characters always come first—or more accurately—loose concept and then characters. For the Seven Range Shifter series, the concept that came to me was cowboy wolves, and then that's all I had to go on before Wes, the hero of the first book Cowboy Wolf Trouble, arrived shortly thereafter and then the concept started to get truly interesting. The plot and worldbuilding came together more as I went along.
FranJessca: What inspired you to write the Seven Range Shifter series?
Kait: I think often, at least in the paranormal romances of old, wolf shifters or werewolves lived near or adjacent to big cities in urban fantasy type settings and so the Seven Range Shifters were born from the thought exercise of "if wolf shifters were real, where would they live and how would they survive?" The logical answer to me was that they'd live near where true wolves live, out by Yellowstone, and in a way that would allow them to be relatively isolated from humanity—on a huge sprawling ranch they used to make their living, away from prying eyes.
FranJessca: In your latest release, Cowboy Wolf Outlaw, what was your favorite scene to write in the book? (without giving away any spoilers)
Kait: Oh wow, I enjoyed writing so many of the scenes in Cowboy Wolf Outlaw that it's hard to choose. All my books are an exercise in trying to write a book I'd love to read, so that puts a lot of fun and joy in the writing process in general despite the hard work it takes, but I think I poured more of that than usual into Cowboy Wolf Outlaw. If hard-pressed to pick a favorite, I think I'd say my favorite scene to write was when Malcolm first sees where Trixie lives. It doesn't sound very exciting when I describe it that way, but without giving away any spoilers, it's a really pivotal moment and marks a change in their complicated romance. Things really started to blossom between them after that.
FranJessca: If you could meet Malcolm Grey or Trixie Beauregard from Cowboy Wolf Outlaw in real life, what would you say to them?
Kait: Well, as strange as it sounds, I sort of have met them since they live in a world of my creation. When characters come to me, they feel like real, fully formed people in my head and it's my job to get to know them well enough that they'll finally whisper their full story into my ear. This is especially true in the case of Malcolm and Trixie since they were secondary characters earlier in the Seven Range Shifter books. It feels like I've had a long time to get to know them. But I suppose if I could only say one thing to them, I'd give them advice to help ease the growing pains they feel as they change and become better people, both individually and together, throughout their story. To Malcolm I'd tell him that his past doesn't define his future, and to Trixie, I'd tell her that she's actually as strong as she "pretends" to be, she just doesn't know it yet.
FranJessca: If Cowboy Wolf Outlaw was made into a movie, which actor/actress would play your main characters?
Kait: Based on looks alone, Joe Manganiello would play Malcolm. I never had a specific actress in mind when writing Trixie, but she'd have to be someone who could pull of a very Southern faux-Marilyn Monroe. Maybe Scarlett Johansen?
FranJessca: How do you celebrate when you finish writing a book/series?
Kait: I collapse in a heap of bliss. No seriously haha, usually the finishing of book feels very cathartic and for me also happens late at night after I've been writing all day, so I just sort of kick back and enjoy the feeling of it being done and often, sleep. It's almost like coming out of a haze and then you wake up the following morning and look around and see all your unwashed laundry and go "oh crap, what have I missed?"
FranJessca: Who designed the covers of the Seven Range Shifters series? (I have always been a big fan of the sexy covers.)
Kait: Thank you! I love all the covers in the series and they were designed by the art department at my publisher, Sourcebooks Casablanca. Special shout outs to Dawn Adams and the whole Casa team!
FranJessca: What is up next for Kait Ballenger?
Kait: In August, I'll be launching my Rogue Brotherhood series. These books were previously published many years ago as The Execution Underground, though they've received new covers, titles, and the books themselves have also undergone a major update. The first in the series, Rogue Wolf Hunter, releases on August 30th, followed by Cold Demon Hunter (Sept 27th) and Dark Witch Hunter (Oct 25th). This series follows an elite group of supernatural hunters who fight to protect humanity. It's perfect for fans of the CW's Supernatural. It also takes place in the same universe as my Seven Range Shifter series, but new readers don't have to have read the Seven Range Shifters to follow along—though, of course, it'd be extra awesome if they did read both!
FranJessca: Have you watched the show Yellowstone on Paramount? If you have, who is your favorite character(s) on the show? If you haven't, I highly recommend it. (Your Seven Range Shifter series reminds me of the tv show. I wish Rip (one of my fave characters) were able to shift into a wolf. My other favorite character is Beth, and she would be a perfect wolf-shifter too.)
Kait: I absolutely love Yellowstone! It's the closest T.V comparison I can think of to my Seven Range Shifter series–though for my own pride, I do feel the need to note that Cowboy Wolf Trouble, the first Seven Range Shifters book, was already written and turned into my editor long before Yellowstone debuted. But honestly, the actor and actress who play Kaci and Monica might as well have walked out of my head, because they look almost exactly how I imagine Wes and Naomi (the hero and heroine of Cowboy Wolf Trouble) together. Though Rip and Beth are by far my favorite characters in Yellowstone, and their fierce, rough-tough attitudes definitely played a loose role in inspiring Malcolm and Trixie in Cowboy Wolf Outlaw.
---
Check out her Seven Range Shifter Series. The last book in the series Cowboy Wolf Outlaw just released June 28, 2022.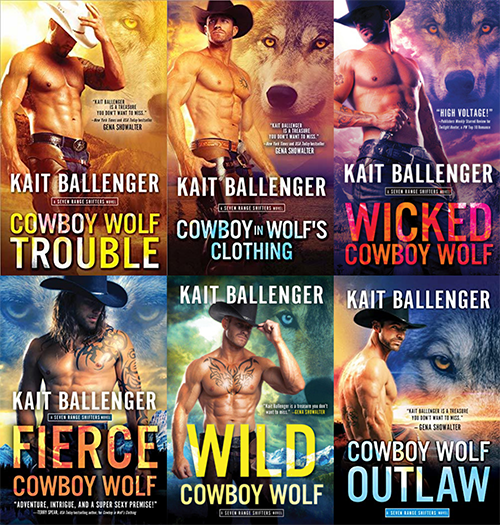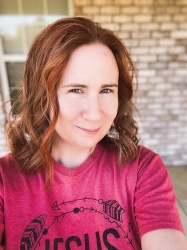 Latest posts by FranJessca
(see all)