Review: Illusion' by Lea Nolan
October 7, 2015
I received a complimentary copy of the book from the author in exchange for an honest review. This does not affect my opinion of the book or the content of my review.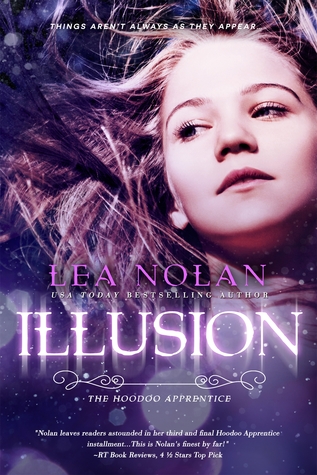 Illusion
by
Lea Nolan
Series:
Hoodoo Apprentice #3
Published by
Entangled: Teen
on October 5th 2015
Goodreads
Purchase at
Amazon
|
Apple

New school. Cross-country move. Broken heart. If only these were Emma Guthrie's worst problems. Instead, she must battle a trio of enemies—human and spectral—who may or may not have joined forces against her and everyone she loves. All while pretending to be over Cooper Beaumont, her ex-boyfriend and true love, to shield him from her arch-nemesis's revenge.
Worse, when the fight escalates, Emma is tempted to use black magic, which will endanger her soul. As her enemies close in, join forces, and fight with new and dark magic she's never seen before, Emma must harness the power within her to fulfill an ancient prophecy, defeat a centuries-old evil, save her family, and reclaim the only boy she's ever loved.
My Review
I have been waiting patiently on the last book to the Hoodoo Apprentice Trilogy. I may have stalked Lea's website and Entangled's website a bit to to find out when it would it release. (just a bit, I promise) When I was contacted about Illusion coming out in October, I jumped on the chance to read it. I've loved this trilogy since I picked up the first book and I knew Lea was going to end the trilogy with a bang.
Okay, I may be in my thirties, but every once in a while I find myself reading out of the adult romance genre. The Young Adult genre is where my roots started in reading along time ago and I like to venture back to the genre. Plus, Lea Nolan's Hoodoo Apprentice Trilogy is not like any other books out there, and that is one of the many reasons why I picked up the books in the first place.
Lea concluded such a fantastic trilogy with a great ending that I'm going to miss all the characters. I'm happy on how everything came together, though in the end for Emma. Emma definitely deserves all the bit of happiness in her life, especially after what she endured in Illusion. I swear the poor girl should be dealing with normal teenager things, but instead she's having to save Miss Delia from an evil villain, Claude (who I despised throughout the story), save herself from the evilness of Miss Delia's great-granddaughter Taneea, and save her family from being hurt from the bigger dilemma that she's been dealing for a while. I don't know which evil is worst, but all I know is poor Emma deals with a lot for a teenager. She's even broken up with Cooper, which she should've never done in the first place. I think that was the biggest crisis. She needed support in the story.
The storyline in Illusion is just as addicting and exciting as the first two books. You want to know what happens next in the story after what Lea leaves you hanging at each chapter. Yes, Lea is one of the authors who leaves you having at each chapter. It's unstoppable, you will need to read the next chapter after each one.  (I've warned you)
The characters are going to be dearly missed, especially Miss Delia. I loved her character the most due to her wisdom and how she handled certain situations. She was such a sweet lady, and she knew how to handle the craziness around her with her charm. I also adored Cooper due to how caring he was and how he never gave up on Emma. I also can't forget Emma because she's one strong-willed, determined teenager who will do anything to protect her family and friends. She's one of my favorite female characters in the Young Adult genre due to how strong she has become in the trilogy.
Although, I'm sad that the trilogy has ended, I'm happy to know Emma and her family finally have a HEA. I can't say it enough how much I enjoyed this trilogy and I look forward to buying the books with their new covers soon to place in my book case. This is one trilogy I plan on passing down to my girls, once they are old enough to read it. I know my oldest daughter will love the trilogy.
If you haven't read the trilogy yet, I highly recommend you do. Now, you can buy all 3 books and read them all in once without waiting. 🙂
I give this book 5 stars and highly recommend it Young Adult Paranormal readers out there.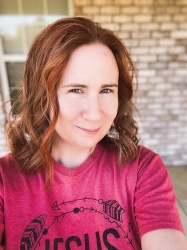 Latest posts by FranJessca
(see all)