ARC Review: 'Allure' by Lea Nolan
October 1, 2013
I received a complimentary copy of the book from the publisher in exchange for an honest review. This does not affect my opinion of the book or the content of my review.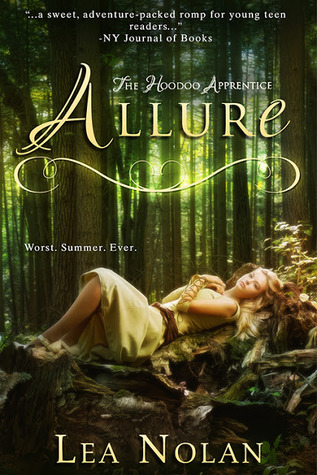 Allure
by
Lea Nolan
Series:
The Hoodoo Apprentice #2
on October 1, 2013
Genres:
Young Adult Fantasy
Format:
ARC
Source:
the publisher
Goodreads
Purchase at
Amazon
|
Apple

Worst. Summer. Ever.
Emma Guthrie races to learn the hoodoo magic needed to break The Beaumont Curse before her marked boyfriend Cooper's sixteenth birthday. But deep in the South Carolina Lowcountry, dark, mysterious forces encroach, conspiring to separate Emma and Cooper forever. When Cooper starts to change, turning cold and indifferent, Emma discovers that both his heart and body are marked for possession by competing but equally powerful adversaries.
Desperate to save him, Emma and her twin brother, Jack, risk their lives to uncover the source of the black magic that has allured Cooper and holds him in its grip. Face with the horror of a soul-eating boohag, Emma and Jack must fight to resist its fiendish power to free Cooper long enough to join their strengths and face it together, before it destroys them all.
My Review
I loved Conjure and was excited to read Allure, and with that ending of Conjure, I was anxious to find out if Emma would be able to stop the curse from happening and losing her boyfriend for good.
Allure was an emotional roller coaster due to everything that Emma, Jack, and Cooper went through. There were times I had to hold back the tears because of what Emma had to endure in this book especially. She went through so much, but she had her twin brother, Jack there to help her even when she did not expect it. Jack stepped up from the first book, and I felt more for him. He showed his brotherly love in this book and even managed to put his twin senses to work when Emma was in danger. Cooper, on the other hand, went a different route in this book and here it is Emma is trying to cure the curse that is supposed to happen to him, and he's a jerk to Emma. (He is a Beaumont, and in Conjure, the secret comes out why the Beaumont men are the way they are.)
New characters are introduced in Allure, and one in particular, who I hope karma bites her back eventually is one of the biggest dramas/concerns in Allure. Taneea is the great-granddaughter of Miss Delia, who has dropped off by her mother to stay out of trouble, but she ends up causing even more trouble, and Miss Delia knows something is up. I could not stand Taneea and what she did, was not forgivable. There were open questions even after the incident was brought up and if Taneea will happen to show up again. Let's hope not.
Emma proves to be taking in the hoodoo magic very well in Allure and Miss Delia trusts her enough at the end, even after a small incident that made her judge Emma on her actions. Emma proved to everyone, she is capable of the magic and maybe even more. She is such a sweet girl, who happens to have the worst things happen to her. I feel terrible for her.
Lea Nolan made sure to top Conjure when it came to drama, magic, and even death. I had a hard time putting this book down because after at the end of each chapter, I was left hanging. So many questions were answered in Allure, but more came up. There is one thing that we know about now, and that is what exactly is a boo-hag. Yuck!!! They are something not to mess with in the story. We even get the past creeping back up and getting into things.
The ending was a cliffhanger and left me wanting more. I want to know if Emma, Jack, and Cooper will ever not have anything come at them and if Miss Delia will be okay, especially what happened to her in this book.
Lea Nolan did a spectacular job on the sequel, and I look forward to the next book. I need to find out if Emma and Cooper will have their happily ever after because I am shocked at the ending. Poor Emma and poor Cooper. =(
I give this book 5 full moons and highly recommend it to young adult readers out there and fans of Lea Nolan. You will love this book, but be prepared to want to go through the book and slap some characters silly. ( I know I wanted to do it with Cooper and especially Taneea)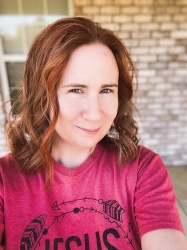 Latest posts by FranJessca
(see all)