ARC Review: 'Play' by Kylie Scott
March 25, 2014
I received a complimentary copy of the book from Netgalley in exchange for an honest review. This does not affect my opinion of the book or the content of my review.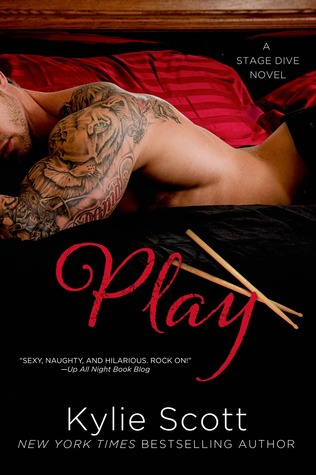 Play
by
Kylie Scott
Series:
Stage Dive #2
Published by
St. Martin's Griffin
on March 25, 2014
Format:
eArc
Source:
Netgalley
Goodreads
Purchase at
Amazon
|
Apple

Kylie Scott returns with the highly anticipated follow-up to international bestseller Lick.Mal Ericson, drummer for the world famous rock band Stage Dive, needs to clean up his image fast-at least for a little while. Having a good girl on his arm should do the job just fine. Mal doesn't plan on this temporary fix becoming permanent, but he didn't count on finding the one right girl. Anne Rollins never thought she'd ever meet the rock god who plastered her teenage bedroom walls-especially not under these circumstances. Anne has money problems. Big ones. But being paid to play the pretend girlfriend to a wild life-of-the-party drummer couldn't end well. No matter how hot he is. Or could it?
My Review
Play is the second book to the Stage Dive series from Kylie Scott, and it was one book that kept me from sleeping. I think I'm still recovering from staying up two nights in a row to finish this book. If I didn't have prior commitments, I probably would've finished this book in one night, but unfortunately, I didn't want to be a zombie the next morning. (This mama has to chase after a toddler during the day) Once I started reading Play, I had a hard time putting down my dang Kindle. One reason was that I fell head over heels for Malcolm (aka Mal…the sexy drummer to Stage Dive). Ever had that one character that captured your heart the minute he came in the story without the author describing him? Yeah, Mal is that character. The minute he started talking was the minute I fell for his charm…or should I say humor.
Anne Rollins is introduced first in the story, and she hasn't had it easy. Her life consisted of taking care of her little sister due to her mom not wanting to be a part of raising them, and then taking care of everyone else she comes in contact with in her life. She tends to have people take her for granted. The poor girl though has no one there to tell her otherwise, and she's way too sweet. I wanted to slap her a couple of times for doing things she shouldn't for people who used her. She has her roommate walk out on her; her boss used her for hours and several other incidents that happen in the book that I do not want to give away. The poor girl needed someone to kick her in the butt or make life be more fun for her.
In comes the sexy drummer of Stage Dive, Mal who will make you laugh, smile, blush, and curse all at the same time. He had me laughing up a storm constantly in this book. The boy says the craziest things though at the best times.
One of my favorite scenes is when Mal is drunk and his fellow bandmate, David tried to shut him up.
There are also several other scenes, one where Mal talks to Anne (but not really her…LOL..Let's say it's a body part ) Yeah, you will have to read the book for this one.
Mal ends up meeting Anne when he overhears her at a party talking to her boss. He's going to change Anne's world and make it much better (or you may find it stalking or going crazy a bit…it all depends on how you take it as a reader). To me, Mal came in and saved the day for Anne. He made her more fun, and she made him open more at the end. I loved him, and he's going on my long list of favorite book boyfriends now. (Shhh, don't tell the hubs.)
Mal and Anne are steamy together, and both of have the problems they are dealing with in life. Anne can understand quickly what she needs to fix, but Mal has a hidden secret that Anne tries to pry out of him the minute they make a deal to help each other. She knows something is wrong, and so does the rest of the bandmates, but Mal is determined to keep it hidden or at least try to accept it on his own.
Kylie does a fantastic job on keeping my interest throughout the story for these two characters and also the secondary ones. We have the previous characters in the story and the other bandmates. We also have Anne's friends regularly throughout the book and her sister. Her sister is quite a character, and I have a feeling she'll show up again later on in another book.
I look forward to reading the rest of the bandmates stories because I'm now officially addicted to this fictional band. It also helps when Kylie makes several scenes very steamy between the characters. (Is it getting hot in here…kind of feeling when you read the scenes) This is a New Adult Contemporary Romance book that has way more steamy scenes compared to other books I've read in this genre.
Another warning though, if you read this book in public be prepared for people staring at you. There is no way you will be able to hide your giggles and your smiles from Mal's crazy personality. Thank goodness I read this book in the comfort of my home and when everyone slept.
I give this book 5 full moons and highly recommend it to readers out there that enjoy rock star romance books and the New Adult/Contemporary Romance genre.
Oh, one more thing…that will get you worked up about Mal is when Kylie describes him in detail, especially when he's beating on his drum set and how Anne sees him from her perspective. (*sigh*)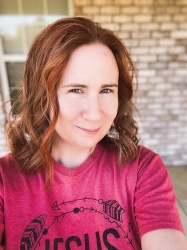 Latest posts by FranJessca
(see all)