ARC Review: 'The Princess Knight' by G.A. Aiken
December 4, 2020
I received a complimentary copy of the book from Netgalley in exchange for an honest review. This does not affect my opinion of the book or the content of my review.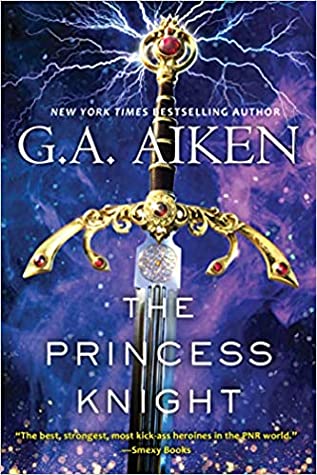 The Princess Knight
by
G.A. Aiken
Series:
The Scarred Earth Saga #2
Published by
Kensington
on November 24, 2020
Genres:
Fantasy Romance
Format:
eArc
Source:
Netgalley
Goodreads
Purchase at
Amazon
|
Apple
|
Google Play
|
Kobo

In New York Times bestselling author G.A. Aiken's gripping new fantasy romance series, the Blacksmith Queen must confront armies and pretenders desperate to take her new-won crown. But with the Princess Knight at her side and a centaur warrior clan at her back, she'll risk everything for victory . . .
LONG LIVE THE QUEEN
Gemma Smythe dedicated her life to the glory of battle. With her fellow War Monks, she worshipped the war gods, rained destruction on her enemies, and raised the dead when the fancy took her. Until her sister Keeley became the prophesied Blacksmith Queen, and Gemma broke faith with her order to journey to the Amichai Mountain and fight by Keeley's side.
The Amichai warriors are an unruly, never-to-be-tamed lot, especially their leader-in-waiting, Quinn. But when the War Monks declare support for Gemma's ruthless younger sister Beatrix, the immaturity of her key ally is the least of Gemma's problems. She has to get to the grand masters, dispel their grudge against her, and persuade them to fight for Keeley and justice. If her conviction can't sway them, perhaps Quinn's irritating, irreverent, clearly unhinged, ferocity will win the day . . .
---
The Princess Knight is the second book to G.A. Aiken's The Scarred Earth Saga. I was anxious to start reading the second book in the series, especially after the first book. I was surprised that this book would mostly focus on Gemma and Quinn. Don't get me wrong; I loved getting to read their POVs. I enjoyed the action and getting to know the other characters, more though in this book.
My Thoughts: First off, be advised that Princess Knight picks up two years after The Blacksmith Queen. I was a little confused when I started reading this book because of some things that happened, and I didn't expect it to be so far ahead. I felt lost and was hoping for a refresher. There was also an overload with additional characters in this book that I was not prepared for, and it makes me want a companion book to keep up with them. I will give G.A. Aiken props because I don't know how she keeps up with all the characters. I will also give her props for her world-building skills. A lot is going on in this series, which is why I would love a companion book or even a map to keep with it all.
The main couple in this book are Gemma and Quinn, and they are continually bantering with each other. (They remind me of an old married couple.) It drove me crazy at times with these two because Quinn was annoying at times. I will say that these two tended to bring out the best in each other. If Gemma were doing something that she shouldn't, then Quinn would call her out on it. (Believe me there is a lot of these two helping each other in this book.) Gemma is an angry person, which is why she fits nicely as a War Monk, especially meeting the other War Monks in this book. (They are some scary people.) Although Keeley will always be my favorite in the series because she's kick-butt, but she's also caring, especially towards animals. (Even animals that everyone deems as demon-like creatures.) Don't get me wrong, I love Gemma, but she can come off as too-much at times. I do like her when she wants to go after Beatrix. That sister is someone I don't like.
For me, this book only gets 3.5-stars, but that's due to certain aspects that drove me crazy. Some of it I discussed above in my review. I felt the writing was rushed in certain parts of the book, and then the dialogue came off as immature with the characters. I expect the characters to be more mature, especially in this kind of world that G.A. Aiken has created. I do like this book, but it's not a favorite. I will continue with the series because I need to know if Keeley and/or Gemma, eventually beat Queen Beatrix. That sister is awful! I can't stand her.
Would I recommend this book? Yes, if you are a fan of G.A. Aiken/Shelly Laurenston and enjoy Fantasy Romance books. If you are a fan of Fantasy Romance stories that focus more on world-building and action-packed scenes, then this book is for you. If you expect steamy romance scenes and characters that fall madly in love with each other, you will be disappointed. This book is all about the storyline and all the characters in it. It's not just about the main characters.
I need to read the Dragon Kins series because something happens in this book to make readers of her Dragon Kin series happy. I feel like I'm missing out because I haven't read that series. I promise to make time to read the Dragon Kin series in 2021.

This post contains affiliate links you can use to purchase the book. If you buy the book using that link, I will receive a small commission from the sale. It will help sponsor future giveaways but costs you nothing extra. You can read the full disclosure underneath the Privacy Policy.
---
---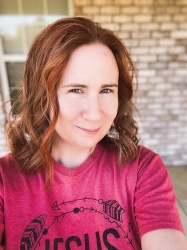 Latest posts by FranJessca
(see all)