ARC Review: 'The Professor Woos the Witch' by Kristen Painter
October 12, 2015
I received a complimentary copy of the book from the author in exchange for an honest review. This does not affect my opinion of the book or the content of my review.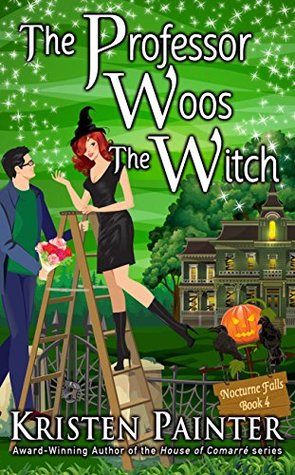 The Professor Woos The Witch
by
Kristen Painter
Series:
Nocturne Falls #4
on October 8, 2015
Goodreads
Purchase at
Amazon
|
Apple

Welcome to Nocturne Falls, the town where Halloween is celebrated 365 days a year. The tourists think it's all a show: the vampires, the werewolves, the witches, the occasional gargoyle flying through the sky. But the supernaturals populating the town know better. Living in Nocturne Falls means being yourself. Fangs and all.
Pandora Williams is Nocturne Falls' most successful real estate agent. And least successful witch. Her magic never has the intended outcome, but she's learned to live with that. Mostly. Yes, it sucks, but what can she do? Then a hot new neighbor shows up and suddenly her magic works. Very cool, but very suspect. Especially since he's a total non-believer.
Cole Van Zant likes practicality and absolutes. Things he can see and touch. So not magic. But when his teenage daughter insists she's a witch—and they're now living in a town that celebrates Halloween every day—he needs help. Of the witchy variety. Thankfully, his sexy neighbor buys into all that hocus pocus.
Enlisting her help seems like a great idea until spending time together reveals a supernatural surprise about who Cole really is. A secret even he didn't know. Could Pandora and Cole really be meant for one another or is their attraction too much to believe?
My Review
Welcome back to Nocturne Falls where it is Halloween everyday and all the people walking around in the shops and towns are actually supernatural. But…Shhhh! Don't tell the tourists. They think it's for show. If only they knew the supernaturals are some amazing characters that live in the most AWESOME town ever, where they can actually be who they were born to be.
Kristen Painter's fourth book in her Nocturne Falls introduces a witch who doesn't have much luck with her magic, and a professor who doesn't believe in anything supernatural. Although, he's about to get to know the supernatural in Nocturne Falls due to what his daughter has unveiled to him.
I really enjoyed Cole and Pandora's story. It wasn't an instant love with these two, but they grew to love each other. It took a while due to the fact, Cole didn't make a great impression with Pandora and I definitely agreed with how Pandora treated him at first. Cole had no clue on the truth and he needed a wake up call. Pandora definitely supplied that wake up call, but there was also a little help with a certain other person.
The storyline had me intrigued from the beginning due to how Kristen introduced the characters pasts into the story and how it flowed into what they were dealing with currently. I still can't get over how Pandora handled Cole at first and the truth behind him. Cole definitely needed someone to help guide him. I also enjoyed the ending, but I definitely don't want to mention it and give it away.  🙂
I was ecstatic to know Pandora was going to get her HEA due to her being introduced in the previous book. Poor girl was still dealing with her past love and she deserved every bit of happiness.  She ends up getting a complete family who completes her. Kristen did an amazing job getting the perfect ending for two characters who really needed each other.
I highly recommend The Professor Woos the Witch to Paranormal Romance readers out there and give it 5 stars. If you're looking for a series full of paranormal, humor, drama, and romance Nocturne Falls is just for you. If you're a fan of Halloween like I am, you'll enjoy Nocturne Falls and all of it's habitants.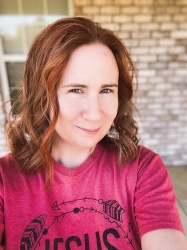 Latest posts by FranJessca
(see all)