#CMCon23 Featured Author Spotlight: Lucienne Diver
December 8, 2022
I have another Featured Author Spotlight for the Coastal Magic Convention in Daytona Beach, FL (February 23-26, 2023). If you want to get away from cold weather and snow in February next year, I highly recommend heading to this book convention. It's at one of my favorite beaches that I visited as a kid when I grew up in the Orlando, FL, area. (Now, I live forty minutes from Pensacola Beach, FL)
Today, I'm featuring the fabulous author, Lucienne Diver, who will attend the Coastal Magic Convention next year.
---
Lucienne Diver is the author of adult and young adult fantasy and suspense. Her short stories have appeared in the KICKING IT anthology edited by Faith Hunter and Kalayna Price, the STRIP-MAULED and FANGS FOR THE MAMMARIES anthologies edited by Esther Friesner, Faith Hunter's Rogue Mage anthology, TRIBULATIONS and the upcoming INSTINCT animal rescue anthology, edited by LJ Hackmeister.
Bella Rosa Books released her first two young adult suspense novels, FAULTLINES and THE COUNTDOWN CLUB. WordFire Press has released her latest, DISAPPEARED, wherein two teens struggle with the story their father tells about the night their mother disappeared.
On a personal note, Lucienne lives in Florida with her husband and enough books to some day collapse the second floor of her home into the first. She likes living dangerously.
She's a returning author to Coastal Magic, which she considers the convention of her heart.
---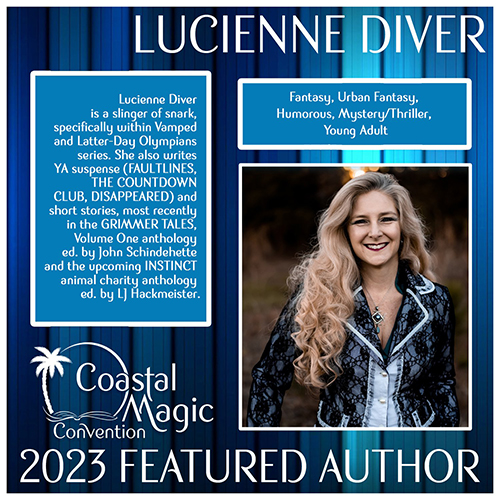 Check out Lucienne Diver's Website. Make sure you follow her Social Media Accounts: Instagram | Twitter | Hive – @luciennediver.
---
Check out the Guest Post from Lucienne Diver on gift ideas for the holidays.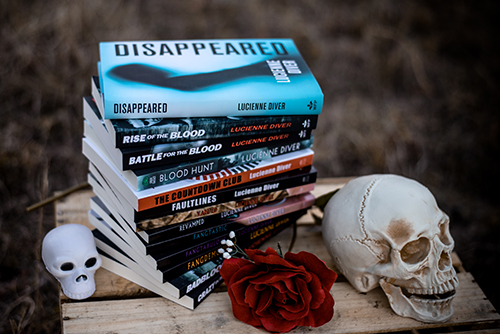 Whatever holiday you celebrate, you're probably going to do it with gifts, amirite? Whether it's Solstice, Hanukkah, Christmas, or Kwanzaa, you might want some great gift giving ideas, hopefully for the book lover on your list, because my peeps are fairly popping off the pages to tell you about themselves and give you a bit of holiday cheer. And so, kick back with your beverage of choice, your favorite musical playlist, and enjoy!
Gina Covello from the Vamped series – think Clueless meets Buffy the Vampire Slayer
Book bags are all the rage right now! There's no better way to say that you're both smart and fashionable. Personally, I love these cute little crossbody bags from Well Read. But if you need a bit more room for all that environmentally conscious shopping you'll be doing this year, there are also totes more options! (Also here, and here, and, oh… Um, hello, my name is Gina Covello, and I'm a shopaholic.)
Tori Karacis from the Latter-Day Olympians series – think Janet Evanovich meets Rick Riordan (hey, I didn't say it – that came straight from Long and Short Reviews!)
Go for the totes, since that gives you room for ALL THE BOOKS! When talking about gifts for readers, that's absolutely where you start!
You can read Vamped, about a teen fashionista who doesn't survive her senior prom, but does have to claw her way out of her grave, totally ruining her manicure, only to discover that the guy she'd made out with at the after party was a vampire. Now she's got no reflection, so no way to fix her hair and make-up, no tanning options, and, oh yeah, a boss be-yatch vampiress turning her classmates into an undead army and who must be stopped. Wondrous Reads said, "Have you ever wondered what it would be like if Cordelia Chase got turned into a vampire? If you have, look no further than Vamped for the answer. It's like Mean Girls with fangs, with witty dialogue and more pop culture references than you can keep up with."
Bad Blood, the first in my series, was quite shocking even to me! Not only did I discover the truth behind the family tales that our line traced back to the god Pan beer-goggling one of the gorgons, but I witnessed a murder of a Hollywood agent, Circe Holland, by something that looked a lot like the Creature from the Black Lagoon while I was staking her out for a client. Um, yeah, so in case you're wondering, the gods of myth – well, they're real. Having lost most of their worship, they've had to get day jobs. For example, Zeus has pyrotechnics show in Vegas, Aphrodite is the new Mayflower Madam, and Apollo, star of stage and screen (and rumored to have gotten his start in – *cough* – adult entertainment) is a current pain in my ass.
Then there's Lucienne's YA suspense. If you like Karen McManus (and who doesn't?), you might like:
Faultlines, about a girl named Vanessa, who lost her best friend to suicide. Lisa had pushed her away six months before. Now Vanessa is trying to reconstruct Lisa's lost months to discover what led to her suicide, if it was suicide. Meanwhile, someone else is taking revenge against those they perceive drove Lisa to it.
The Countdown Club – Rayna Butler and Jack Harkness receive notes telling them how many days they have until they die, and discover other students have received similar notes. There's no connection between the kids. No rhyme or reason that they can see. While chilling, they don't know how seriously to take the notes…until the first one dies. Then they have to band together to hunt the killer before they're picked off one by one.
Disappeared – Jared and Emily's mother fled her toxic relationship with their father. She'd gotten out. But the night she came back to get them, their father insisted they go to dinner, just the two of them, to try and work things out. Only, she never returned. Their father says their mother took off, for good this time, but they can't bring themselves to believe his story, and further, Jared heard something that night that woke him from a sound sleep. Is she truly just missing or… If no one will tell them the truth, they'll have to discover it for themselves.
If you've read all of these, here are other suggestions:
If you like Vamped, you'll like
The Morganville Vampires series by Rachel Caine
Good Ghouls by Julie Keller
Dead by Marlene Perez
Blood Coven series by Mari Mancusi
Prom Dates from Hell/Hell Week/Highway to Hell by Rosemary Clement-Moore
If you like Bad Blood, you'll like
Jane Yellowrock series by Faith Hunter
Alex Craft series by Kalayna Price
Mercy Thompson series by Patricia Briggs
Foundling series by Hailey Edwards
If you like YA suspense, you'll like
I Hunt Killers by Barry Lyga
Last Seen Leaving by Caleb Roehrig
One of Us is Lying (or more recent titles) by Karen McManus
Gated and Astray by Amy Christine Parker
Vanessa Raines from Faultlines
"Vivid, suspenseful, charming, Diver creates a world where anything can happen in this must-read page-turner." – Carrie Jones, New York Times bestselling author of the Need series
You can never have too many journals! Or sketchpads. Or pens. Ever. Personally, I'm lusting after this gorgeous tree of life journal with the vegan leather cover, but my friend Lisa was more the journaler. I think I want this diary more to feel connected to her. Maybe if I write my thoughts down, they won't be trapped in my head. I hear it's a wonderful release, and we maybe we should all try it!
Emily Graham from Disappeared
My brother isn't much of a book guy. Ask him to run a mile in no time flat, and he's there, but for bookish things, I'm your girl. My mother named me after both the Emilys – Dickinson and Brontë. She even gave me a scarf of the Dickinson poem "Hope". You know the one –
"Hope" is the thing with feathers –
That perches in the soul –
And sings the tune without the words –
And never stops – at all…
It's beautiful. Whether you're a fan of Emily Dickenson or Emily Bronte (check out this beauty!) or just books in general, there's bound to be a scarf for you or your loved one – like this one with 76 different book titles!
Jack Harkness from The Countdown Club
"Disappeared is a wonderfully creepy read! Full of devious twists and filled with characters who are so real you genuinely care about them. Highly recommended!" – Jonathan Maberry, New York Times bestselling author of Rot & Ruin and V-Wars
So, the lineup you've heard from above has been femtastic, and that's great! I'm all in. But it's time you heard from another perspective too. And here it is – people are essentially lazy. It takes an effort to hold up a tablet or e-reader for hours on end, but personkind has these great fabulous inventions called pillows, which have lead us to…the pillow stand! No longer do your fingers have to go numb after you've read that Stephen King novel nearly cover to cover while hiding out in avoidance of your father, who may be looking for a whipping boy.
So, there you have it! Hopefully you've found some great gift ideas here. I'll add two more: gift cards and e-readers themselves (if someone needs a new one as I did this year) never go amiss! That way, your friends and family can pick out the bookish gift they'd like for themselves. But if you can, please support your local and indie stores.
Peace, love and happy reading to all this holiday season!
-Lucienne Diver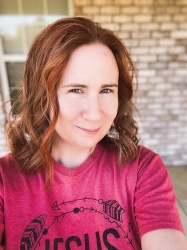 Latest posts by FranJessca
(see all)