Library Book Review: 'Scarlet' by Marissa Meyer
January 11, 2016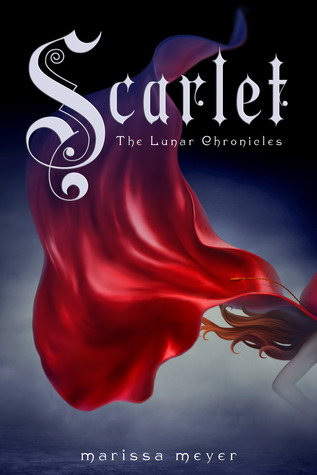 Scarlet
by
Marissa Meyer
Series:
The Lunar Chronicles #2
Published by
Feiwel and Friends
on February 5th 2013
Source:
Library
Goodreads
Purchase at
Amazon
|
Apple

Cinder, the cyborg mechanic, returns in the second thrilling installment of the bestselling Lunar Chronicles. She's trying to break out of prison—even though if she succeeds, she'll be the Commonwealth's most wanted fugitive.
Halfway around the world, Scarlet Benoit's grandmother is missing. It turns out there are many things Scarlet doesn't know about her grandmother or the grave danger she has lived in her whole life. When Scarlet encounters Wolf, a street fighter who may have information as to her grandmother's whereabouts, she is loath to trust this stranger, but is inexplicably drawn to him, and he to her. As Scarlet and Wolf unravel one mystery, they encounter another when they meet Cinder. Now, all of them must stay one step ahead of the vicious Lunar Queen Levana, who will do anything for the handsome Prince Kai to become her husband, her king, her prisoner.
My Review
I have been sucked into this dystopian world Marissa Meyer has created and I'll never read fairy tales the same way ever again. I love when fairy tales are told in a different way and Marissa took it a whole new level with the Lunar Chronicles. If you haven't read the first book, Cinder, I highly recommend you do before reading this review to the second book.
Cinder is locked away due to the Lunar Queen wanting her for hiding on Earth and being a HUGE threat to her plans on Earth. Cinder knows she has to find away to escape. She ends up using her Lunar powers to coerce another prisoner to help her escape. When she does escape, she realizes she will be a fugitive on the run. She'll have to tell Prince Kai about what Queen Levana is up to some other way.
Cinder ends up escaping with her new companion that helped her escape and she'll have to be ten steps ahead of the Queen's army. In the meantime, with Cinder and Captain Thorne being tracked, a new character is introduced in the story. Scarlet is looking for her Grandmother that was taken by some strange people that want something that supposedly her Grandmother has. Scarlet just wants her Grandmother back and she'll do anything to get her back. She ends up meeting a street fighter named Wolf, who is intimidating and has his own secrets.
The second book will have readers following Cinder, Scarlet, Wolf, and Captain Thorne and how all them are going to end up helping each other out. Scarlet and Cinder are going to realize they have a connection.
This book was full of action and secrets coming out that will have you on the edge of your seat. I really enjoyed getting a Red Riding Hood story thrown into the storyline. Like I said before, you'll never read fairy tales the same way after the Lunar Chronicles.
I give the sequel to Cinder '5 addicting stars' and if you haven't started these books I highly recommend you do. I'm anxiously waiting to start the third book due to how Marissa Meyer left the ending on Scarlet.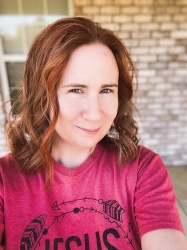 Latest posts by FranJessca
(see all)