Review: 'P.S. I Hate You' by Jane Anthony
November 17, 2022
I received a complimentary copy of the book from the author's assistant in exchange for an honest review. This does not affect my opinion of the book or the content of my review.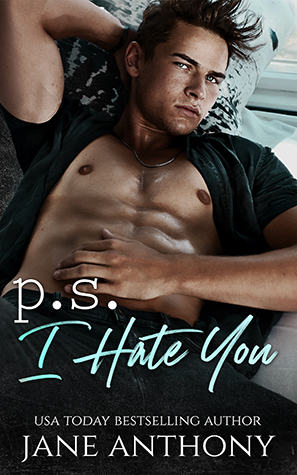 P.S. I Hate You
by
Jane Anthony
Published by
Blue Rebel Publishing
on November 17, 2022
Genres:
Mature High School/Young Adult Romance
,
High School Bully Romance
Format:
eArc
Goodreads
Purchase at
Amazon
|
Apple
|
Barnes & Noble
|
Google Play
|
Kobo

USA Today Bestselling Author, Jane Anthony, delivers an emotionally raw & intense tale of passion, heartache, and love. Sit ringside while Jace Wilder—a bad boy MMA Fighter & Hell's Bend High's biggest bully— dukes it out with Ellie Cartwright—a sheltered "rich girl" down on her luck—on their bumpy road to happily ever after.
He's a bad boy with a chip on his shoulder.She's a good girl with nothing left to lose.
Brutal bully. Hotter than hell. MMA God.
Jace Wilder owns Hell's Bend High and everyone in it. Everyone except me that is. The girls love him, the guys want to be him . . . I just want to stay away from him.
But when the death of my mother forces me into the Wilder home, I become his latest target. Only, I can't tell if he wants to torment me or take me to bed.
He may think I'm easy prey, a poor little rich girl down on her luck, but looks can be deceiving. I can give as good as I get, and Jace Wilder will never see me coming.
---
P.S. I Hate You in a High School Bully Romance written by Jane Anthony. The first book I've read by this fabulous author and not my last. I'm always for reading Bully Romances. It's one of my favorite tropes. No, I don't condone bullying in real life. I prefer it in fictional worlds only.
Storyline/My Thoughts: You've heard the saying that if a boy bullies you, he actually likes you. That is the case when it comes to Jace Wilder with Ellie Cartwright. However, he is one big-time a-hole regarding how he treats Ellie. She's forced to move to Texas after her mother passes away. Her mother's best friend takes her in, who happens to have a son who treats Ellie like dirt, the second he picks her up from the airport. I felt for poor Ellie. She has to start over in a small town with people she doesn't know. You would think Jace would treat her better, but he has a chip on his shoulder and will make Ellie's life difficult, especially in school. Ellie is treated like an outcast in the town. No matter, she'll make the most of it for the next year, and then she'll be off to college to become a fashion designer.
Unfortunately, she'll have to deal with the constant bullying of others and the constant grumpiness from Jace. It takes her some time to deal with the bullying and handle it her way, and eventually, she does, and I was proud of her character. I really liked her character and wanted her to prove to everyone she could handle what was thrown at her.
Thank goodness, though, Ellie meets Troy, who welcomes her into the town. He reminds her of the lifestyle she was used to, including wealth and luxury. The only thing is he has beef with Jace and vice versa. It gets interesting because Ellie is confused about her feelings for the two guys when Jace starts treating her differently. No, this isn't a love triangle. Ellie is attracted to Jace even if he is a jerk to her. Remember, bullying = means he likes her secretively. Jace has his reasons to be all hateful and downright mean. He's had a rough. He lost his father and is very protective of his mother. I love seeing Jace and his caring side regarding his mother, especially when she is sick. I saw a different side of him, and so did Ellie. He did drive me crazy at first. He took the grumpy, mean, bad boy to the extreme when it came to Ellie, and he involved his friends to hassle her.
I did enjoy the back-and-forth between Ellie and Jace. There was obvious tension between the two that they were trying to deny, more on Jace's side. Another character was causing drama, though, and potentially worst way.
This book does have the sports romance trope, too. Jace Wilder is a high schooler who gets into fights at school, so why not sign up to learn how to fight in the ring? He's really good at it too, and this is where Ellie learns some things from her a-hole bully, Jace. I loved a couple of scenes that were set in the gym. One is when he shows you some moves, and another in the shower after he cleans up. I'm not saying anything else because I don't want to spoil the scene for readers wanting to read this book.
When Jace and Ellie do get together in this book, there are sparks, fire, and so many other things between the two. Jane Anthony knows how to bring the spice. =) Jace is a dirty talker, too. Overall, I give this standalone high school bully romance four stars and will be reading others books from Jane Anthony after reading this one.
Standalone or Part of Series: Standalone.
Spice/Steam: 🌶 🌶
Genre(s)/Trope(s)/Element(s): High School Bully Romance. Enemies to Lovers. Forced Proximity. Small Town Romance. Sports Romance. MMA Fighter MMC. Bad Boy MMC. Good Girl/Sweet/Innocent FMC. Dirty Talker MMc.
Trigger(s)/Content Warning(s): Bullying. Attempted Sexual Assault. Fighting. Violence.
Would I recommend this book? Yes. If you enjoy bully romances like me that involve a bad boy + a good girl set in a small town in Texas, this book is for you.
Favorite Quote(s): "A man in love tells you straight. A boy in love tells you with actions. A boy in love who's tryin' to deny it, welp, that boy's gonna drive you to the brink of insanity and back."

---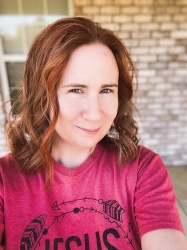 Latest posts by FranJessca
(see all)