ARC Review: 'Along Came a Spider' by Kate SeRine
August 21, 2013
I received a complimentary copy of the book from Netgalley, the publisher in exchange for an honest review. This does not affect my opinion of the book or the content of my review.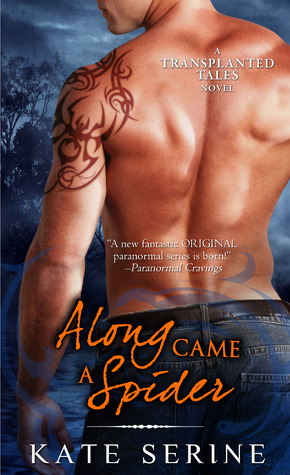 Along Came a Spider
by
Kate SeRine
Series:
Transplanted Tales #3
Published by
Kensington Books
on August 1, 2013
Genres:
Paranormal Romance
Format:
eArc
Source:
Netgalley, the publisher
Goodreads
Purchase at
Amazon
|
Apple

Along came a spider…
When Trish Muffet is attacked at a grisly crime scene, the last person she expects to come to her rescue is Nicky "Little Boy" Blue. But since walking away from everything two years before, Nicky's been doling out vigilante justice as "The Spider," taking on the vicious predators of the night in hopes it'll lead him to his ultimate target – Vlad Dracula. And he needs Trish's help.
Although Nicky's renegade style goes against everything Trish stands for, she'll do what she must to bring Dracula down. With danger stalking her, Trish knows the only person she can count on is the one man who has the power to leave her breathless. There's no way she's letting this spider frighten her away…
My Review
Along Came a Spider has become my favorite book out of the Transplanted Tales…so far at least. =) I loved the story of Nicky Blue and Trish Muffet.
Kate SeRine delivers another tale of our favorite fairy characters, but it is a twisted world where some of our tales are not the friendly, beautiful characters we know from reading as kids in our fairy tale books. Instead, Kate gives some of our favorites horrible reputations or make them villains. But with that twist of the characters personalities make these Tales so much better than our traditional fairy tales.
The tales have been transplanted into the ordinary world where they have to learn to survive and thrive without giving too much away, who they are. In the tale of Along Came a Spider, is when Little Miss Muffet and Little Boy Blue get their story. Trish Muffet gets caught up in a world storm of the craziness of killings, which she has to explore to find out what happens. Unfortunately, she gets caught up in the crossfire of the madness and ends up having the notorious Dracula stalking her. In comes, Little Boy Blue, otherwise known as Nicky, who Trish knows very well, but he has been hiding since his wife was killed. He ends up saving Trish one night, and Trish and Nicky end up working together to find out what is going on between Trish's job and the Agency, who are a bunch of ordinaries. Something is up, and they must find out what is going on before everything is compromised.
I adored and fell head over heels for Nicky "Little Boy" Blue. Oh yes, I did. I call dibs on him. But I do not know…Gideon who played a significant role in this book. He may win me over in his book due to what he did in Along Came a Spider. He is very mysterious, and I have always loved the mystery guys in books. But I loved Nicky do I have to give a reason why? Just read the book to find out. =) Too many reasons why I loved him.
Trish was a very likable female character in the Transplanted Tales books. She was so determined to find out what was going on and also to overcome her fears. She had it rough when she was little, but she has grown tremendously.
I even loved when the previous characters came into the story to find out what they were up to since their story. Seth and Lavender…those two are a very steamy couple.
I loved the storyline and where Kate took the characters into as far of drama, action, and emotions. This was one messed up twisted tale between the tales and the ordinaries this time.
I give this book 5 full moons and highly recommend it to urban fantasy and paranormal romance readers out there. If you love fairy tale stories with a twist, you will enjoy this book. I suggest you read the first two though, so you can find out about the other characters in the series. You will want to know about Little Red Riding Hood and her personality before you read this book. She is one stubborn, strong-willed character. =)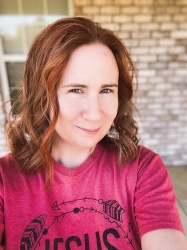 Latest posts by FranJessca
(see all)