ARC Review: 'An American Duchess' by Sharon Page
October 10, 2014
I received a complimentary copy of the book from the publisher in exchange for an honest review. This does not affect my opinion of the book or the content of my review.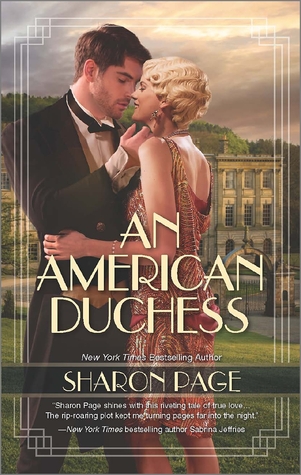 An American Duchess
by
Sharon Page
Series:
Roaring Twenties #1
Published by
Harlequin HQN
on September 30, 2014
Genres:
Historical Romance
Format:
eArc
Goodreads
Purchase at
Amazon
|
Apple
|
Barnes & Noble
Set on a crumbling English manor estate during the height of the Roaring Twenties, an American duchess must decide how much she's willing to risk for the life she truly desires…
It's 1922, and New York heiress Zoe Gifford longs for the freedoms promised by the Jazz Age. Headstrong and brazen, but bound by her father's will to marry before she can access his fortune, Zoe arranges for a brief marriage to Sebastian Hazelton, whose aristocratic British family sorely needs a benefactor.
Once in England, her foolproof plan to wed, inherit and divorce proves more complicated than Zoe had anticipated. Nigel Hazelton, Duke of Langford and Sebastian's older brother, is as austere and imposing as the family's ancestral estate. Still reeling from the Great War, Nigel is now staging a one-man battle against a rapidly changing world—and the outspoken Zoe represents everything he's fighting against.
When circumstances compel Zoe to marry Nigel rather than Sebastian, their heated quarrelling begets passion of another sort. But with Nigel unwilling to change with the times, will Zoe be forced to choose between her husband and her dreams?

Every once in a while I catch myself diving into a historical romance book because these books not only take me away from reality for a while but also to a different century.
This is the first book I've read from Sharon Page, so I couldn't wait to be transformed back to the 1920s, where life was much different than it is nowadays.  The 1920s was one of my favorite eras to study in school, so I was fascinated by how Sharon Page wrote about this era with her fictional characters. It was even more interesting to read an American woman who was new to money living life in England during that time. America was different from English in the 1920s, so Zoe Gifford wanted to be able to speak her mind and do things that English women and men frowned upon in their lives. The minute she meets her fiancé's brother Nigel Hazelton, Duke of Langford, she knows she'll have a hard time winning him over at first. Zoe is due to marry Nigel's brother, but for the reason that Nigel doesn't like.
Zoe had planned to marry Sebastian, Nigel's brother, inherit the money she is supposed to get, and divorce Sebastian afterward, but life can always change. Nigel doesn't like Zoe at first until he starts seeing the REAL Zoe. He's fascinated about her, and he wants to tell her the truth why she shouldn't marry Sebastian, but it's not his secret to tell.
I enjoyed reading An American Duchess the minute I started reading it. It was a historical romance book I had never read before and Sharon Page did a fantastic job making me feel I was there in the 1920s with the characters. I loved getting to know all the characters in the beginning. I adore Zoe's character because of her beliefs of wanting freedom. The freedom that consisted of studying in a university, marrying for love and having fun in the process, and doing things that men would find crazy for a woman to do. Nigel was difficult at first to like until he opened up to the troubles he was dealing with, and he is the troubled individual in the story.
Unfortunately, I started losing interest in the second half of the book once Nigel and Zoe were married. It became predictable, and both Nigel and Zoe started changing. Zoe changed too much in the story, especially when something emotional happens. Don't get me wrong, I still enjoyed reading An American Duchess, but I felt the book lost my interest middle of the book and I almost put it down at one point. The ending rectified my love for the story though with Zoe and Nigel's HEA. I needed to finish it, so I could find out if Zoe and Nigel could win me back.
I give this book 3.5 moons and recommend it to readers that enjoy the historical romance genre. Historical Romance is not a genre I read a lot of, but I enjoyed every bit of Sharon taking back during a time I never got to experience.
***Oh and I can't forget to mention that I love the cover of this book. The cover fits the era perfectly that is written for this book. I love it!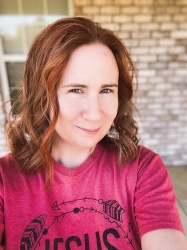 Latest posts by FranJessca
(see all)