ARC Review: 'Blaze' by Joan Swan
I received a complimentary copy of the book from the publisher in exchange for an honest review. This does not affect my opinion of the book or the content of my review.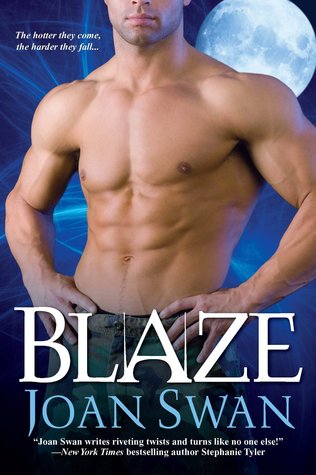 Blaze
by
Joan Swan
Series:
Phoenix Rising #2
Published by
Brava
on September 25th 2012
Genres:
Romantic Suspense
Pages:
375
Format:
Paperback
Amazon Kindle
Goodreads

The hotter they come, the harder they fall…
With a man like him, every mission becomes personal…Ever since FBI agent Keira O'Shay started tracking a young boy named Mateo, she's felt a connection even her empathic abilities can't explain. She needs to save Mateo from the cult leader holding him hostage. Nothing can interfere with that—not even the reappearance of Luke Ransom, the hot-as-hell fire captain she's regretted walking out on for three long years.
Losing Keira left Luke vulnerable—in every way. When they were together, the powers each possesses were mysteriously enhanced. But it's the sexy, surprising woman beneath the tough exterior that Luke's really missed. Even if she betrayed him utterly. And even if agreeing to help her uncover a government conspiracy means watching his life and his heart go up in flames again…
My Review
Joan Swan writes another riveting romantic suspense that had me neglecting my duties as wife and mother. What can I say…I needed to find out what happened, so I read whenever my youngest daughter slept, my oldest daughter was in school, and my husband was knee deep into errands out of the house. =) And I also read whenever I could sneak it in when the family was home and trying to drive me crazy. (I hid somewhere to read. Sometimes a mother who is an avid reader has to.) The first page alone was action-packed and kept me on the edge of my seat. "Blaze" picks up with two new characters who I was drawn to the minute I was introduced to them. Luke, though, had an appearance in the first book to the Phoenix Rising series and he has captured my attention more in "Blaze." The minute I was introduced to Keira O'Shay, I had a great connection with her. She was one kick-butt woman who could handle her own. She never thought though; she would be working with her ex-lover, Luke Ransom (by the way…Teague move over, hun…because Luke stole my heart). Keira is an FBI agent and has been tracking a little boy by the name of Mateo, who she needs to get back to a co-worker of hers. He was kidnapped years ago, and it is up to her to get him back. Luke ends up in the middle of everything when Keira finds Mateo. He has no idea who the little boy is and why Keira wants to find him. Of course, he hasn't seen Keira in over three years so she may have moved on after she left him. When Keira does save the little boy and gets him back to her co-worker, she never thought, the person she thought she could trust, turns on her. Now she feels, that everyone around her that she has been working for may work for that government agency that is out to get her and her friends that used to be firefighters. It is up to Keira to find out the real truth about Mateo and why she feels so attached to him. In the meantime, her ex-lover Luke ends up helping her as well as Teague and Alyssa (from the first book) and Mitch (Alyssa's brother) to come up with the truth about who the little boy is and why a secret government force wants him. Keira is starting to realize out the truth, and so is Luke. Luke is also going to find out the truth why Keira decided to leave him three years ago…and he is not going to let her walk away again without a fight this time around. This book was one action-packed book. Joan Swan did not disappoint, and now I'm even more anxious to find out what happens in this book because there were a lot of unanswered questions in this book. One is a certain person that everyone thought was dead and another being the darn bad guy, who by the way is getting on my nerves. Grrr!!! What fascinates me the most is how Joan Swan throws in the different abilities of the main characters in each book. Keira is an audio-clairvoyant, and Luke is fire-proof. Joan Swan even tells what the other characters are, that will most likely get their books. (you'll have to read to find out) I want to find out more about Mitch Foster…let's say for a lawyer; he sure knows how to get in touch with someone that can get a helicopter, translate Greek, or even get information for you in a hurry. He is one interesting, and well let's say sexy character. =) I recommend this book as well as the first book, "Fever," to romantic suspense readers out there. You will have a hard time putting down this action-packed sequel to the Phoenix Rising Series. I'm excited to find out who will be the next character to his/her book. =)


I guess I should type a bio here. I'm FranJessca or Fran for short. I'm the owner of Book Lovin' Mamas and main Reviewer. I've been reviewing books since I got out of the Navy in 2011. Now 8 years later, I'm still reviewing, but this time with my youngest sidekick.
When I'm not reading and reviewing, you can find me at my day job during the week and on the weekend taking care of our little farm.

Latest posts by FranJessca (see all)