ARC Review: 'Bloodright' by Karin Tabke
April 1, 2012
I received a complimentary copy of the book from the publisher in exchange for an honest review. This does not affect my opinion of the book or the content of my review.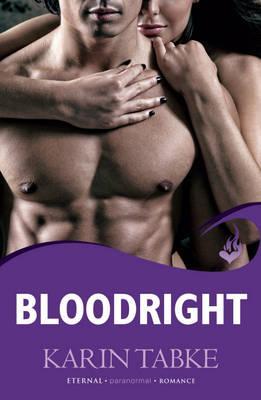 Bloodright
by
Karin Tabke
Series:
Blood Moon Rising Trilogy #2
Published by
Penguin Group (USA) Incorporated
on April 3rd 2012
Genres:
Paranormal Romance
Format:
Paperback
Source:
the publisher
Goodreads
Purchase at
Amazon
|
Apple

The coming of the Blood Moon will lead two Lycan packs into war, spur two rival brothers into conflict, and spark an act of vengeance so evil that its effects will be felt for generations.
One woman stands at the center of it all... After years of waiting, the Blood Law is at last avenged. Lycan Alpha Lucien Mondragon takes revenge on his brother, Rafael. Lucien is poised to slay Rafael's life mate, the Lycan/Slayer half-breed Falon- but cannot complete the kill. For Falon's mystical powers and fiery nature awaken a heart Lucien thought long dead. Instead of ending her life, Lucien defiantly marks Falon as his own, tormenting his brother to insanity and spurning Rafael's blood thirst for his own revenge.
Though terrified by the savage Lucien, Falon finds herself inexplicably drawn to his primal rage and strength by a desire she cannot resist. Torn between the true love she has for Rafael and the burning hunger she holds for Lucien, Falon knows that the will of her heart will lead her to her destined life mate. But it may also doom the Alpha brothers-and the Lycan race-to extinction...
My Review
I'm in shock.  What just happened?  What the heck?
What a friggin' cliffhanger!  I didn't expect that at all.
After finishing this book, I threw my hands up in the air with clenched fists, screaming Why?!!  Don't leave me hanging like that!  This book took me through so many emotional moments, that I'm glad my husband wasn't here to witness it.  He would've taken me to a shrink.  He would've told the shrink that I was losing my mind going crazy over fictional characters.  He's right though because I've fallen in love with every character in this book.  I feel so sorry for Falon.  How can you choose over honorable, golden boy, Rafael or dark and dangerous, who hates the laws, Lucien?  I sure can't.
Falon is one strong-willed, dangerous alpha female in this book who put Lucien in his place several times.
My favorite part in the book is on page 44 when Falon tells Lucien off.  You go, girl!!  I love strong ass heroines, and she's one of my favorites now after reading this book.
Some people may find her annoying because she can't choose who she loves, Rafe or Luca?  But really if you were in her shoes, could you?
In Blood Law, we got to read about Falon and Rafe together.  I thought Karin couldn't top the scenes she did in that book, but of course, she proved me wrong, and I'm forever in "Awe" because of it.
The sex scenes, the emotions, the fight scenes, and even the hilarious moments in "Bloodright" will have you not wanting to put the book down.  I lost sleep because of this book.  I read it slowly because I know how far December is away.  I wanted to cherish every moment with these characters.
There was so much I loved about this book…it would take me forever to list.
"Bloodright" picks up where "Blood Law" left off from in the first story.  You are thrown into the chaos of Lucien choosing Falon over killing her.  He wanted to play at Rafe's emotions and he definitely did in this book.  Falon, of course, wants nothing to do with him.  Although, after being with him so long, she finds he's irresistible in a different way than Rafe.  She feels the need to tame the beast in him.  Poor Rafe in this book is forced to do something he doesn't want to.  How could he get over his chosen mate in just a short period of time?
After reading this book though I feel that Falon has nine lives and that girl died so many times; it wasn't funny.  The end though is what's going to blow your mind.  I won't give away the spoiler of it.  Just remember to pay attention when you read it.
I recommend this book to anyone who is an erotica lover, shifter addict (like I am), and isn't afraid to get out of your comfort zone…because there will be times you will you'll have to put down the book to breathe normally.  This book took me out of my comfort zone but in a GREAT way.  I don't think I'll ever read a book that tops Karin's writing style ever again.  I thought Laurell K. Hamilton had me out of my comfort zone with her sex scenes.  I was wrong.  Karin Tabke has become the BEST Erotica/Paranormal Romance I've read.
I'm going to be in tears when the next book comes out because that will be the last book.  All things must come to an end though.  I will say this; I will be re-reading this books over and over again whenever I want my fix of Luca.  Yes, I'm rooting for Lucien.  I love the dangerous, dark men who need to be tamed.
If you haven't even thought about reading the Blood Moon Rising Trilogy, what are you waiting for now?
The countdown starts now for "Blood Vow."  Hurry up, December and get here.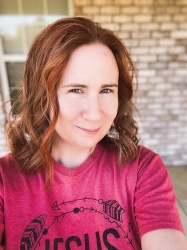 Latest posts by FranJessca
(see all)