ARC Review: 'Bone Deep' by Brooklyn Skye
October 4, 2014
I received a complimentary copy of the book from the blog tour host in exchange for an honest review. This does not affect my opinion of the book or the content of my review.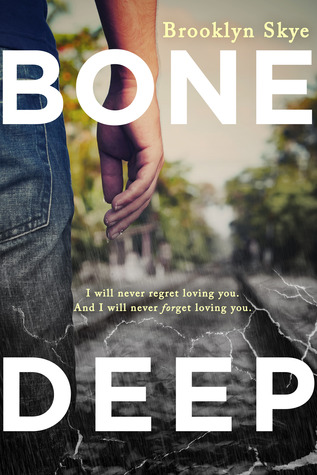 BONE DEEP
by
Brooklyn Skye
Published by
Self-Published
on September 23, 2014
Format:
eArc
Goodreads
Purchase at
Amazon

The boy who wants forgiveness… Haunted by the train accident his father instigated, college freshman Krister Ledoux is obsessed with finding the person sending him cryptic hate mail. He knows it's one of them—a family member of one of the accident victims, and he's willing to go to hell and back to find out which one.
The girl he can't forget… She was a stranger who kissed him in the middle of the train station, and now she's the girl who pleads with her eyes for Krister to be the distraction she's so desperate for. Krister doesn't know what it is about her, why he's sucked into playing Cambria's game… All he knows is that when he's with her, he isn't consumed with thoughts of the crash.
The collision that can't be avoided… Cambria doesn't know who Krister is—that he's the son of the town's most infamous killer, and he knows if his true identity surfaces he'll lose her forever. However secrets can't stay buried forever, and now Krister must fight to prove that their bone-deep connection is far more powerful than the hatred she now has toward him.

Brooklyn Skye's Bone Deep is a story about a young man, Krister, who is haunted by what his father did during his job. All his family and friends have moved on with their lives or at least made changes, but unfortunately, Krister can't. He's skipping college classes, quitting his job, and moving around to get by. Krister is never able to forgive for what happened because he can't just switch off what his father did. It doesn't help when all of sudden someone keeps leaving him cryptic messages, and he knows it has to be someone that lost a loved one during his father's train accident at work. He's determined more than ever to figure out who it is and try to help himself and the person get closure.
In the meantime, he ends up meeting a girl that he can't seem to forget. She's always at the train station with a poncho on waiting for the train, but she never gets on for some reason. The minute he finally has the guts to approach her, she blows him off until much later. When these two ultimately do decide to talk neither one will be able to resist each other. Both of them are helping each other but in different ways. Cambria has no idea who Krister is, and when she does find out, she may never want to speak with him again.
Bone Deep is a story about two people grieving in two different ways. Krister who is dealing with what his father did, and Cambria who is trying to help her brother and getting over what happened to her mom. Bone Deep dives into the issue of telling someone you love the truth that may end up hurting them in the long run. Krister is going through that the minute he finds out who Cambria is really. Bone Deep is a typical New Adult romance book with his angst and romance, but in the mince of it, it's the storyline that will engage readers. You'll want to figure out who's behind the cryptic messages and also want to know if Krister and Cambria will get some peace and happiness.
Krister may have gotten on my nerves with the secret he kept from Cambria, but there is a reason why he didn't want to tell her. He was waiting for the right time, but he did take too long. (stubborn young man) Cambria was stronger than she was willing to believe because she was trying to make amends to what happened a year ago. She was trying to be the stronger one, especially when it came to her brother. She needed to meet Krister to help her along. Krister also helped her with a bucket list that she created, which was a plus.
***The best part of Bone Deep was the ending because of how everything came back together. =)
This is the first book I've read from Brooklyn Skye, and I look forward to reading more books from her very soon. I give this book 4 full moons and recommend it to readers out there that enjoy the New Adult genre.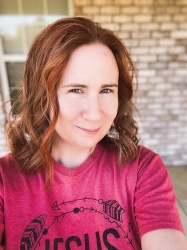 Latest posts by FranJessca
(see all)