ARC Review: 'Death's Servant' by C.J. Ellisson
May 20, 2013
I received a complimentary copy of the book from the author in exchange for an honest review. This does not affect my opinion of the book or the content of my review.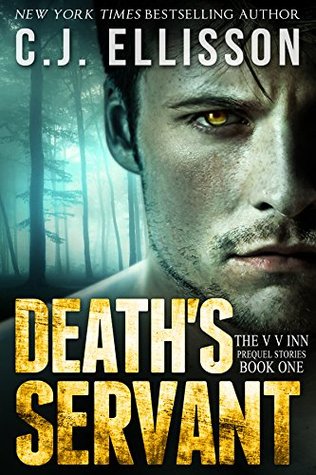 Death's Servant
by
C.J. Ellisson
Series:
,
Published by
Red Hot Publishing
on March 22, 2015
Genres:
Paranormal Romance
Format:
eArc
Source:
the author
Goodreads
Purchase at
Amazon
|
Apple

Jonathan Winchester has clashed with his alpha one too many times. After another argument he leaves the Manitoba pack, his only home since the werewolf attack that changed his life. He returns to his home state of Virginia to start a new life free of pack politics. Jon finds work and meets a young waitress, Raine, who appears to be a lone werewolf, too.
As their relationship progresses, Jon's embroiled in more intrigue than he bargained for and a danger bigger than he can handle. He's running scared until his own alpha tendencies surface, making him unable to leave the pretty werewolf's problems behind. The young man is desperate to save Raine—even if his efforts may lead him straight to death.
Journey along in this first prequel novel involving the favorite characters from the bestselling V V Inn series. Written at reader demand, this stand-alone story explains how the beloved Jonathan came to serve the deadly redheaded vampire, Dria.
My Review
I read this book within a 2 hour period due to not being able to put it down. The first page alone had me sucked into the story. I usually cannot read books in such a short period due to having my husband and my little girls constantly interrupting me…but when it comes to C.J.'s stories, I end up locking myself away from the world. =)
Death's Servant is the highly anticipated prequel about Jon and how he meets Dria and becomes her servant. Jonathan had his reasons of becoming Dria's servant, and Dria is one kick-butt vampire, who I adore!!!
Jon left the pack he has no known since he became a werewolf and now he is back close to where he grew up, but not too close since his parents do not know he is alive. He meets a lone wolf, Raine, and becomes quickly attached to her. Unfortunately, Raine has a secret, and now she wants Jon to leave town before it is too late. When Jon finds out what is happening, it is up to him to save Raine and her pack. He meets Dria and asks her for help, but of course, she does not make it easy for him.
This story is fast-paced into the world where Jon came from and how he met the beautiful vampire, Dria, and her husband, Rafe. I loved how C.J. told Jon's background and what happened to him. He was screwed over a lot in the pack. Poor guy! The girl he thought loved him was a b***h.
I am so happy that C.J. told Jon's story. I also enjoyed the fact that she mentioned Williamsburg, VA in the story. =) I live about 30 minutes away from it, and she also suggests D.C. and the way she described D.C. when Jon was there, it felt like I was visiting. (Now I need to make one last visit before I leave VA for good this summer)
The scene where Jon meets Dria and her mate well let's say you want to read that part. C.J. knows how to write a very steamy scene. =)
If you love C.J.'s VV Inn Series and want to know how Jon came to know Dria and Rafe, then you will want to read this prequel.
I give this prequel 5 full moons and highly recommend it to urban fantasy readers out there.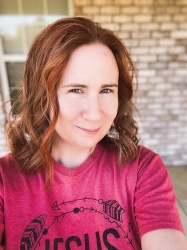 Latest posts by FranJessca
(see all)