ARC Review + Excerpt: 'Too Hot To Handle' by @mstessabailey
May 20, 2016
I received a complimentary copy of the book from Netgalley in exchange for an honest review. This does not affect my opinion of the book or the content of my review.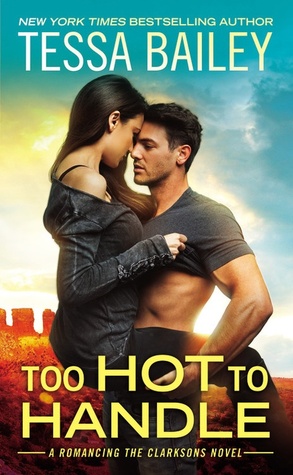 Too Hot To Handle (Romancing the Clarksons, #1)
by
Tessa Bailey
Series:
Romancing the Clarksons #1
Published by
Forever
on May 17, 2016
Genres:
Contemporary Romance
Format:
eArc
Source:
Netgalley
Goodreads
Purchase at
Amazon
|
Apple

When rescue looks like a whole lot of trouble . . .
The road trip was definitely a bad idea. Having already flambéed her culinary career beyond recognition, Rita Clarkson is now stranded in God-Knows-Where, New Mexico, with a busted-ass car and her three temperamental siblings, who she hasn't seen in years. When rescue shows up---six-feet-plus of hot, charming sex on a motorcycle---Rita's pretty certain she's gone from the frying pan right into the fire . . .
Jasper Ellis has a bad boy reputation in this town, and he loathes it. The moment he sees Rita, though, Jasper knows he's about to be sorely tempted. There's something real between them. Something raw. And Jasper has only a few days to show Rita that he isn't just for tonight---he's forever.
My Review
Tessa Bailey is still a fairly new author to me and I'm trying to correct that, especially since other readers I know have highly recommended her books. The minute I knew she was writing a new series I jumped at the chance to start it.
Too Hot to Handle is definitely the type of book that involves finding one-self, finally trying to connect with your family, and trying to cope with a crappy life that keeps dealing you a horrible hand. At least that last portion is what I get with the main character Rita. Poor Rita. She's dealt with so much and she feels she's letting herself and mom down. She doesn't find herself being excellent in the culinary arts, like her mother was. She's determined more than ever to change her life. The first thing is to fulfill her mother's dying wish. She's recruited her siblings on a trip to New York. At first they are not in for it, until they finally cave in.
In comes the horrible card dealing to Rita and her siblings  as a family. Their suburban (mom's old vehicle) breaks down in a town called Hurley. Now introduce Jasper, the stranger that happens to be there at the right time to get them some help.
Cue in the insta-love with Rita and Jasper. Rita though is a little leery about it since she feels she's not a catch. Jasper on the other case, sees Rita as someone he could definitely change for. Jasper has the title around Hurley as being a ladies man and every lady wants to be with him. Jasper though immediately finds Rita irresistible and is all for proving himself to her.
The story goes on with Rita and siblings having trouble continuously with getting on with their trip. There's of course banter between the siblings and also finding out things they didn't know about each other. I really liked how Tessa opened them up to each other slightly. I can't wait for the other siblings stories.
The only thing that really bothered me was Jasper and Rita's insta-connection. It was too fast. I didn't connect at first with them. Yes, Jasper was a sexy man, but he had some issues he was dealing with. Rita didn't really know what she wanted to do, but she did go with what her sister wanted to her to do with a complete stranger. Rita was all about finding out more about Jasper, even though she was all for getting on with the trip with her siblings. I will say this Tessa knows how to write some very hot scenes. Too Hot to Handle is definitely the perfect title to the book with these characters.
I give this book 4 stars and look forward to reading even more of this series and even more of Tessa Bailey's other books.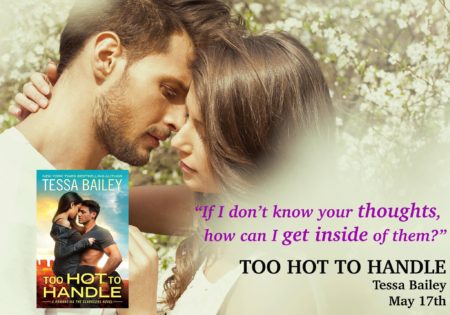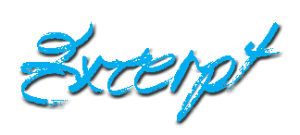 "Believe this, Rita. I think you're gorgeous as sin and I need your mouth on mine."
Rita nodded, meshing their wet lips together in the process. "I want to believe that. You might have to help me."
"Thank Christ."
Their mouths slanted and somehow—somehow—that feast of lips and tongue and teeth was even more potent than the night before. His knee rammed into the bike—almost as if his leg had tried to buckle—shooting pain up his right thigh, but it vanished under the pleasure. Vanished into vapor. The stroking, hot, abandon of Rita. They were both breathing through their noses so as not to break the voracious mouth-fucking they were engaging in, and that shouldn't have been so all-out sexy. But it sure as shit was. They were attacking each other with seeking tongues and open lips, playing chicken to see who would give in first.
When her hands slipped under his shirt and pulled down on his belt buckle, putting pressure on Jasper's cock, he cursed into her mouth, securing his fist in her hair like a goddamn barbarian. And she liked it, too. Why else would she be tugging on his belt, encouraging him to rock into the notch of her pussy? Too far. This was going too far. Any farther and they'd end up somewhere naked.
She'd leave the encounter with no doubt of his experience, because, hell, Jasper knew every button to press, when to change rhythm, when to be forceful or pull back. Knew it all. But Rita wouldn't look at him the same way afterward. She'd see the local tramp, like everyone else.
She'd leave. And he'd have failed in his one attempt to be more to someone.
Jasper tore his mouth free, releasing a gruff exhale into her neck. "You have me ready to bust in my jeans, beautiful. I was smoother than this in high school."
"That's a scary thought," she breathed out in a rush, her fists still curling in his shirt. "Was that the other half of your apology for last night? B-because I have to say, it was pretty effective."
"At the risk of sounding arrogant, Rita, I haven't even moved my hips yet. You've barely gotten a preview of how thoroughly I can…apologize."
"Don't leave me in suspense," she whispered, those golden-brown eyes going as big as salad plates.
Don't do it. You'll have a hard-on for a decade. "If you agree to go out with me tonight, I'll rub that wet, aching seam of yours with my own ache."
Rita's head fell back on a whimper. "Fine. Yes."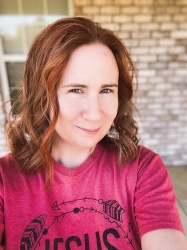 Latest posts by FranJessca
(see all)