ARC Review: 'Her Sky Cowboy' by Beth Ciotta
I received a complimentary copy of the book from the Author in exchange for an honest review. This does not affect my opinion of the book or the content of my review.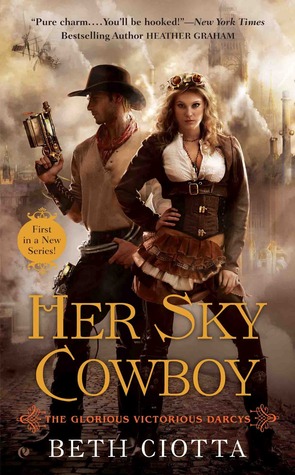 Her Sky Cowboy
by
Beth Ciotta
Series:
The Glorious Victorious Darcys #1
Published by
Penguin New American Library
on November 6, 2012
Genres:
Steampunk
Pages:
328
Format:
ARC
Amazon Kindle
|
Amazon Paperback
Goodreads

Amelia Darcy has no interest in marrying well. Her heart belongs to the sky and the dirigibles of brass and steel that swoop over Victorian England. But when her father, an eccentric inventor, dies, the Darcy siblings are left with scrap metal—and not a penny to their names. Their only hope to save the family name and fortune is to embark on a contest to discover an invention of historical importance in honor of Queen Victoria.
Armed with only her father's stories of a forgotten da Vinci workshop, a mechanically enhanced falcon, and an Italian cook, Amelia takes flight for Florence, Italy. But her quest is altered when her kitecycle crashes into the air ship of ex–Air Marshal—and scandalous dime novel hero—Tucker Gentry.
Challenged by political unrest, a devious sky pirate, and their own sizzling attraction, Amelia and Tuck are dragged into an international conspiracy that could change the course of history…again.
My Review
Let me first say, this was my first ever Steampunk novel that I've read…and it definitely will not be my last.  I was intrigued by the description of "Her Sky Cowboy" and looked forward to diving into this new series by Beth Ciotta.  "Her Sky Cowboy" is definitely a book that will take you back in time, but with a twist of time-travel and how if the past is altered…things will definitely change and not everyone is willing to accept it.  Although, there are some people who will thrive for the change and will want more to change their future.
Amelia Darcy has always had a fascination with what her father comes up with, especially when it involves the sky.  Her family's world comes to a complete halt though when her father dies from one of his inventions he was working on.  She blames herself on what happened to her father since she was always there to lend a hand with his inventions.
One day, she reads the newspaper on how they are looking for one person to find an invention of historical importance" to honor Queen Victoria. Amelia and her brothers are definitely wanting to win this contest since they want to save their family name and their fortune.  They were deemed just like their father who always seemed to not have inventions to kept up to their standards.  Amelia has her own idea on one invention that could help her family and it's in Italy, but she'll have to go on her own since her brothers are already made their minds up that Amelia needs to be home with their Mother.
Amelia of course does not listen, and instead embarks on her own journey to save the family.
She ends up almost getting killed on her invention when her kitecycle runs into the one only, Tucker Gentry, otherwise known as the Sky Cowboy.  Amelia knows his stories very well and is intrigued with his airship "Maverick".  She knows his past and how he is trying to right his wrongs that he never really did.
Tucker ends up taking Amelia onboard and saving her and of course his crew are not very happy about it…especially the engineer.
Tucker has no idea what Amelia was doing in the first place out in the sky with a contraption that was not meant to fly that far.
Amelia will find herself not only on an adventure to find the invention that she believes will save her family, but will find her life in endanger several times, plus several people who want to kidnap her for someone else.  Someone who believes she may know something about a very significant importance.
She'll also have to deal with falling in love with the Sky Cowboy, which she never thought would happen.
Bring on flying horses, pirates, people who can control the weather, and the past & the future mingling together…and you will have one extravagant adventure with the beautiful Amelia and her very handsome, Sky Cowboy, Tucker, and his crew.
You'll have a hard time putting down this book that mingles the Victorian Era and the 1960s era together. You'll also find out some things that no one thought possible.  New Inventions popping up that not even the 21st century has had yet.
Be prepared to be blown away in this intriguing new series by Beth Ciotta.
I definitely loved this world that Beth created and I cannot wait to read the next one.  I want to know more about the Darcy family and maybe hopefully the crew onboard the "Maverick".
There is a lot going on this book and I recommend when you do read it, pay attention, otherwise you will get lost.  There is so much going on, you'll be fascinated from page 1 to the very end.
What did I think about the actual characters…Amelia was stubborn at times, but she was one strong-willed woman who just wanted to prove to everyone she could help her family.  Tucker, Amelia's Sky Cowboy, was very strong for putting up with Amelia and he had his own baggage to take care of.
I would also like to say, I loved all of Tucker's crews names; Doc Blue, Axel, Starman…and so many others that I loved.
I recommend this book to anyone who loves the steampunk genre, or anyone who loves time travel and adventure.  You'll definitely want more after you read this book.
It was one addicting book that made me wish I could time travel (but of course just observe…)



I guess I should type a bio here. I'm FranJessca or Fran for short. I'm the owner of Book Lovin' Mamas and main Reviewer. I've been reviewing books since I got out of the Navy in 2011. Now 8 years later, I'm still reviewing, but this time with my youngest sidekick.
When I'm not reading and reviewing, you can find me at my day job during the week and on the weekend taking care of our little farm.

Latest posts by FranJessca (see all)