ARC Review: 'His Clockwork Canary' by Beth Ciotta
June 3, 2013
I received a complimentary copy of the book from Netgalley, the publisher in exchange for an honest review. This does not affect my opinion of the book or the content of my review.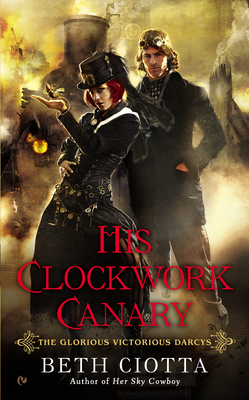 His Clockwork Canary
by
Beth Ciotta
Series:
The Glorious Victorious Darcys #2
Published by
Penguin Signet Eclipse
on June 4, 2013
Format:
eArc
Source:
Netgalley, the publisher
Goodreads
Purchase at
Amazon
|
Apple

For ambitious engineer Simon Darcy, winning Queen Victoria's competition to recover lost inventions of historical significance is a matter of pride—and redemption. After all, it was Simon's failed monorail project that left his family destitute, and winning the tournament would surely restore the Darcys' reputation.
Simon sets his sights high, targeting no less than the infamous time-travel device that forever changed the world by transporting scientists, engineers, and artists from the twentieth century. The Mod technology was banned and supposedly destroyed, but Simon is sure he can re-create it.
His daring plan draws the attention of Willie G., the Clockwork Canary, London's sensationalist reporter. Simon soon discovers that Willie is a male guise for Wilhemina Goodenough, the love of his youth, who left him jilted and bitter. He questions her motives even as he falls prey to her unique charm. As the attraction between the two reignites, Simon realizes that this vixen from his past has secrets that could be the key to his future…as long as he can put their history behind him.

I was introduced to the Steampunk genre thanks to Beth Ciotta's first book in the Glorious Victorious Darcys Series, and now it has become one genre I must read more often. I was looking forward to Simon Darcy's story.
First, let me say I have loved the covers of this series and I plan on buying these books in print soon because these books will look great on my bookshelves at home.
Beth Ciotta brings you yet another riveting story, and this time it is about Simon Darcy, who is determined to win Queen Victoria's competition with an invention that will have him winning. Simon was one character, who was trying to find a lot of answers in this book, and he ends up hooking up with the one person he should despise due to the person telling a story about his father's demise. Willie G., otherwise known as the Clockwork Canary is known to be a famous reporter, but what people do not know is that he is a she and she's just trying to be normal. If she does not act like a guy and look normal, she will be seen for what she is. She is a freak due to what she is and what her parents did. She can do things ordinary people cannot. She has rainbow-colored eyes, and she never expected her next story to be her past love, Simon Darcy. She broke his heart, and now she has to keep her biggest secret from him still.
Wilhemina Goodenough is a favorite from His Clockwork Canary. She's strong-willed, determined, and down-right stubborn at times in the book. I just adored her. She put herself into such a big dilemma and what I loved most about her is that she ends up proving women can do what men do….and most definitely better.
She puts Simon in his place several times, and I have to say Simon puts her in her place as well. He put her in place over one thing that I had to agree with him. Do not let family interfere with love and scare you away from what you want.
Poor Willie was hooked with Simon for one reason and ends up doing something completely different at the end. I am so glad she did not do what she originally was supposed to do.
Beth Ciotta leaves me hanging quite a bit in this story though. I am now fascinated with Simon's twin. I get a little taste at the end of the previous characters Amelia and her Sky Cowboy. I loved their story. They played a significant part in this book. =)
Poor Simon and Willie G. went through a lot in this book, and Willie G has to make adjustments to what happened to her. (I have to give her props because she saved Simon in this book) Have I said it enough, how much I adored her in this book?
I liked her better than Simon. Simon had his moments where he was a pain, but he had his reasons. I feel bad for him because he found out secrets in this book that he thought he knew his twin better and his family better.
I look forward to the next installment in this series. I want to know more about Jules and several other characters.
I give this book 4.5 moons and highly recommend it to steampunk readers out there. This is one book that will intrigue you from the first page to the last page.
Beth Ciotta did a fabulous job again in the second book in the Glorious Victorious Darcys books. I cannot wait for Jules story. He sounds like he may become a favorite Darcy of mine due to what I found out about him in this book. =)
I received a complimentary copy of the book from the publisher via Netgalley in exchange for an honest review.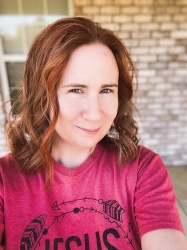 Latest posts by FranJessca
(see all)