ARC Review: 'Last of the Red-Hot Cowboys' by Tina Leonard
June 24, 2014
I received a complimentary copy of the book from the publisher in exchange for an honest review. This does not affect my opinion of the book or the content of my review.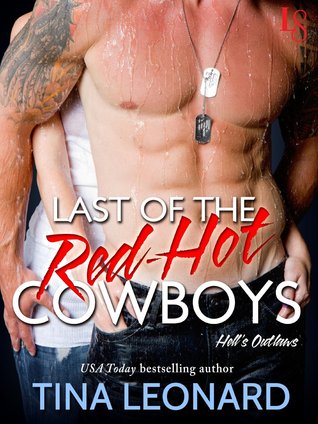 Last of the Red-Hot Cowboys
by
Tina Leonard
Series:
Hell's Outlaws #1
Published by
Loveswept
on June 24, 2014
Genres:
Contemporary Romance
Format:
eArc
Goodreads
Purchase at
Amazon

A sexy cowgirl gives a rugged Texas loner the ride of his life in USA Today bestselling author Tina Leonard's seductive new series.
Ava Buchanan dreams of a career on the rodeo circuit. Winning a spot on a one-of-a-kind team would be her ticket to the life she's always wanted. Ava won't let anyone stand in her way—not even a stubborn cowboy whose slow-molasses smile and red-hot swagger set her senses aflame . . . and whose talents as a trainer could make her a star. Rodeo might be a man's game, but Ava knows the right woman's touch can tame the wildest heart.
Trace Carter believes his mayor's plan to raise the town's profile has disaster written all over it, and he won't allow the Hell's Outlaws Training Center to be dragged into the fiasco. Yet watching Ava's delectable body on horseback proves too much of a temptation, and his fantasies stray to her riding skills outside the arena. Soon Trace is fighting like hell to rein in his unbridled desire for the petite brunette before it becomes a passion hotter than the Texas sun.
Includes a special message from the editor, as well as excerpts from other Loveswept titles.
My Review
I don't read many cowboy/cowgirl books, and wanted to change that after I read the synopsis to Last of the Red-Hot Cowboys.  Tina Leonard left me wanting to move to Texas to meet my own cowboy…but not Trace though.  I think I would go for a guy like Saint instead after reading Last of the Red-Hot Cowboys.  You'll find out why Trace is not my guy in this review.  Don't get me wrong, he was a good guy when he wanted to be, but he flip-flopped a lot with his emotions and his crazy alpha qualities.  I think I was just as confused as Ava was in this book.  I felt sorry for Ava, whenever she confronted Trace.  Here it was Ava was thrown into Hell, Texas to become a rodeo star for Judy's Hell's Belles.  Trace is supposed to train her and the other gals, but he won't.  He is too chauvinistic in my eyes at first, until he finally came forward with his reasons towards the end of the book.  There was too many times Ava and Trace drove me crazy together.  They either got down and dirty or they argue quite a lot.  Yup…and most of the time, I wanted to slap Trace that I lost count how many times I actually wanted to slap him.  He did have some good qualities, but being a bachelor for so long, I think he needed someone to guide him on relationships.
Judy is the other character that bothered me with her tactics on having 3 gals get trained by Trace and his guys (the Hell's Outlaws), but there is a hidden agenda for it all.  Oh boy!  Judy is one character who makes things happen though, but it doesn't come easy.  Judy has her own issues throughout this book. I won't get into her issues, let's just say she has one man wrapped around her finger (literally) and she has an issue with a woman that wants to claim her man.  Geez…drama in Hell, Texas.
Last of the Red-Hot Cowboys did have me intrigued though due to Judy's agenda in the story.  That's after she finally admitted the truth.  I also enjoyed the gals in the story giving the guys a hard time.  (I mean every guy in the story got it rough from these gals) Tina did make me have a southern accent while reading this book in my head because of how she wrote the dialogue of the characters and the way they were.  I love when authors can make me switch my inner voices to (hopefully) fit the character's voices.
I give this book 3.5 moons and if you are a fan of cowboys such as the Hell's Outlaws you will enjoy this book.  You may have a difficult time with Trace, but just remember Declan and Saint are in the book as well.  =)  Saint has become a favorite of mine so far and I look forward to his book in the series.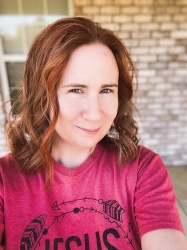 Latest posts by FranJessca
(see all)