ARC Review: 'Love is a Rogue' by Lenora Bell
October 27, 2020
I received a complimentary copy of the book from Edelweiss in exchange for an honest review. This does not affect my opinion of the book or the content of my review.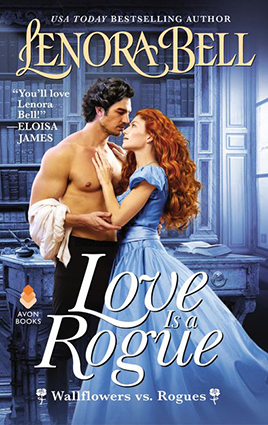 Love Is a Rogue
by
Lenora Bell
Series:
Wallflowers vs. Rogues #1
Published by
Avon
on October 27, 2020
Genres:
Historical Romance
Format:
eArc
Source:
Edelweiss
Goodreads
Purchase at
Amazon
|
Apple
|
Google Play
|
Kobo

Once upon a time in Mayfair, a group of wallflowers formed a secret society with goals that had absolutely nothing to do with matrimony. Their most troublesome obstacle? Rogues!
They call her Beastly Beatrice.
Wallflower Lady Beatrice Bentley longs to remain in the wilds of Cornwall to complete her etymological dictionary. Too bad her brother's Gothic mansion is under renovation. How can she work with an annoyingly arrogant and too-handsome rogue swinging a hammer nearby?

Rogue. Scoundrel. Call him anything you like as long as you pay him.

Navy man Stamford Wright is leaving England soon, and renovating Thornhill House is just a job. It's not about the duke's bookish sister or her fiery copper hair. Or the etymology lessons the prim-yet-alluring lady insists on giving him. Or the forbidden things he'd love to teach her.
They say never mix business with pleasure. But when Beatrice and Ford aren't arguing, they're kissing.
Sometimes, temptation proves too strong to resist…even if the cost is a heart.
---
Love is a Rogue is the first book in Lenora Bell's Wallflowers vs. Rogues series. I couldn't wait to dive into this book after finding out the heroine loves books. I always love reading stories where the heroine is obsessed like I am with reading and having books in a library. I also couldn't wait to read my first book, written by Lenora Bell. I love finding new authors, and I'm so glad I read this book. Now, I need to add previous books Lenora Bell has written to my TBR in Goodreads.
Female Protagonist: The heroine of Love is a Rogue is Lady Beatrice Bentley, a book-loving, dictionary writing (obsessed with words and defining them) Wallflower. I adored Beatrice and was happy to finally read a heroine who has an obsession with books as I do. She's never the ladies' shining star in London since she was diagnosed with Palsy very young. She always hid behind plants and avoided being seen by others. Her mother is trying to get her out there in the world to be married. Beatrice is not having it, though, and that is what I loved about her. She fought back in her way. Society may see her as flawed, but a certain Rogue sees her as a beautiful fiery redhead who is intelligent. I loved her as a character because of how she fought back against society and even her mother.
Male Protagonist: Stamford "Ford" Wright is supposed to be a Rogue in the story, but he didn't come off as a Rogue to me when I read the book. He's a Navy man who is a carpenter. He's all about doing his job and doing it well and then getting back to the seas with his fellow sailors. He has his moments where he drove me crazy, and I don't know why in the story. I liked his character but felt he was not a Rogue. He always there for Beatrice and protected her, but she could defend herself. I think he knew it after a while.
Storyline: Lady Beatrice and Ford meet at her brother's Gothic mansion that Ford is renovating. Beatrice doesn't like Ford very much at first, but then she can't stop looking at him when he works. Ford is trying to avoid Beatrice, but it's kind of hard to miss her with her fiery red hair and intelligence. (She likes to throw big words at him.) He's fascinated by her and knows he should stay away since she's a Duke's sister. Unfortunately, these two will meet up again in the City when Beatrice hires him to renovate the book shop that she inherits from her Aunt Matilda that she never meant in life. There's some drama in the story with a man named Foxton who wants to buy the bookshop and make it into a manufacturing building. Readers will also get to meet the other Wallflowers in the story that Beatrice hangs with because they have a "Knitting Club," which is real ladies who do things frowned upon by society females. For instance, one is going to school to be a lawyer, and the other is finishing her father's music for him since he can't due to not being well. Beatrice and these ladies are fighters, and I loved this about them.
Steaminess: Some Steam. There were two sex scenes in the whole story, but they got very steamy between the characters.
Series/Standalone: Part of series, but I believe each could be read a standalone.
HEA: Yes.
Trope/Elements: Opposites Attract; Differences of Station and Class in life.
Would I recommend this book? Yes. Overall, this book receives 4-stars from me, and I would recommend this book, especially to readers of the Historical Romance genre. If you enjoy books with a clash of Wallflowers and Rogues, this book is for you too. These Wallflowers are proving they can do what men can do and even better.:)

This post contains affiliate links you can use to purchase the book. If you buy the book using that link, I will receive a small commission from the sale. It will help sponsor future giveaways but costs you nothing extra. You can read the full disclosure underneath the Privacy Policy.
---
---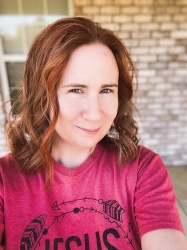 Latest posts by FranJessca
(see all)