ARC Review: 'Magic's Song' by Sela Carsen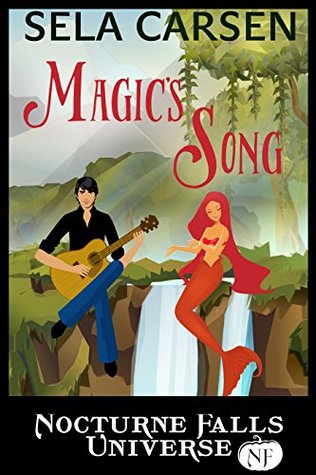 Magic's Song
by
Sela Carsen
,
Kristen Painter
Series:
A Nocturne Falls Universe story
Published by
Sugar Skull Books
on January 24th, 2017
Genres:
Paranormal Romance
Pages:
63
Format:
eArc
Source:
Author
Amazon Kindle
|
Amazon Paperback
Goodreads

Welcome to Nocturne Falls, where there's a supernatural on every corner, if you have the magic to see them.

Trick Scanlon is introduced to town when a playful horse nearly drowns him. Saved by a mermaid's song, he's just looking for a place to catch his breath. He never expects to be so drawn to his beautiful savior.

Daria Don't-Call-Me-A-Mermaid Czernovitch has changed so much her stalker won't ever find her. She has great friends – witches, gargoyles, and fairies – and she feels safe… until a former Army Ranger turned country music star pulls her into his spotlight.

Can he find his own magic? And will his fame threaten the anonymity she values so much? They make sweet harmony together, but one sour note could ruin it all.
My Review
I was really excited to find out that Kristen invited some authors to write some Nocturne Falls Universe stories. If you've read the Nocturne Falls series by Kristen Painter, you'll know why I and several other readers love this world that Kristen has created. If you haven't you are missing out on some good books. Who wouldn't want to move to a town, where Halloween is every day and you get to see vampires, witches, gargoyles, wolves, fae, etc.?
I've never read anything from Sela Carsen, so I was excited to read her Nocturne Falls Universe story. Sela definitely did an amazing job on introducing different paranormal creatures to the Nocturne Falls universe.  Both characters were different kinds of paranormal creatures that I've never read before. I loved how Sela introduced both characters to each other in the beginning and I also loved reading about the kelpie. Although, I know Trick was scared out of his mind, when he met the kelpie. Poor guy.
Daria was an interesting character and don't you dare call her a mermaid. She's way more powerful compared to a mermaid.
The only issue I had was Trick and Daria fell for each other very quickly. Sometimes being too much of an instant attraction with the characters can lose my interest in a book, but the storyline itself kept my interest. Poor Daria had a past she was trying to hide from, but it ends up coming back to try to hurt her.
I enjoyed reading my favorite characters from the Nocturne Falls series making appearances in Magic's Song. I love coming back to original characters in stories and Sela definitely did an amazing job with having those characters come into Trick and Daria's story.
I give this book 4 stars and look forward to reading more books from Sela Carsen. Thanks to Kristen Painter for introducing another PNR author to me and also thanks to Kristen and Sela for keeping my Nocturne Falls addiction going. 🙂


I guess I should type a bio here. I'm FranJessca or Fran for short. I'm the owner of Book Lovin' Mamas and main Reviewer. I've been reviewing books since I got out of the Navy in 2011. Now 8 years later, I'm still reviewing, but this time with my youngest sidekick.
When I'm not reading and reviewing, you can find me at my day job during the week and on the weekend taking care of our little farm.

Latest posts by FranJessca (see all)