ARC Review: 'Michigan Vs. the Boys' by Carrie S. Allen
October 9, 2019
I received a complimentary copy of the book from Amazon Vine in exchange for an honest review. This does not affect my opinion of the book or the content of my review.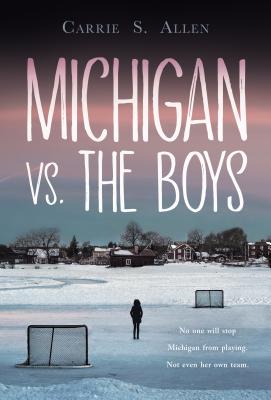 Michigan vs. the Boys
by
Carrie S. Allen
Published by
Kids Can Press
on October 1, 2019
Format:
ARC
Source:
Amazon Vine
Goodreads
Purchase at
Amazon
|
Kobo

When a determined girl is confronted with the culture of toxic masculinity, it's time to even the score.
Michigan Manning lives for hockey, and this is her year to shine. That is, until she gets some crushing news: budget cuts will keep the girls' hockey team off the ice this year.
If she wants colleges to notice her, Michigan has to find a way to play. Luckily, there's still one team left in town ...
The boys' team isn't exactly welcoming, but Michigan's prepared to prove herself. She plays some of the best hockey of her life, in fact, all while putting up with changing in the broom closet, constant trash talk and "harmless" pranks that always seem to target her.
But once hazing crosses the line into assault, Michigan must weigh the consequences of speaking up - even if it means putting her future on the line.
This was my first Young Adult Contemporary book that I've read in a while that didn't have romance as the main focus in the book, and I enjoyed the storyline of it. Carrie S. Allen delivers an inspiring book for any young girl who doesn't want to give up their love of sports and fights for that love of sports when it's taken from them. Michigan Vs. The Boys is all about an all girl's hockey team that is taken away due to budget cuts, and the girls' hockey team has to split up. This is after the main female character, Michigan, is given the Assistant Captain position on her team. Her heart is broken, and it gets worse when her best friend moves away to play hockey at a boarding school, and her other teammates play on a faraway team or give up hockey altogether.
Not Michigan though. Michigan tries out for the boy hockey team. She loves hockey too much to give it up and will do anything to play it. She makes it on the team, but once she makes it, she realizes not all her boy teammates want her there. They will bully her always and even harm her several times to get her to quit the team. Michigan, though, is a fighter and refuses to back down.
This is one thing I loved about her character. Everything she went through, and she still kept going. She had support though along the way with a particular cute swimmer who encouraged her to not give up on her dreams. She also had her father and brother that supported her on her decision. Although, she didn't have support from her mother and she had a self-centered, pain-in-the-butt so-called best friend that drove me crazy in the book.
Forewarning, there are some tough moments in this book that may be sensitive for younger than teenage readers. Some of it involves foul language, bullying (emotional and physical), underage drinking and partying, and one particular scene that is tough to read. Some readers may be discouraged from trying out for a boys team after reading Michigan's story, but don't let it ever stop you from doing something you love. Michigan faced so many challenges in this book with being on the boys' team, but she also met some triumphs too. She was a better player than any of those guys were, and she proved it so many times in this book. Michigan is an inspiring young lady who felt real to me when reading this book, and I loved her and her love of hockey.
I loved this book by Carrie S. Allen and highly recommend it to readers that need a book that inspires them. This book will be in my library for when my girls get old enough to read it so that Michigan can encourage them.
---
Story Rating: 4.5 stars
Standalone or part of series: Standalone
Do I recommend this book? Yes.
Will I read other books from the author? Yes.

This post contains affiliate links you can use to purchase the book. If you buy the book using that link, I will receive a small commission from the sale. It will help sponsor future giveaways but costs you nothing extra. You can read the full disclosure underneath the Privacy Policy.
---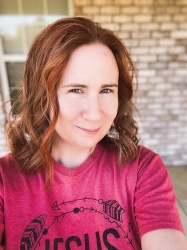 Latest posts by FranJessca
(see all)