ARC Review: 'Midnight Hunter' by Kait Ballenger + Interview
August 28, 2015
I received a complimentary copy of the book from the author in exchange for an honest review. This does not affect my opinion of the book or the content of my review.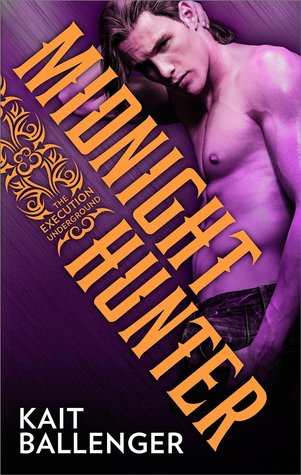 Midnight Hunter
by
Kait Ballenger
Series:
Execution Underground #3
Published by
HQN Books
on September 1st 2015
Genres:
Paranormal Romance
Goodreads
Purchase at
Amazon
|
Barnes & Noble

Hunters of the supernatural, The Execution Underground are an elite group tasked with protecting humanity…but can dark temptation destroy good intentions?
Occult specialist and witch hunter Dr. Shane Grey is called upon to investigate a string of crimes that bear all the hallmarks of black magic. But he can't take on this daunting assignment for the Execution Underground alone. He'll need the help of Vera Sanders, a witch with a dark past—and a woman who disturbs him as much as she intrigues him.
Vera is determined to ignore the dangerous chemistry between herself and Shane so she can prove her loyalty to his cause; otherwise she risks the wrath of the Execution Underground once again. If she can't make Shane trust her, they won't stand a chance in hell of defeating the evil that's terrorizing their city. No easy task, considering old habits die hard…and Vera may be the very person responsible for luring Shane into a killer's trap.
---
I have been missing the Execution Underground series, and I was beyond happy to hear that the next installment was released in September. (September 1st…pretty close to my birthday, so it was the perfect early B-day present) Now to get a chance to read Shane's book early, let's say this was one HAPPY Book Lovin' Mama. Happy early Birthday to me! =)
Midnight Hunter is the third installment in Kait Ballenger's PNR Execution Underground series, and it had all the paranormal elements plus more added to it. Shane is one of the Hunters to the Execution Underground group. He's a sexy hunter + sexy professor = one unforgettable character who will steal anyone's heart. He stole his student's heart, Vera Sanders, but of course, there are issues with that. She's a witch, and she likes to dabble with Black Magic. The Execution Underground know Vera for what she's done in her past, but Shane is going to need her help. Black Magic is being used for murdering purposes, and Shane knows Vera can help solve what's going on. There's going to be plenty of trouble between the two characters. There's lots of bantering and tension between the two in the story. (that's for sure) I don't know how many times I wanted to reach through the book and knock some sense in the two.
Even though Shane and Vera drove me crazy at times; I still adored them. Kait didn't make it easy for Shane and Vera, which is why I can't fault them at all. They deserved happiness after what they went through in their past.
The villain in the story was annoying as heck though. I couldn't stand him. When an author can make me hate a character, she's doing a dang good job of writing the character out.
I give this book 4 stars and recommend it to PNR readers out there. If you've read the previous books in the series, you'll be excited to read this one. If you haven't started the series yet, I highly recommend you do. Start with the prequel first though, because you'll want to follow along with the series. Believe me, you want to know about the EU hunters. =)

This post contains affiliate links you can use to purchase the book. If you buy the book using that link, I will receive a small commission from the sale. It will help sponsor future giveaways but costs you nothing extra. You can read the full disclosure underneath the Privacy Policy.
---
---

---
1. Describe yourself using only 5 words.
Mom. Wife. Professor. Author. Creative.
2. Tell us a little bit about Midnight Hunter and why readers should definitely check it out.
Midnight Hunter is the third novel in my Execution Underground series and this book focuses on Dr. Shane Grey, a professor by day and witch hunter by night, who falls in love with a sexy witch named Vera Sanders, who aside from her black magic skills also happens to be one of Shane's students. Shane is called upon to investigate a string of crimes in Rochester, NY that bear the hallmarks of black magic and he needs a witch, like Vera, to help him navigate the seedy black magic scene. This is definitely a story that appeals to readers who like to read about forbidden love and opposites attract because Shane and Vera are exactly that. Aside from the simmering forbidden romance between the hero and heroine, Midnight Hunter is full of action, witchcraft, necromancy, and plenty of kickass fight scenes. In the tradition of all the Execution Underground novels, readers can expect Midnight Hunter to be a dark, edgy, and super sexy thrill ride.
3. What was your favorite scene to write in Midnight Hunter (without giving too much away of course)?
I knew exactly the scene as soon as you asked! No deliberation needed lol. There is a scene between Shane and Vera at Vera's apartment toward the end of the novel that is by far my favorite. I don't want to say too much, because I don't want to give anything away, but they share a really sweet, romantic moment and the line Shane delivers at the end of the scene just makes me melt every time I read it lol. I hope readers feel the same way.
4. Which couple out of the Execution Underground series, so far has been the most difficult to write or most fun to write?
All the couples have been really different experiences and I don't know that I could pick just one as the most fun. Damon and Tiffany's story in Shadow Hunter, the prequel novella to the series, probably came the easiest in the writing aspect and what I loved about them was that I was constantly feeling all melty, and lovey-dovey gooey inside whenever I wrote them. It was a true feeling of romance. Jace and Frankie in Twilight Hunter (book #1) were by far the sexiest couple, their sexual chemistry just jumped off the page and that made their romance scenes really enjoyable to write. David and Allsún in Immortal Hunter (book #2) were definitely the most challenging because they had so much history between them already that was intertwined with so much heartbreak that it was hard to reconcile all the past hurts and joys between them. Shane and Vera probably made me laugh the most. Their banter was fun and sometimes funny, which made them really enjoyable as well. I've enjoyed them all for different reasons.
5. When plotting each book in the EU series, do you already have it planned out or are writing as you go? Or are the characters interrupting during certain times of the day telling you to write their story? =)
I have a vague idea of how each book in the series will go, but the details still surprise me, and secondary characters often add flavor to the story and make it more interesting. For example, a new hunter from another division appears in Midnight Hunter that's never been introduced before. I never planned him. He just waltzed into the universe in the middle of the story, but he was fun for his brief appearance and I may bring him back again later. Ultimately, I usually have a plan, but the characters don't always follow that plan, but if I trust them and follow their lead, it ends up working out in the end and being for the better.
6. Lil' Sidekick's Question: What inspired you to become a writer?
I was inspired to become a writer because I love to read and I think reading is the key to inspiring knowledge. I'm also an English professor, so I have a fierce love for reading and literature and I want other people to fall in love with reading in the same way I have, which is why I write. There was a time in my life when I didn't enjoy reading and when I finally fell in love with it, it changed everything. It opened so many doors for me. I can't imagine how dull life would be without reading, and I'd like to inspire that same love and curiosity about the world in others. That combined with a passion for being creative sparked the magic.
7. Lil' Sidekick's Question: Autumn is around the corner, what are some of your favorite things to do during the season? (Mine is Halloween and dressing up)
I love autumn! It is my favorite season. I grew up in Michigan where the leaves would change color and it was apple picking season, and it was always my favorite—not to mention I was born in September. Now that I live in Florida, the thing I enjoy most about autumn is the temperature cooling down, so I can do more outdoor activities and not scorch in the heat. I like to take my dog for walks when there is a cool breeze and just, in general, spend time outside. I love Halloween, too!
8. Fun question: If you could meet anyone famous, dead or alive, who would it be and why?
I'd want to meet Frida Kahlo because I think her life and her artwork were extremely interesting.
9. What is up next for Kait Ballenger?
I'm currently working on book number four in the Execution Underground series, Ash's book. I'm also planning to venture outside the adult paranormal romance genre. I have both a romantic suspense (written as Kait Ballenger) and a YA paranormal (under my maiden name, Kaitlyn Schulz) I'd like to work on, but I haven't decided which I want to focus on first. We'll see how I feel after the next Execution Underground book.
10. Anything specific you want to tell your readers?
I just want to thank my readers for reading and enjoying my books, and thank them for their support of each and every book in the series. I feel so blessed to have such a loyal group by my side.
---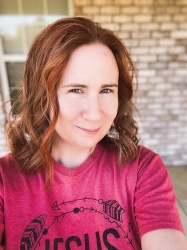 Latest posts by FranJessca
(see all)