ARC Review: 'Miss Frost Ices the Imp' by Kristen Painter
September 10, 2016
I received a complimentary copy of the book from the author in exchange for an honest review. This does not affect my opinion of the book or the content of my review.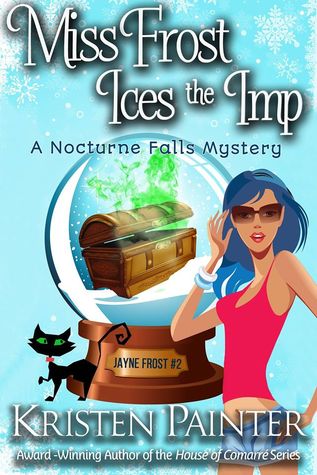 Miss Frost Ices The Imp: A Nocturne Falls Mystery
by
Kristen Painter
Published by
Sugar Skull Books
on September 6, 2016
Format:
eArc
Goodreads
Purchase at
Amazon
|
Apple

Welcome to Nocturne Falls – the town that celebrates Halloween 365 days a year. Jayne Frost is a lot of things. Winter elf, Jack Frost's daughter, Santa Claus's niece, heir to the Winter Throne and now…private investigator. Sort of. When she buys a sealed box at an estate sale and cat-related circumstances cause that box to be opened, life in Nocturne Falls starts to go haywire. Jayne has no choice but to figure out what she unleashed and how to recapture it. But Jayne suspects the woman behind the box is hiding something. Something that could cause a town resident serious trouble. Or worse, to lose their life. With the help of her two favorite guys, a sexy vampire and a hot summer elf, and a few new friends, Jayne tackles what feels like an impossible mission. And winds up almost iced herself.
My Review
I'm ready to move to Nocturne Falls already, especially when Kristen Painter keeps writing about how awesome it is. It's even better when a Winter Elf is there and she's managing her toy shop in Nocturne Falls. Both my daughters would probably have a blast in Nocturne Falls, especially since they both are obsessed with Halloween and Christmas. I just have to convince the hubs we have to move this fictional town.
The second book in the Jayne Frost series has definitely got some mystery in it. The only thing is the title will definitely give away part of the storyline. Poor Jayne can't catch a break it seems. Between opening up a box that unleashes chaos throughout Nocturne Falls and seeing two guys, one a summer elf and the other a vampire, she can't seem to even get time to run her shop. All heck is going to break loose and it's going to take most of the town of Nocturne Falls to help solve this crazy mystery that Jayne's cat got her into. Yup…her cat got her in this mess, well part of it.
I loved the mystery behind the box and trying to determined why someone would have this mystery in the box to begin with. I also enjoyed having some of my favorite Nocturne Falls characters help Jayne with the mystery. I got to learn more about Birdie and I even got to read about a new Nocturne Falls character, who I want to learn more about. She definitely has a unique skill.
Although, Jayne did tend to go back and forth with her beaus she's seeing. I'm not sure, which team I'm on yet. Team Cooper or Team Greyson. Both have great qualities. They also are handling the whole entire sharing Jayne too well. Maybe in the next book I can determine who I like better for Jayne. All I can say is Kristen makes it hard to decide since they both are written so well.
If you enjoy a mystery with paranormal elements, you'll definitely enjoy the Jayne Frost books. If you haven't read the Nocturne Falls books yet, I highly recommend you do because you'll definitely want to know more about the supernaturals in Nocturne Falls.
I give this book 4.5 stars and look forward to reading more of Jayne Frost's mystery adventures soon.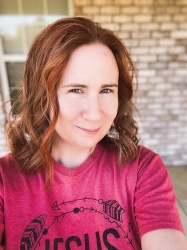 Latest posts by FranJessca
(see all)